Hillary Clinton gave a speech to her fans and supporters at Georgetown University on March 31. During the speech, she criticized the Trump administration, signaling her return to the speech circuit and serving as a "leader" of the Democratic Party.
Though she suffered an embarrassing defeat in the presidential election, the Democratic establishment has helped Clinton maintain her status as a party spokesperson through her vocal opposition to Trump. Chelsea Clinton's emergence into the public spotlight has functioned as as a rebranding of the Clinton name, while focus on Russia allegations serve as an escape route for Democrats to avoid responsibility for Clinton's loss, and the Russia narrative has effectively muted Sen. Bernie Sanders' supporters for lending credence to any criticism of Hillary Clinton. The arrogance and entitlement of "it's her turn" is still the prevailing attitude among Democrats.
There was no time wasted in planning and executing Hillary Clinton's resurgence after the election. Rumors of Chelsea Clinton running for office began swirling days after the presidential election, along with rumors that Hillary Clinton would run for mayor of New York City or seek the 2020 Democratic presidential nomination. While only her most avid fans have entertained the idea of another Clinton presidential campaign, the Democratic Party's strategy appears to be resurrecting Hillary Clinton's image in tandem with their own.
As it did during the 2016 presidential election, this strategy will likely backfire. So far, it has resulted in low favorability ratings for both Clinton and the Democratic Party. Establishment Democrats and Clinton loyalists continue to broaden the rift within the Democratic Party by chastising those who supported Sanders during the primaries, blaming them for Trump and alleging—with no evidence—that they were subjected to Russian propaganda.
If the Democratic Party cared about establishing party unity and developing a formidable resistance to Trump, they wouldn't have put the force of the party behind subverting the candidacy of a DNC chair candidate Keith Ellison, who they viewed as too progressive for the party. Nor would Clinton loyalists have engaged in ominous attacks against figures like Susan Sarandon. If Clinton loyalists learned anything, they wouldn't be daydreaming on Twitter about what Hillary Clinton would be doing if she was president.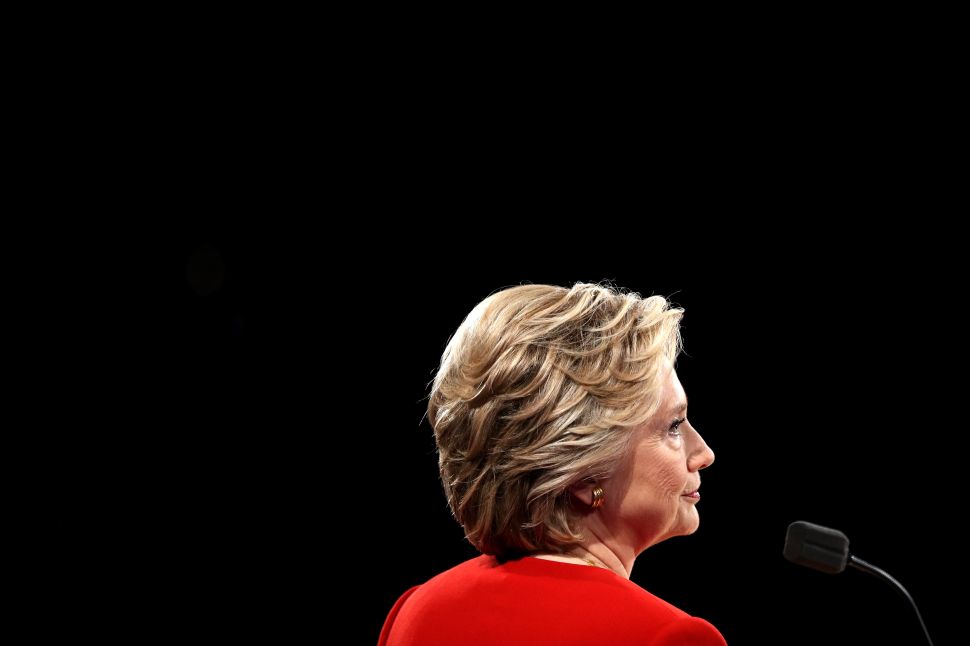 In reality, she was an awful candidate rife with political scandal who repelled voters. Her campaign was dependent on elevating Trump as a "Pied Piper" candidate with the hopes of providing her a weak candidate to face in the general election. The dominating narrative was widely successful—Trump received nearly $2 billion in free media coverage—but the strategy backfired miserably on Clinton and the Democratic Party.
In response, the Democratic Party is actively rallying around reviving Clinton's image, casting any critics on the left and right of Clinton as Kremlin agents. Meanwhile, Clinton has returned to the highly paid speech circuit, is set to publish two books and still manages to swoop in to take credit for the few Trump resistance wins, which she had no part in.
"Resist, insist, persist, enlist," Clinton said has been her mantra since the election, trying out new, meaningless slogans like "stronger together" and "America is already great," which failed to resonate with the American public. By naming a children's book She Persisted, Chelsea Clinton hijacked the phrase to capitalize on something that was said by Senate Majority Leader Mitch McConnell to Sen. Elizabeth Warren. This is what the Democratic Party is devolving into: public relations slogans and manufactured outrage from David Brock-run Super PACs and Clinton loyalists' think tanks. Meanwhile, they continue to ignore coming up with solutions to the issues facing the communities throughout America that are hurting the most.