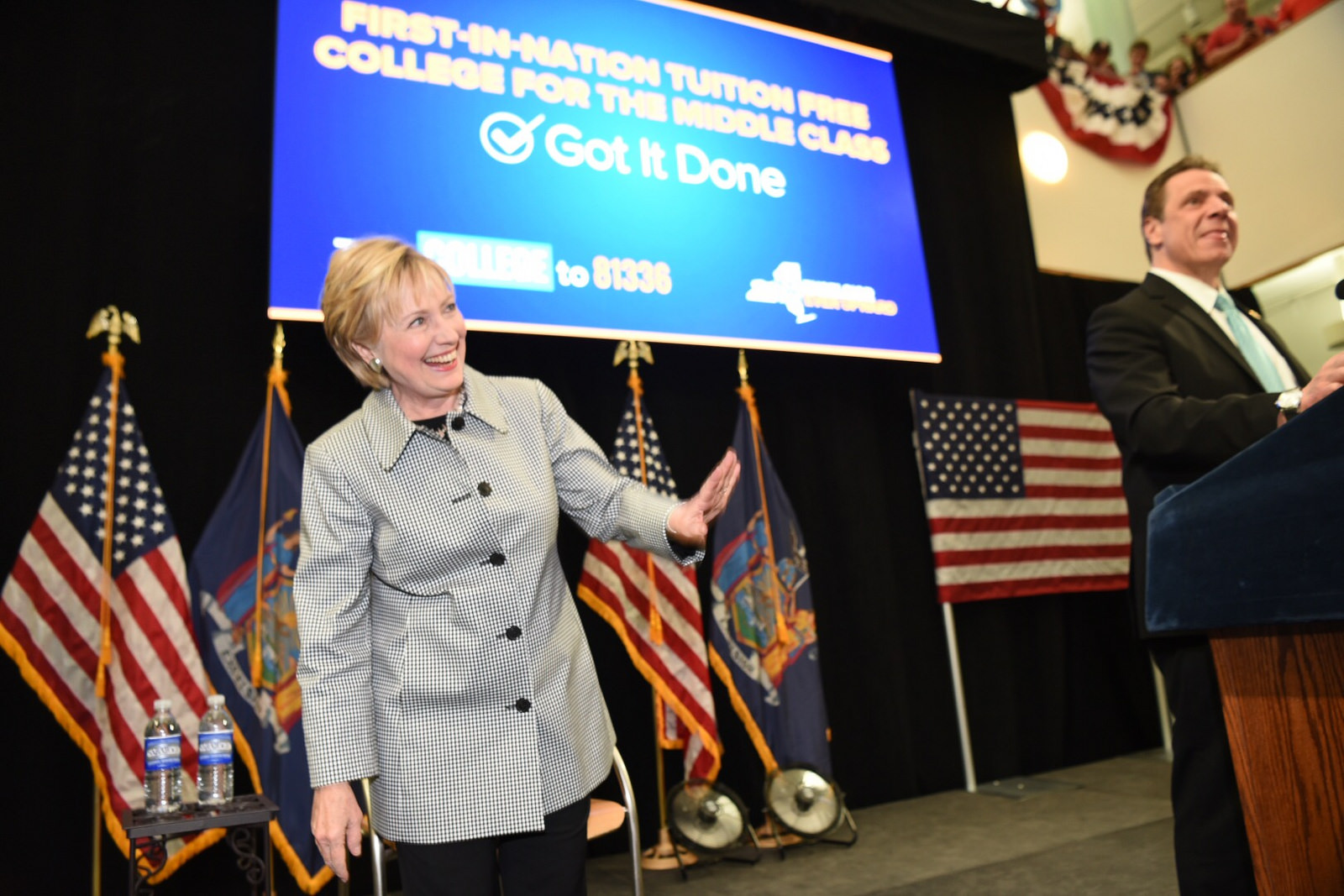 Since the election, Hillary Clinton has been seriously busy. She hiked through the forest without makeup in a cozy looking fleece. She modeled shoes on Instagram for supporter Katy Perry. And she got bangs, which happens in every single movie when the main character has a major revelation.
Now, after her busy winter, Secretary Clinton has ventured out of the woods and there's no place she'd rather be than Long Island City (well, aside from the White House).
Clinton made an unexpected appearance in Queens this morning to support Governor Cuomo's new tuition-free college plan. The audience was comprised of students in metallic backpacks, young women in work jumpsuits and plenty of youths, who seemingly wandered in to see the Governor of New York. They were surprised when a former presidential candidate appeared, as well.
Of course, Secretary Clinton wore her trademark pantsuit, but this style was certainly more playful than her days as a candidate, as it included a houndstooth jacket paired with black slacks. There was even a pair of statement earrings. Secretary Clinton also showed off the brand new hairdo she debuted on International Women's Day; in person it's much more elegant.
After opening remarks from a nursing student at LaGuardia Community College and a short video with a loudly-applauded appearance from Bernie Sanders, Governor Cuomo took the stage. He discussed growing up in Queens, announcing in his thick accent: "We believed in mobility, we believed in the dream." This new legislation will make college as accessible as high school, free for any families residing in New York state that make $125,000 or below.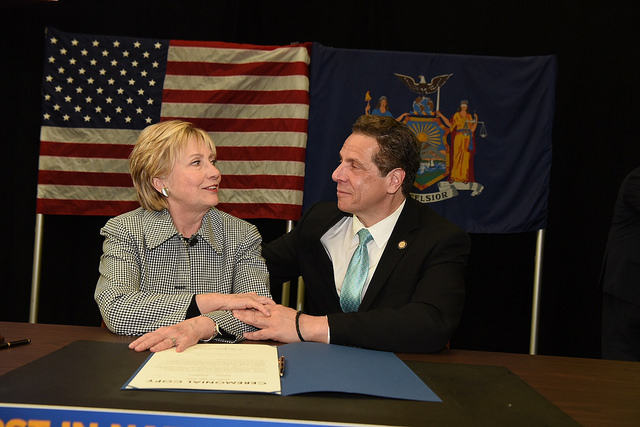 "I'm not going to name names, but I was supporting the woman in the race," the proudly feminist Governor Cuomo joked, before ushering Secretary Clinton up to the podium. After Secretary Clinton gave a brief history lesson, she told the Snapchatting crowd, "The Excelsior Scholarship is going to send a message of hope to countless families—paying for college should not defer or deter dreams."
"I believe every single child and every single young person in New York and America deserves the chance to go as far as their hard-work, their skills, their education will take them," Secretary Clinton explained. "We don't need to be building walls, we need to be building bridges. And the best bridge to the future is a good education."
As she left the stage, a well dressed young man exclaimed, "That was an unexpected treat," and his friend agreed. If a career creating #sponcon doesn't work out for Secretary Clinton, she could certainly consider adding inspirational speaker to her resume, or life coach. Or perhaps pantsuit designer, to pair with her new Katy Perry heels.