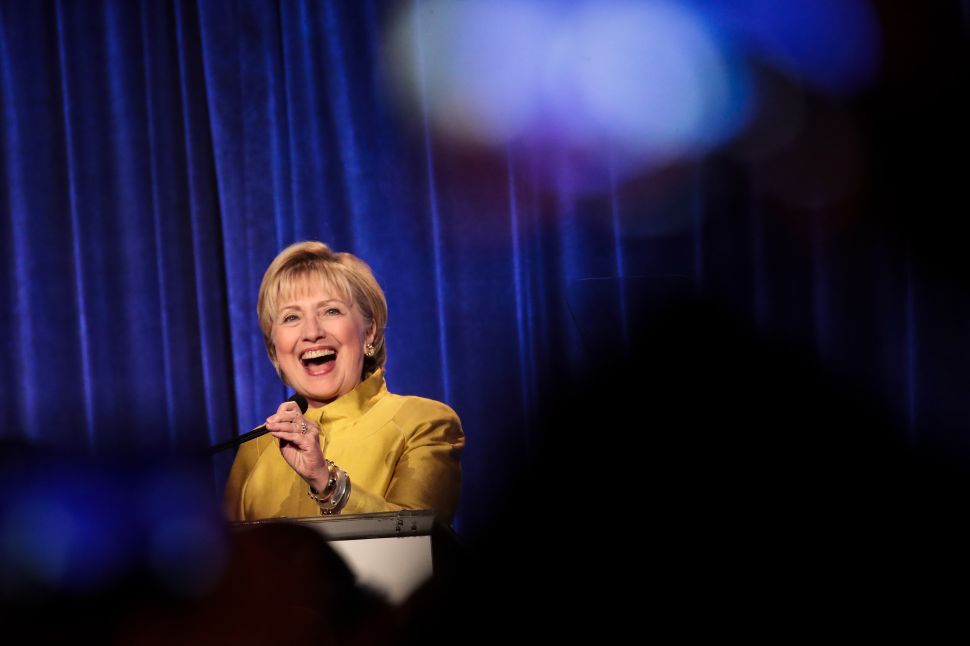 It's been nearly six months since Hillary Clinton lost the presidency to Donald Trump, and if she had any hope that people would stop talking about how bad her campaign was, she got a rude awakening this week when Shattered: Inside Hillary Clinton's Doomed Campaign was released.
Article after article has revealed details from the book that make Clinton's campaign less like a well-oiled machine up against unforeseeable forces and more like the Titanic—if the crew knew the iceberg was there all along and deliberately ignored it.
At least, that's according to nearly every review.
Clinton apparently ran such a "spirit-crushing" campaign that aides coined the mantra: "We're not allowed to have nice things." Her campaign tried to copy President Barack Obama's model without understanding that there was more to Obama than mere data—and that 2016 America was very different than 2008 or even 2012 America. (If 2016 was 2012 America, we'd have President Ted Cruz; if it were 2008 America, we'd have President Bernie Sanders.)
But Clinton's campaign "ignored the advice of the candidate's husband, former President Bill Clinton, and other Democratic Party elders, who argued that the campaign needed to work harder to persuade undecided and ambivalent voters (like working-class whites and millennials), instead of focusing so insistently on turning out core supporters," wrote New York Times book reviewer Michiko Kakutani.
Even some of her best friends said Clinton "bears the blame for her defeat," because of things she did before her campaign started, like setting up the private email server or giving speeches to Wall Street or allowing the Clinton Foundation to operate like a pay-to-play scheme.
These things, her friends said in the book, "hamstrung her own chances so badly that she couldn't recover."
Speaking of her email server, the authors reveal that Obama thought Clinton's handling of the scandal amounted to "political malpractice." Obama had emailed Clinton several times on her personal account, but it's still plausible that while he was aware of that account, he may not have been aware that it was tied to a homebrew server.
What's worse is that these aren't revelations written by someone who already despised Clinton or Obama and whose allegations may be questionable. Shattered was written by Jonathan Allen of Roll Call and Amie Parnes of the Hill. The two had reported on the campaign for over a year, spoke to more than 100 individuals and were only able to publish long after the election because some of those people—nearly all anonymous in the book—were more willing to speak and reflect.
But even before her failed 2016 campaign, the book revealed, Clinton's paranoia and steadfast refusal to accept personal blame led to her spying on her staffers in 2008.
"She believed her campaign had failed her—not the other way around—and she wanted 'to see who was talking to who, who was leaking to who,' said a source familiar with the operation," Allen and Parnes wrote.
Members of Team Clinton are now trying to figure out who talked to Allen and Parnes.
"The knives are out to find the people who spoke about the campaign to the authors of this book. Dennis [Cheng, the campaign's finance director] has been texting prominent campaign staffers, asking who talked. He's on a witch hunt to find out who talked to save their own skin, throwing Hillary and her campaign manager Robby Mook under the bus," a source told Page Six's Emily Smith.
In the wee hours of November 9, when the race had been called for Trump, Clinton was apparently not ready to concede. It took a phone call from Obama to get her to a place where she could call Trump and congratulate him. "You need to concede," Obama had said to her.
Allen and Parnes wrote that Obama didn't want Clinton to "reinforce" Trump's message about an illegitimate election. After Clinton called Trump, Obama called her again. This time, Clinton apologized to him.
"She had let him down. She had let herself down. She had let her party down. And she had let her country down," Allen and Parnes wrote. "Obama's legacy and the dreams of her presidency lay shattered at Donald Trump's feet. This was on her."
But it wasn't long until Clinton and her team quickly began blaming everything under the sun—racism, sexism, Russia, the FBI, even Obama—for her loss. She and her family are still out there blaming sexism.
The book is pretty damaging. Jim Geraghty of National Review lays it all out. Ten people crafted Clinton's announcement speech (well, one of her announcement speeches; remember, she launched her campaign more than once). Obama's speechwriter, Jon Favreau (not the director), who helped write the speech, thought it sounded like a generic Democratic speech, which "lacked a central rationale for why Hillary was running for president."
In the weeks leading up to the election, campaign manager Robby Mook stopped spending money on polling, even though White House political director Craig Smith and southern Democratic operative Scott Arceneaux "begged" him to poll Florida. In Wisconsin, campaign staffers didn't have enough literature to hand out while knocking on doors.
Once FBI Director James Comey reopened the investigation in Clinton's server, aide Jake Sullivan "began pressing Mook and others to efforts to expand the Electoral College map in favor of locking down states that added up to 270." Clearly, that didn't happen, as Clinton lost the Democratic strongholds of Michigan, Pennsylvania and Wisconsin and lost all of the states in her expansion strategy.
If there's one thing in the book that makes Clinton appear sympathetic, it's the revelation that Clinton didn't want to use her concession speech to attack Trump, and thought the speech written for her that did so was "tone-deaf."
"It's not my job anymore to do this," Clinton said, according to the authors. "Other people will criticize him. That's their job. I have done it. I just lost, and that is that … That was my last race."
With so many damning stories coming out this week, I briefly felt bad for Clinton. "Leave Hillary Clinton alone," I said to myself in Chris Crocker fashion. But wait, I thought, Clinton isn't trying to be left alone. She's out there giving interviews and opinions and blaming everything but herself for her loss. Shattered should lay to rest any arguments that anything other than the campaign itself bore the brunt of the responsibility for Clinton's loss.