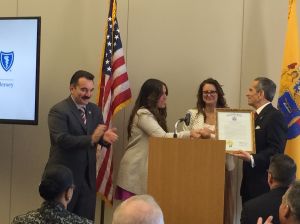 A high-powered mix of elected officials from both parties attended Horizon Blue Cross Blue Shield's 85th anniversary ceremony on Tuesday, a show of support for the health insurer at a time when Gov. Chris Christie wants to raid its reserves.
Christie in his budget address in February called on Horizon — the state's largest insurer, with 3.8 million policyholders — to dip into its $2.4 billion in reserves and dedicate a portion to a new state fund covering drug-addiction treatment for the poor.
But Christie's plan has been light on details and met with some skepticism from lawmakers. Horizon is a nonprofit and its reserves are a critical contingency fund that would cover 75 days of policyholders' expenses, the company says. Christie, on the other hand, has been making the case that Horizon is sitting on piles of money, giving big salaries to its top executives while the poor suffer.
At the company's 85th anniversary ceremony on Tuesday, some of the state's most powerful Democrats lined up to thank Horizon for its work and for being an "anchor" in the state. Horizon employs 5,000 people, including 1,000 union workers, and has kept its headquarters in Newark, company officials said.
Among the well-wishers were Assembly Speaker Vincent Prieto, Essex County Executive Joe DiVincenzo, U.S. Rep. Donald Payne, state Sen. Teresa Ruiz and Newark Council President Mildred Crump.
"Knowing the uncertainties we face in Washington with the Affordable Care Act, we always depend on New Jersey's insurer, and that is Horizon, and that is the bedrock," Prieto said.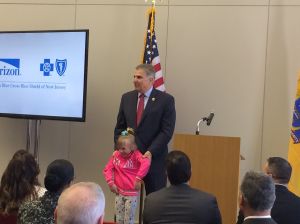 "The thing that's important is how you've kept this headquarters here in the city of Newark for 85 years," DiVincenzo said.
Also taking turns at the podium were Assemblyman Jack Ciattarelli, a Republican running for governor, and Essex County Freeholder Brendan Gill, who is also the campaign manager for Phil Murphy, a former U.S. ambassador to Germany seeking the Democratic nomination for governor this year.
"We look forward to the next 85 years," Gill said. "You are an anchor not only in the city of Newark but you are an anchor in this county."
Prieto said after the event that he has been in talks with the Christie administration over the Horizon plan and that he will look "at both sides of the equation." But he added that insurers need certainty to operate, especially as the prospect of an overhaul of the Affordable Care Act continues to loom in Washington.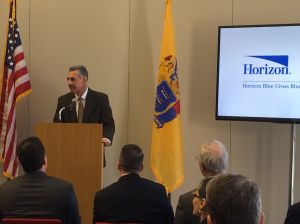 "Just because you see something it doesn't make it the right thing to do," Prieto told reporters when asked about Christie's plan. "We need to be making sure that they [Horizon] have the tools and resources to be able to survive."
Christie said last month on his radio show on 101.5 FM that he expects to have legislation ready soon.
"They're a nonprofit that's supposed to be working for the benefit of the people in this state," he said of Horizon. "They're making a fortune off of Medicaid and now their big-time, well-connected lobbyists being paid a fortune want to stop the drug-addicted poor from being helped. Shame on them."
Ciattarelli after the event on Tuesday said "reserves are there for a reason."
"They serve a critically important function in anticipation of a crisis," he said. "The question of whether or not they are in excess, to me, is a private conversation between the regulators and the insurance carrier."
And he added, "We'll see how things go from here. Today, it's really just all about celebrating the 85th anniversary of a great institution."