Iggy Azalea and Nick Young.
Jason Merritt/Getty Images
We wonder if they actually kept all of Selena Gomez's décor.
Compass
After a messy and public break up, Iggy Azalea and Nick Young are splitting from their home.
Compass
Very into this bathroom situation.
Compass
Nick Young sold the Tarzana mansion he bought from Selena Gomez at a loss.
Compass
It's on the market for $3.6 million.
Compass
The kitchen opens to a family room.
Compass
There's also a one-bedroom guest house.
Compass
The main house is all on one level.
Compass
The master bedroom is fitted with a fireplace.
Compass
We wonder if the LA Laker will miss his basketball court.
Compass
The outdoor kitchen.
Compass
There's a pool, sauna, spa and fire pit.
Compass
The formal dining room.
Compass
Iggy Azalea and Nick Young ended their engagement nearly a year ago, so it's about time they part ways with their joint residence.
This Tarzana home comes with a celebrity pedigree; the Australian rapper and the Los Angeles Laker bought it from Selena Gomez in September 2014 for $3.45 million. Gomez has since moved on to a new home in Calabasas, and also on to a new boyfriend, The Weeknd.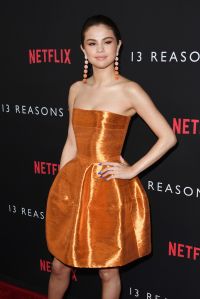 Alas, now that Young and Azalea are no more, the six-bedroom, 7.5-bath abode in the Valley has reappeared on the market. The "designer home" is on a corner lot, was built in 2012 and recently remodeled, per the listing held by Compass (COMP) broker Kofi Nartey.
The 6,630-square-foot single-story main house includes a chef's kitchen that opens to a family room, a formal dining room and a game room; there's also a one-bedroom, two-bathroom guesthouse with its own kitchen and wraparound terrace.
The backyard is complete with a pool and spa, as well as an outdoor kitchen, fire pit and garden. There's also a basketball court, because the Lakers and #sports.
Interestingly, as Variety points out, many of the listing photos for the property appear to be the same ones used when Gomez was trying to sell the space in 2014. Maybe the erstwhile couple really liked her décor choices, and from the photos in the slideshow above, we don't blame them.
If anyone is determined for a piece of real estate more recently occupied by Instagram queen Selena Gomez, consider heading way down south, to Texas, where she's still trying to part ways with her Fort Worth house.
Hopefully, the couple's split from this house isn't as messy as their actual break up. In case you missed Azalea's Twitter rant, she caught Young cheating on her, all of which was caught on security cameras of this very house. Potential buyers, take note, and also, consider figuring out a way to get rid of any bad karma in this house.