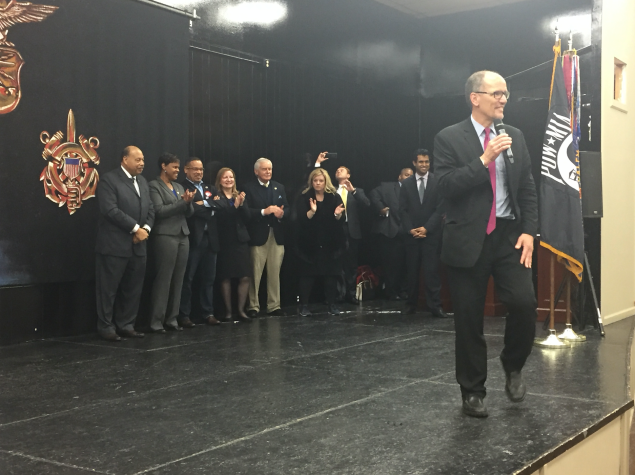 After a stinging presidential loss and and a further slide in governorships and state legislatures across the country, the Democratic National Committee is setting its sights on New Jersey in a bid to signal its willingness to rebuild in the era of President Donald J. Trump. The state has been a bellwether for the aftershocks of presidential contests for so long that it has become an informal training ground for career campaign operatives, but experts say this year is different.
The massive unpopularity of Republican governor Chris Christie, who has hovered in the high teens and low twenties in his approval ratings for months, has turned a competitive legislative race into a national platform for Democratic leadership hoping to signal a sea change from the hands-off approach that saw Democrats lose ground just about everywhere but the White House during Barack Obama's tenure.
2009 saw Obama on the stump for then-incumbent governor Jon Corzine, only to see Christie take the governor's mansion that same year. The DNC are hoping for a similar partisan reversal in this year's gubernatorial and legislative races.
"Our mission is to elect a Democrat to the state senate in district 11," freshly minted DNC Chairman Tom Perez said to a cheering crowd in Monmouth County last Friday, where one-time county chairman Vin Gopal is challenging strong Republican incumbent Jennifer Beck for her State Senate seat and two first-term Democratic Assembly members are fighting for reelection. "Let's continue the unity."
Though a compelling race in its own right, Monmouth University pollster Patrick Murray believes that appearance in New Jersey's 11th legislative district and likely stops in Virginia—another off-year state—are more "about sending a message to the rank and file that this is the new DNC" than pushing this year's Democratic hopefuls over the top.
"Gubernatorial year elections are always seen as a referendum on the president because it's always the year after the presidential election," Murray said. "This year it may be a little different and it's all a referendum on whether the Democrats can get their act together. And one of the areas where they have been lacking is in holding onto or building their numbers in state legislatures.
"Though it's not going to have any impact on the control of the NJ legislature, it can send a strong signal to folks across the country gearing up for 2018," he said of the congressional midterms. "Vin Gopal is not going to get one extra vote in November because Tom Perez showed up here."
Seton Hall's Matthew Hale said he believes the DNC is pulling out all the stops to tip what competitive districts it can find. That will be a crucial step as 2020 redistricting approaches. 
"They're trying to get back to the grass roots, so they're trying to make folks competitive in every district instead of hoping and waiting," Hale said. "I think that the DNC wants to do all it can to make sure that New Jersey goes blue and goes big. If there's a chance for a competitive race and a small switch, that's even better for the story they want to tell."
Asked how Democrats can hope to compete in states with a less favorable political climate, Hale offered that New Jersey may be unique in that Christie and Trump would be "anchors around any Republican's neck" given Trump's 28 percent approval rating in a recent Farleigh Dickinson poll.
Murray was no more willing to speculate as to how Democrats will reverse the tide in state legislatures at a time when Republicans control 32 legislatures and 33 governors, saying "the Russians haven't leaked me that email yet."