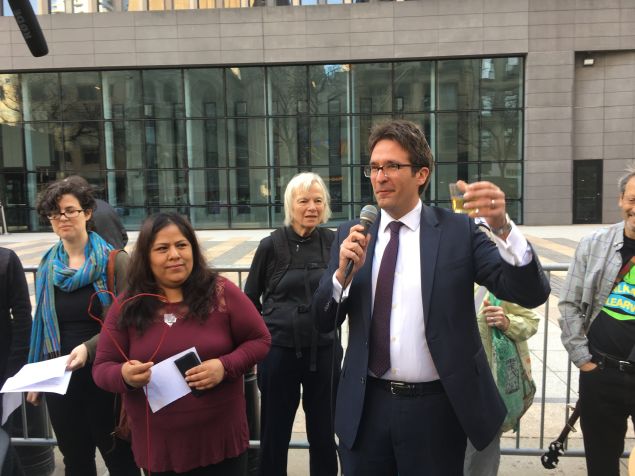 Immigrant rights advocates and liberal Jewish leaders hosted a special seder on the second day of Passover at the Jacob K. Javits Federal Building—home to Immigration and Customs Enforcement's New York City office—to stand with individuals and families facing deportation.
The interfaith solidarity seder kicked off at 26 Federal Plaza in Lower Manhattan and concluded at the New York Law School with the full ceremony. President Donald Trump's aggressive immigration agenda has included two executive orders barring entry to people from Muslim-majority countries and executive orders subjecting any foreign national accused of any crime to detention or deportation.
"Let my people stay!" Rabbi Lauren Herrmann of the Society for the Advancement of Judaism yelled, invoking Moses's famous request from the pharaoh in the Old Testament. "Let my people stay! Let my people stay! Passover is a time of celebration and at the same time, it's a time of yearning. It's a time of yearning for liberation for us as Jews and for all people around the world. It's a time for us to examine how we can be part of the struggle to liberate all people."
In keeping with Passover tradition, they drank four cups of wine—known as arba kosot—during the ceremony. One of the cups centered on hearing the call for justice.
Among the immigrants present was prominent Trinidadian immigrant activist Ravi Ragbir, who recently avoided deportation during his regular check-in with ICE.
Speaking at the New York Law School, which was a more intimate gathering of more than 100 people, Ragbir, an organizer for the New Sanctuary Coalition of New York City—a faith-based group that helps undocumented people fight detention and deportation—said that the moment was surreal for him.
"It is overwhelming because me and my wife…she asked me this morning, imagine how I would be feeling if I had to check in and even as I say that, the feeling of darkness still comes over me and I think about what could have happened," Ragbir said. "So I'm gonna put that aside and I'm just gonna send it away, send it back to them, right."
Ragbir said that he is representative of "thousands and thousands of people who are going through this process."
"This was possible only because of you, only because of your presence and your showing up today is what keeps me strong and what keeps our community strong in seeing that they're not alone going through this," he continued. "I speak for myself but I also speak for many others."
Another speaker during the gathering at 26 Federal Plaza, Myrna, spoke about the issue of families getting separated when someone is deported.
"I was separated for three years from my daughters because of deportation," she said in Spanish, with her words translated by one of the event organizers, Antonia House. "This week it will be a year that I am home with my daughters. The impact of the separation continues, it brings pain, it has an impact on the children's studies and it causes trauma."
The seder concluded with people singing, "Let My People Stay," a revised version of "Let My People Go" that speaks out against President Donald Trump's Muslim travel bans, hatred and bigotry and expresses support for immigrants.
"Immigrants helped build this land," the crowd sang in unison. "Let my people stay! Hear our voices, we demand: let my people stay! No ban, no wall, all are welcome in our land."
Rabbi Joshua Stanton asked people to share what they would like to see happen in a "righteous and just and good world." Using the Passover song "Dayenu," which means "it would have been enough," he would say, "If only we had" and then people would shout out an issue they would like to see resolved.
"There's a song that we sing at the end of our seder about what would possibly be enough, Dayenu, it would be enough for us," Stanton said. "I would have to say Dayenu would be enough for us. We could always be together so strong as one community and so strong as a diverse community."