Bill Nye is back in full force this weekend with a brand new show on Netflix. This time, Nye will tackle some of the most important scientific issues facing humanity. And he's got a crack team of correspondents to help.
Among them is Emily Calandrelli, an Emmy-nominated science reporter known as the 'Space Gal,' who also has a firm grip on policy and social issues. She's an MIT graduate who produces and hosts Fox's Xploration Outer Space. She has also authored a children's book and shares her insights into space exploration as a published journalist.
Calandrelli is joining forces with the legendary 'Science Guy' on Bill Nye Saves the World to bring good ol' fashioned facts, logic, and critical thinking back into our lives. The Observer reached out to the 'Space Gal' via email to get the scoop on the new show, and her thoughts on the state of science literacy.
Can you tell us a little about Bill Nye Saves the World?
The 13-episode series covers a wide range of science topics (GMOs, climate change, artificial intelligence, space exploration, etc). It's quirky, funny and thought-provoking. There's experiments, comedy bits, and panel discussions with experts. It doesn't steer away from the controversy, but instead addresses it head-on. My favorite moments are when we look into the reasons why educated people deny scientific consensus on certain topics. Humans are messy animals and so you can't just say 'oh this person thinks vaccines are dangerous because they're stupid.' Parents who don't vaccinate their kids don't do it because they're dumb or because they hate their kids (obviously).
So the show looks into the reasons why this problem exists in the first place in an effort to…save the world.

How did you get involved with the show and what's your contribution to it?

I got a call one day informing me that Bill Nye was going to do a big new science show and that he was looking for correspondents to be involved. Obviously this sounded like a dream come true and so I essentially interviewed to be one of those correspondents (and got the job). There are 5 correspondents on the show and each of us traveled to a different part of the world to cover science stories for Bill. Then we met with him in the Bill Nye Saves the World laboratory to discuss what we found.
What do you think are the most pressing issues facing our planet?
I would say the most pressing issues are the ones we refuse to believe are happening. This makes such issues impossible to address. Climate change certainly falls into that category. What sucks about this issue is that when the general public thinks about climate change they often think of polar bears. In my opinion, this was a science communication failure. In the grand scheme of things, polar bears are the least of our problems when it comes to climate change.
It's an economic issue—it's a health issue—it's a national security issue. This is not a "save the planet" issue. Planet Earth is far more resilient than humans and will certainly outlive us. The problem is that we're changing the planet rapidly in a way that will harm the animals living on it (like us!!). The sooner we stop arguing that the problem exists, the sooner we can get to arguing over the best solutions.

What can ordinary people do to help solve these problems? How can we "save the world?"
Vote. Tweet at your politicians. Call your representatives. Find out who your representatives are and make sure you are aware of where they stand on these issues. If they're denying science, let them know that you won't stand for it.

When it comes to climate change, what do you think is the best way to engage the public in addressing these issues?
Don't talk about polar bears. Talk about the relatable, tangible ways climate change will affect people's lives. Think locally, rather than globally. Talk about the fact that people who live in coal mining towns are more likely to get respiratory diseases—not addressing climate change makes our nation dirtier. Talk about how climate change is a national security issue – it impacts the stability in areas where our military is fighting. Don't talk about saving the planet. It makes us sound like hippies trying to save trees when we're actually trying to save the humans.

You are very vocal about women's issues, what do you think are the most pressing concerns facing women in 2017?
There are certainly a wide range of issues that women face (depending on your race, location, class, etc), but one that I relate to most is the treatment of women on the internet. It's impossible to put a video online without hoards of anonymous men picking apart your appearance or saying especially cruel things. It works to silence women who shouldn't be scared of sharing their opinions with others. Ignoring these 'trolls' doesn't do anything, so I'd like to see more and more allies step up to women's defense when this sort of thing happens.

How do you think society can get more young women interested in STEM-related fields?
We have to start younger. Right now, one of the biggest problems is that it feels like a boy's club. Nobody likes feeling like an outsider, so it's intimidating for young girls to give STEM a try when they look into STEM clubs/classes and see a room full of boys. I think there's a great opportunity for the media to fill this role. Bringing STEM female role models, whether it be in TV, movies, YouTube, or books, can do wonders. There's something so powerful about seeing someone that kind of looks like you talking about STEM. It makes it all feel so much more relatable and gets you thinking, "maybe I could do that!"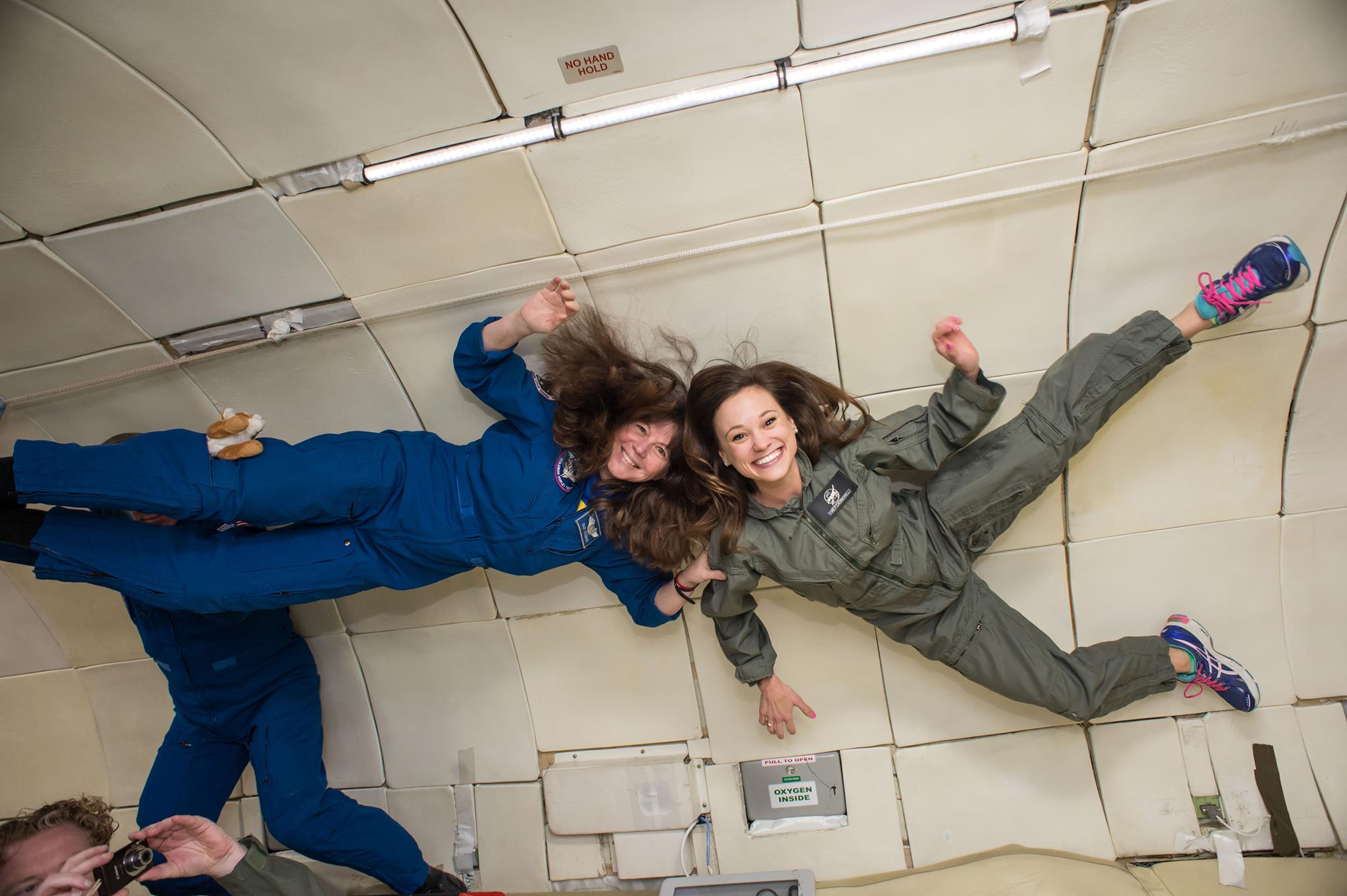 You have quite a bit of experience covering the space program. What's your outlook on the future of NASA under the Trump administration, and what do you think is the best use for the agency?
I think it's still a bit unclear what the current administration is going to do with NASA. One big mistake that they're likely to make is pulling funds from NASA's Earth Science program. NASA's ability to build, launch, and operate Earth-observing satellites is not something that can be easily replicated. There are more than 15 satellites observing the Earth as part of NASA's Earth Observing System and they help us keep an eye on how the planet is changing. Removing this capability (or handing it off to another agency who will then need to build up the capabilities that NASA has worked decades on) will certainly be disastrous and delay finding solutions to climate change.

Other than that, NASA is best used when it has a clear mission and enough money to support that mission. This is hard to do when representatives give NASA requirements on what they must do (e.g. NASA must use this engine, or include this size booster, or leverage this test facility, etc) in an effort to bring jobs—via contractors—to their state. Politicians often make an already tough engineering problem much more difficult with such requirements. In addition to all of this, NASA is susceptible to political whims of each passing administration. Every time politicians change NASA's course, projects get mothballed, and progress is set back a few years. So I think if NASA can be given a clear mission, with few requirements and a relatively short time-frame to accomplish the mission, like sending humans to Mars in 10 years, they're much more likely to accomplish great things.

In your opinion, what are the most exciting things happening in the space industry?
Reusable rockets is the clear front runner, of course. The very act of Blue Origin and SpaceX perfecting this technology is forcing the larger incumbents to innovate as well. If I had to pick something else, I would say the small-sat industry and its effect on telecommunications. Right now less than half of the world has access to the internet (which is always so crazy to think about!!). But satellite tech is getting smaller and cheaper, making it possible to create large satellite constellations—or many small clusters of satellites over specific areas—and beam the internet from space to everyone around the planet. These projects are already on the horizon and I think once the entire planet has access to the internet (a tool that can be used to educate, share ideas, get healthcare information, start businesses, etc), the world is going to change significantly for the better.
Both NASA and SpaceX are planning for human Mars missions. You think that will benefit the human race?
I think that humans eventually need to distribute themselves throughout the solar system in order to ensure their survival and Mars seems like the most logical first step. Right now, every bit of human history—every piece of literature, every song, every algorithm, every invention, and all records of our mistakes—are saved on planet Earth. We're at risk of losing everything as long as we keep the entire human race on one planet. So I think going to Mars will benefit the human race insomuch much as it will help spread humanity (and humanity's knowledge) and hopefully ensure our survival for a longer period of time.

I see you're attending the Science March in Washington DC, what do you think the event will accomplish?

With everything going on in the Trump administration, it's easy to feel like you are being a 'rebel' by thinking scientifically. Of course this can also make one feel like an outsider. The Science March brings people together to show the scientifically minded that they're not alone. Moving forward, I think the Science March can be a way to disseminate information to scientifically minded people and rally everyone on science-policy issues
Emily Calandrelli will be participating in a Reddit AMA on Tuesday April 25th at 2PM ET. Join in here.
Robin Seemangal has been reporting from the newsroom at NASA's Kennedy Space Center for the last two years for Observer with bylines also in Popular Science and Wired. He does in-depth coverage of SpaceX launches as well as Elon Musk's mission to send humans to Mars. Robin has appeared on BBC, Russia Today, NPR's Are We There Yet Podcast and radio stations around the world to discuss space exploration.