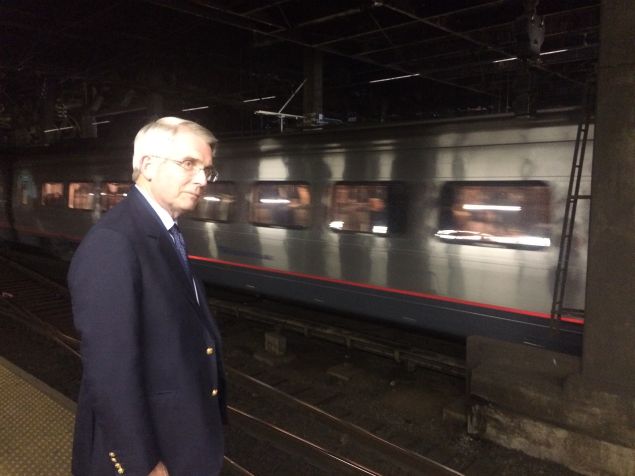 It's Wednesday afternoon and five trains are sliding by in different directions.
The way Wick Moorman describes it, New York Penn Station is an old disjointed patchwork of cavernous underground space that somehow manages to shuffle 600,000 passengers in and out of Manhattan every day even though it was not built for such Herculean tasks.
It's a grimy marvel, a monument to chaos theory, a life-sized Rube Goldberg contraption — and a familiar source of agita for countless commuters and travelers who have been sidetracked or stranded in recent months by train derailments, maintenance work and the limited capacity of the single century-old rail tunnel — badly damaged by Superstorm Sandy — that connects New Jersey and New York.
As the new chief executive of Amtrak, it is Moorman's job to figure out how to fix all this, not just for the living but for the next two or three generations. As if that weren't enough work, he also must see that 1,050 or so daily trains keep running during the upcoming years of repairs and upgrades. Amtrak runs Penn Station and shares its tracks with NJ Transit and the Long Island Railroad.
"Very small disruptions can have major, major consequences in terms of getting people in and out," he said as he took an Observer reporter on a tour of damaged tracks in Penn Station. "If a butterfly flaps its wings in Secaucus, we're holding trains in Penn. The knock-on effects through chaos theory are just huge."
A railroad veteran who retired in 2015 from his job as chairman, president and chief executive of Norfolk Southern Railway, Moorman joined Amtrak in September. It's crunch time for the railway. The Gateway project, a nearly $24 billion enterprise still in its early planning stages, is considered the region's last great hope for increasing rail capacity under the Hudson River after Gov. Chris Christie canceled an alternate project, the ARC tunnel, in 2010.
Amtrak is the lead agency behind Gateway in partnership with New Jersey and New York. And Moorman, a gregarious Southern gentleman more interested in train logistics than political tussles, is in the driver's seat. The Gateway blueprints call for a new two-track tunnel under the Hudson, rebuilding the existing century-old tunnel and the Portal Bridge over the Hackensack River, increased track capacity in Newark and New York, and an expansion of Penn Station.
The station badly needs to grow because it was never envisioned to serve daily commuters and because the number of trains and travelers has doubled since it was built in the 1970s, Moorman said. "This place went through a period of time in which it was really not invested in in the appropriate way, the '90s to some extent and the 2000s," he said. "Our funding got better in 2008-09 and it's been somewhat better since."
Although Amtrak is moving ahead with environmental studies and other prep work, the lion's share of the funding for Gateway has not been secured. President Trump's proposal for a new federal budget does not include resources for the project and cuts the New Starts program on which Gateway is relying.
"We know that every day these tunnels are down, it has tens of millions of dollars in impact," U.S. Sen. Cory Booker (D-N.J.) said at a news conference Wednesday with Christie, urging the Trump administration to commit funds for Gateway. "We also know that we're teetering every single day on the brink of truly a traffic Armaggedon, because should these trains fall, our region becomes crippled."
The Christie factor
Amid that financial uncertainty, Amtrak has become something of a piñata for Christie.
The combative governor has threatened to withhold from Amtrak $2.5 million to $5 million a month in rent and maintenance payments. He has called for congressional hearings into Amtrak. He has asked New Jersey's attorney general to explore whether he can claw back $62 million NJ Transit paid Amtrak last year.
"Many of the problems that we've experienced in the last number of weeks have been problems that have been caused by an absolute failure of the federal government to stand up to their obligations to keep the current infrastructure in workable condition, and that's unacceptable given that New Jersey taxpayers and fare payers just wrote a check for $60 million to Amtrak for keeping track and infrastructure in a state of good repair," Christie said at the news conference with Booker on Wednesday. "And we continue to pay monthly to be able to try to keep this infrastructure – maintained by Amtrak, Amtrak's responsibility – to step forward and do what needs to be done."
He added, "This is the only profitable line that Amtrak has in the entire country – the northeast corridor – and to not invest in the only line that is profitable is bad business even for government."
Moorman, in a businesslike tone — he seemed more bothered by a critical Wall Street Journal editorial last week than by Christie's attacks — said Amtrak only started receiving rent and maintenance payments from New Jersey last year. "From a funding standpoint, the obvious answer that I think everybody understands is taking money away doesn't help solve these problems," he said.
Not exactly known as a hero to Garden State commuters after seven and a half years in office, Christie has blamed Amtrak at every turn for the delays and service interruptions this year on NJ Transit. Amtrak has accepted responsibility for two NJ Transit train derailments on its tracks this year, but not the most recent issue last week.
A disabled NJ Transit train on Friday evening, which trapped 1,200 riders for several hours and caused delays and canceled trains, was once again an Amtrak-generated headache, Christie charged. Moorman said "that was not an Amtrak issue." According to Amtrak, the problem was with an NJ Transit pantograph, a device mounted atop the train to collect power from overhead wires.
Christie's complaints create "some issues from a communications standpoint," Moorman said, but have not affected the healthy working relationship between Amtrak and NJ Transit officials. The salvos were to some extent understandable, Moorman added. "The governor is reflecting the unhappiness of the NJ Transit commuters and the citizens of the state as a result of our issues," he said. "All we can do is stand up and say, 'These were our issues. We apologize.' And then very soon afterwards say, 'And here's exactly what we're going to do to address them.'"
Domino effect
At Penn Station, maintenance workers only get the tracks to themselves for three or four hours before dawn. A small hitch or bump on a track that causes a derailment often has a domino effect, damaging other parts of the track and requiring a string of fixes.
"It's kind of a maze of rails," Moorman said, pointing at a series of interlocking tracks and switches loosely resembling a Jackson Pollock. "That's all one long timber. One long timber, one long timber. We have timbers in here that are 24 feet long, so to change anything out, you have to take it all out and put it back in while you've got overhead wires. And even if they're de-energized, you don't want to take them down. And you've got trains all around you. It's just extraordinarily complex."
Although Amtrak already had a "zero defects" plan to repair and renew damaged tracks, Moorman said he will be announcing an accelerated time frame for that project in the coming weeks. Some delays might occur while those urgent upgrades are done, he said.
"We have the material, we have the ability to do that, and we're putting a plan together to do that," he said. "What I would tell you is there are a couple of these major places where we know it's going to cause significant impact – disruption — in the station. We'll work with New Jersey Transit, we'll work with Long Island Railroad, to minimize their disruptions and our disruptions as well. But I think the one thing that the past few weeks have proved to us is that we don't need to have any more incidents at this station."
Gateway puzzle
The Gateway project, meanwhile, has enough financial steam to get through early or mid-2018. Once environmental studies are completed next year, the next step would be to dig the new tunnel. If no more funding comes through by that time, project delays and inflationary costs could pose an obstacle, according to Amtrak executives.
"We're ready for more funding right now," said Stephen Gardner, Amtrak's executive vice president for planning, technology and public affairs.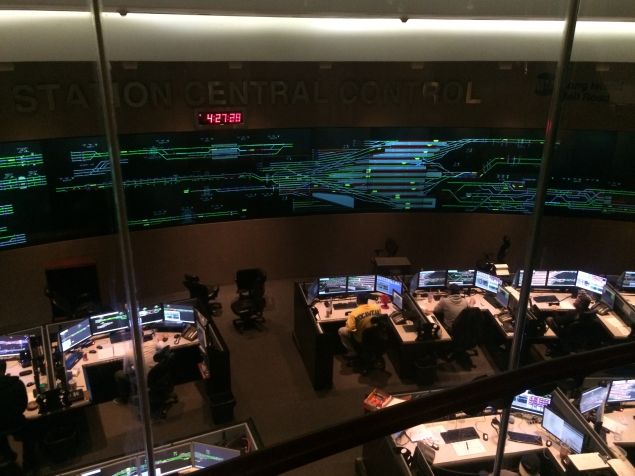 "There's some early construction work that's funded by a TIGER grant on Portal that NJT got. It's already underway," he said. "But if someone said, you've got the rest of the money you need for Portal, we could start advancing other things. … And if we don't get more money coming soon, we've got a situation where we're just delaying the work we could be doing. The problem with that is, obviously, the bridge is old. We've got to replace it as soon as we can. But the other thing is, time is money, right? Every day we delay, there's some inflationary cost, there's something. Time is your enemy with big projects."
Gardner added that "every year that schedule slips is an increase."
"When you're dealing with billions, it doesn't take long for those numbers to get bigger with delays," he said.
Trump ran partly on a promise to renew the country's infrastructure. Booker, Christie, Sen. Bob Menendez of New Jersey and Sens. Kirsten Gillibrand and Charles Schumer of New York are all calling on U.S. Transportation Secretary Elaine Chao to come tour the dilapidated rail connection between the two states. Chao released a statement on Wednesday after Booker and Christie's news conference calling Gateway one of "the country's nationally significant infrastructure projects" and said she intends to take a tour.
"Secretary Chao frequently travels on Amtrak in and out of New York's Penn Station to visit her father who lives in New York," a Department of Transportation spokesperson said. "Many of DOT's agencies are actively engaged with the Gateway project including being on-site and participating in regular meetings with program officials."
For Moorman, who collects a $1 salary from Amtrak and up to $500,000 in incentive-based pay, finishing this colossus — reminiscent of an earlier, booming era of industrialization — would be the capstone to a long career managing trains and tracks. He took the Amtrak job instead of retiring and tending to his barn. ("The train traffic rivals anything that I'm aware of anywhere, but that's what makes it fun," he said. "You know, I could be at home retired happily, or I could be doing this. My wife has an opinion that I've made the wrong choice. That's OK.")
"We can not only add capacity that we project we need today, but build it in such a way that if somebody 40 years from now says, 'You know, we could use a few more tracks,' they then don't say immediately afterward, 'I wish those idiots 40 years ago had thought about that,'" he said in a conference room overlooking Penn Station's central nervous system, a control room with a big map on the wall monitoring railways and trains from Philadelphia to New York and beyond.
"We're the beneficiaries of investment and foresight to make those investments from people who were around 80 or 100 years ago. It's remarkable that it's really just in the past few years that we've run out of room, and doing things that they never dreamed of."