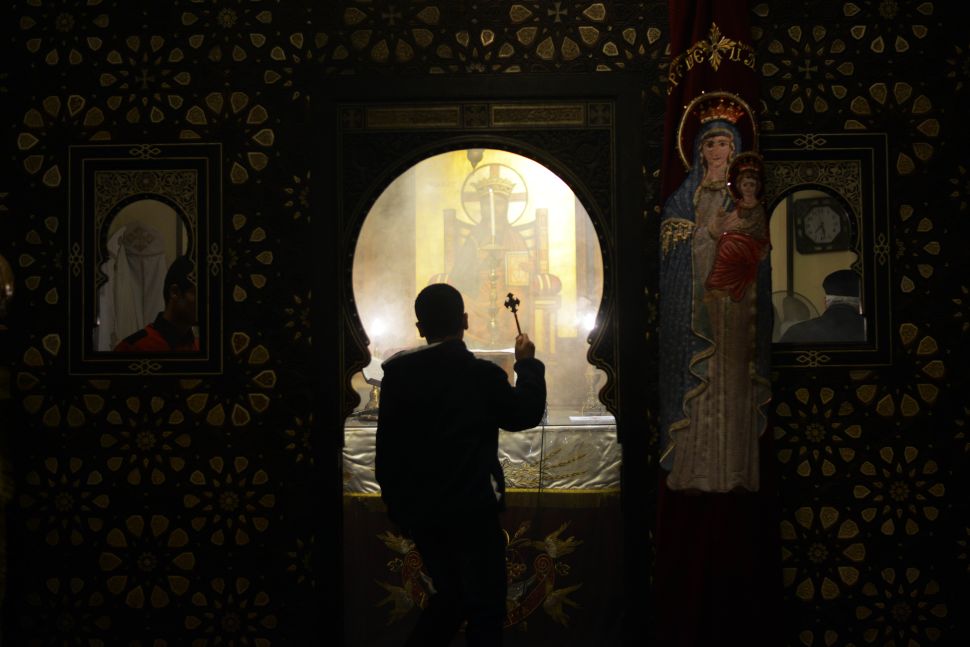 Good governance is often cited—and correctly so—as key to stemming the growth of extremist sentiment and decreasing membership in extremist groups.
We know that governments embracing and enforcing the rule of law, human rights and democratic institutions fosters the strength of these values versus the apocalyptic blather of the Islamic State. We know that a society committed to equality and neighbor protecting neighbor can more successfully counter ISIS' extermination campaigns against religious minorities.
Egyptian President Abdel Fattah el-Sisi has repeatedly vowed to protect Coptic Christians from terrorism, a promise that has worn thinner with mounting attacks. In December, ISIS claimed responsibility for the first suicide bombing at St. Peter and St. Paul's Church in Cairo, killing 29 people on a Sunday morning. Early this year, seven Copts were killed in a three-week stretch of chilling attacks in Sinai's El-Arish, sending more than 400 Christians fleeing and seeking refuge along the Suez Canal.
Declaring it "obligatory" to target the country's Christians, ISIS issued public threats and Sinai Christians reported pressure to pay a tax to the terror group or convert to Islam. Then, on Palm Sunday, suicide bombers claimed by ISIS struck during Mass at the gate of St. Mark's Coptic Orthodox Cathedral in Alexandria, killing 17, and at the altar of St. George's Church in Tanta, killing 27.
Many Copts have been willing to give el-Sisi a chance, especially because of the understandable fear of another Muslim Brotherhood leader like Mohamed Morsi along with appreciation that the current Egyptian president has dropped in on midnight Christmas Mass. But security rhetoric has little foundation if systemic problems aren't rectified.
In a statement after the Sinai attacks, the Coptic Church in Egypt said the terrorists "aim at striking our national unity." But what unity is there when 10 percent of the population—with a history stretching back to the first century—continually face threats and discriminatory policies in their own neighborhoods?
The Egyptian government helped rebuild some of the churches torched after Morsi's overthrow, but a law passed in August allows governors to limit permits to build or renovate churches in a way that reflects no more than the arbitrarily estimated number of Christians in an area. Human Rights Watch underscored that construction discrimination is no small thing, as a significant amount of anti-Christian violence in Egypt stems from Muslims furious over church construction or the mere rumor of it. "The authorities are ignoring the underlying systemic issues and sending a message that Christians can be attacked with impunity," said Joe Stork, HRW's deputy Middle East and North Africa director.
And how is ISIS going to believe that the government will protect Christians from terrorists' wrath when sectarian violence is answered with a slap on the wrist and discrimination?
In a March statement, Amnesty International said the government's practice of eschewing prosecution for sectarian attacks against Christians in favor of reconciliation agreements, which have at times kicked Christians out of their homes, "further fuel a cycle of violence against Christian communities."
The State Department's International Religious Freedom Report notes that sometimes police and security officials have "failed to respond" to the kidnapping, torture, conversion attempts and extortion of Christians. In 2015, Christian students were accused of denigrating Islam for filming a video mocking ISIS; residents of the town of El-Naseriya responded by chucking rocks at Christian homes and the "reconciliation" session resulted in the students' teacher being kicked out of the city and Christian clergy having to make a formal apology.
Of course, even when government falls flat there are good people with pluralistic values of brotherhood that they will practice in their daily lives no matter how free or oppressive the regime. Seven police officers died stopping the bomber from making it inside St. Mark's in Alexandria, including three women. Brigadier general Nagwa El-Haggar's nephew told Egyptian TV that his aunt "was a Muslim believer; she was praying at the church and doing her job in securing Christians also praying at the church."
For Egypt to have a chance at that kind of unity, to have a shot at stopping ISIS' vicious campaign against Copts, the country must commit to enforcing the rights of Christians in both word and deed. As it stands, ISIS simply sees fertile ground in a state where sectarian tensions have been supported or egged on by policies.
Bridget Johnson is a senior fellow with the news and public policy group Haym Salomon Center and D.C. bureau chief for PJ Media.