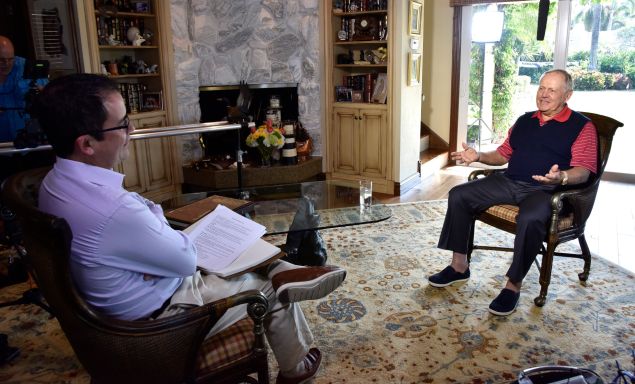 The world's greatest golfers are teeing it up this weekend, all vying to top the leaderboard and slip into the coveted green jacket that the winner of The Masters golf tournament gets upon accepting his trophy.
A six-time winner of the green jacket, Jack Nicklaus holds the record for the most wins at the Augusta National course. In total, he's won 18 major championships since trying professional in 1961.
Now, after a half-century in the game, the 77-year-old legend is finally getting the 'star' treatment – at least on TV – in the form of a definitive documentary about his life.
The three-part special, entitled simply Jack, begins Sunday night just after the conclusion of the 2017 Masters Tournament. The initial installment will focus on Nicklaus the prodigy. Parts two featuring Nicklaus in his prime golfing years, and part three highlighting Nicklaus' legacy will air the following two nights.
Nearly 100 interviews – including fellow sports champions like Bill Belichick, Roger Federer, Wayne Gretzky, Richard Petty, Jerry Rice, Nolan Ryan, Annika Sorenstam and Lee Trevino, as well as Presidents Presidents Donald Trump and George W. Bush — were gathered for the film.
Speaking at a television critics event, Nicklaus reflected on his life, saying, "Well, I think that my most significant personal accomplishment would be my five children, 22 grandkids and my wife Barbara."
When pressed to discuss his greatest achievement in the game of golf, he responded, "Obviously, my golf record is something I was very pleased with. I've been able to transition from the game to [designing courses] to charity [work], and [those are] things that I've really enjoyed being part of."
Talking about reaching legendary status, Nicklaus remarked, "Well, I think that record, obviously, has something to do with it. You don't become a legend unless you win. But, I think a lot of it is how you handle your life and what you contribute to society. Hopefully, you leave society in a better place than when you got there."
Asked about his time spent with President Trump, Nicklaus revealed, "Well, I played just one hole with Donald. We opened up his Trump Links at Ferry Point, which is in the Bronx. I've known him a long time through the game of golf. I think he's going to do a good job. I'm very supportive of all of our Presidents.
In a tender moment, Nicklaus, when questioned about a tough time in his life, responded with an unexpected answer, one not relating to the sport he's known for. "I think probably maybe the toughest is when we ‑‑ about 12 years ago we lost a grandchild to drowning."
Relating lose to his profession, Nicklaus added, "Sure. I lost a lot of tournaments. I actually finished second more times than I finished first. But, you know, that's all a learning experience. You learn from losing. 144 guys start the tournament, and one wins, and somebody's going to finish second. If you finish second, you've actually played pretty well. You've given yourself a chance to win."
Then, he turned back to real life, saying, "But those are not life‑changing situations. It's a game. Golf's a game. You treat it as a game. You have fun with it. I've had setbacks in business. I've had setbacks in golf. We've had health setbacks. We've all had that, but I've been a pretty fortunate guy. Nothing that has been more serious than losing my grandchild."
Summing it all up, Nicklaus said, "I was a very lucky person, very fortunate to be able to be involved in a lot of different things, and it's been a great ride."
'Jack' airs Sunday through Tuesday, April 9-11 at 9 p.m. ET on the Golf Channel.