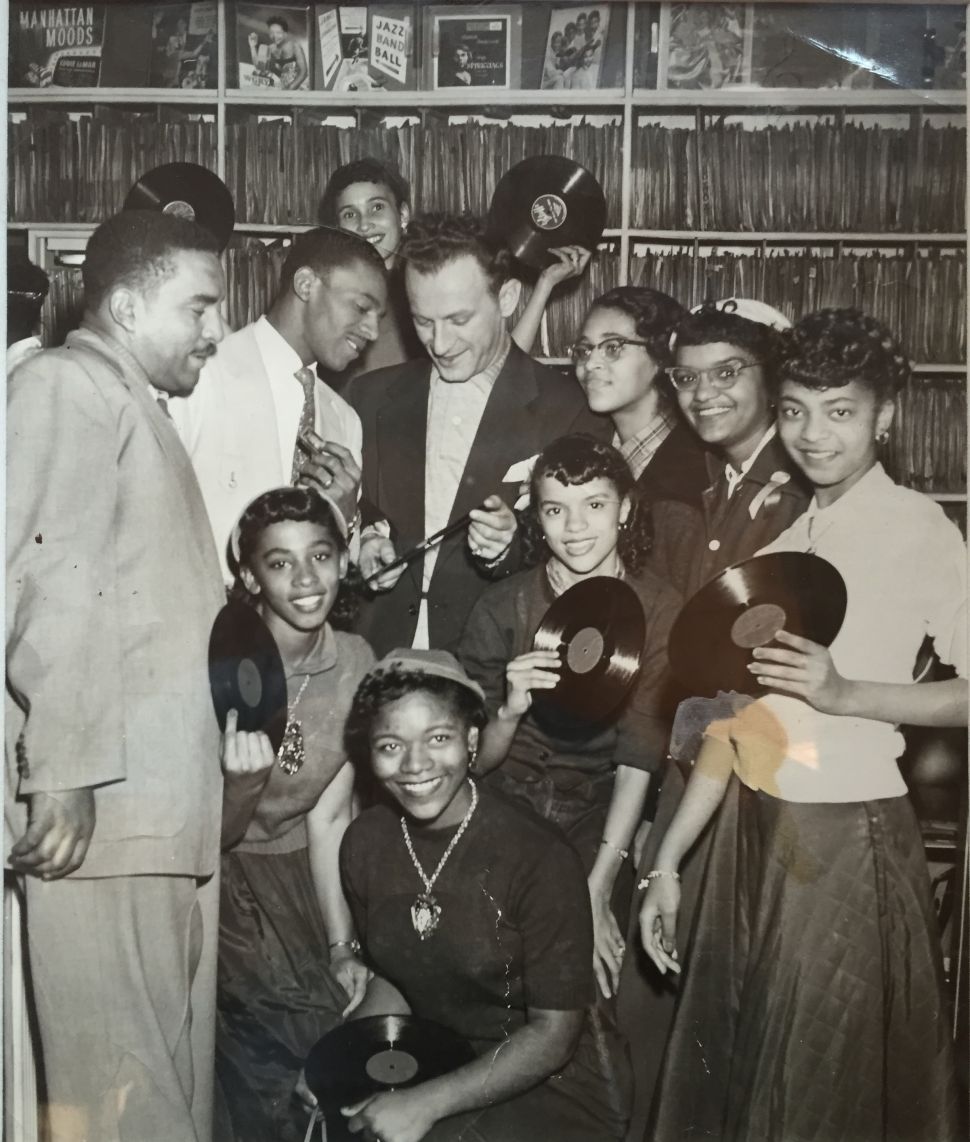 Jamar Chess reached out to me directly after reading my story about the history of black-Jewish relationships within the American music industry.
One anecdote, which we cited from an academic history but have since corrected, cites The Rolling Stones' Keith Richards who swears he saw Muddy Waters painting his grandfather, Leonard Chess' house. Jamar, along with the other Rolling Stones and all other Chess Brothers, maintain Richards was hallucinating.
But any accusation that the Chess Brothers Leonard and Phil, along with Jamar's father Marshall, intentionally took advantage of poor, young black artists with racist intent is a question hard to parse from historical context. There was certainly no precedent for equitable industry practices back then, and it's always the case in capitalist enterprise that those shaping how an industry operates set that industry up to benefit themselves, first and foremost. We wanted to give Jamar a chance to speak on his family's behalf.
After all, Chess Records earned its reputation not only as a seminal blues label with Muddy Waters, Howlin' Wolf, Buddy Guy and Willie Dixon but also as a respected R&B label that signed Etta James (and nearly James Brown, Jamar tells me) not to mention redefining rock 'n' roll when the Chess Brothers signed Chuck Berry.
After Jamar and his father Marshall returned from Chuck Berry's funeral, he reached out again. "It was a royal send off in true Chuck fashion," he said, "13 white Cadillacs, police escort, with over 1,000 people attending the service. As the family spoke what struck me was the values that Chuck instilled in his children, grand-children, and great-children. Along with being the father of rock 'n' roll, he was also a devoted family man."
Now Jamar's not only working with the Chess family's storied back catalog, but he's also been serving as founder and partner in music publishing firm Sunflower Entertainment Group since 2002. Sunflower specializes in administration of classic American catalogs, while Spirit Music Latino, a new joint venture he co-founded with Juan Carlos Barguil and Spirit Music, aims to bring the tremendous trove of amazing, unheard artists in Latin America to new audiences and new licensing opportunities.
The Observer spoke to Jamar recently about dispelling rumors of his family's inequitable treatment of their artists, how being a music publisher in the 21st century is both similar and different from his family's storied way of doing business, and why Latin music genres like cumbia are the fastest-growing, untapped market.
You primarily work on the publishing end of the business, right?
Jamar: Publishing, licensing, a little bit of record label stuff, yeah.
You wanted to meet with me for this piece, so that begs the question of what you really thought about that story I wrote about the strained relationship between blacks and Jews being exacerbated by music industry practices back then.
I liked it, just the piece about the Keith Richards stuff…to this day he argues with my father about that story [from] 1964. There's one good documentary where they interviewed my father and Keith's telling the story, assures it's true, that sees Muddy Waters painting, and then they cut to my father saying, "It's bullshit!" It is what it is.
Sure, and people can pull together a narrative with various strands and anecdotes. It definitely becomes hard with music when the facts are so contingent on oral histories.
Yeah, but the thing about my grandfather is, it's really hard to talk in this 2017 context when things were so different in 1950s Chicago Southside, pre-civil rights, pre-integration. It was hard for us to understand what that's like. And my family came from Poland, so they were immigrants as well. They never saw black people in Poland, you know what I mean?
Your name is Jamar.
Everyone always assumes I'm black!
Something I hope came across in that piece was my idea that our ancestors took a lot of jobs in new markets that were emerging that the white gentry didn't want, going back to the same "you handle it" kind of mentality pushed upon the Jews since we were the tax collectors in the Middle Ages. There's a little bit of that, guys like your grandfather saw an opportunity to get in on a new business and were scrappy about it. But the question then becomes, did we, either as a people or subconsciously, agree to throw our fellow neighbors under the bus and commodify them in a way, or monetize them?
I don't buy it, no. My dad's Bar Mitzvah in 1955 was one of the first interracial events in Chicago. One of the first times you have these artists, like Muddy Waters, come into the temple, and it's a really unique thing. We didn't see this black stigma thing, you know? We were immigrants, they were immigrants. It was a very symbiotic relationship.
This was during The Great Migration, when all the blacks in the South came to Chicago. It was this meeting, and we all searched for a better life, it wasn't about using anyone. We were leaving the shtetl in Poland, a horrible village where they had to use a cow to keep warm. Muddy, Chuck Berry, all these guys escaped the South to Chicago for a better life. And my grandfather just had this serendipitous moment where they meet, and make history, which they didn't know they were doing at the time.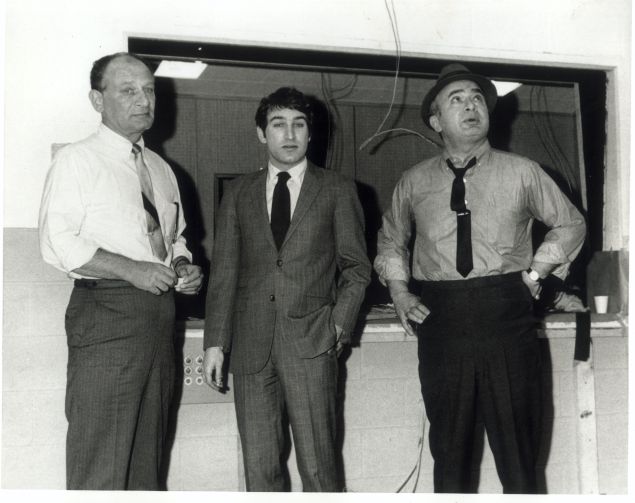 When you hear those accusations, and you also know how there was no frame or standard for what constituted ethical treatment at the time, what can you say different now? 
I think it was maybe at play in general, but in terms of royalty disputes or whatever? It's tough for me to say, I wasn't there. But there was never a lawsuit brought forth. They were family. But at the same token, this was trailblazing. It was the '50s, entertainment law didn't exist, there were no industry lawyers or record brains.
Whenever someone's coming into an emerging industry, they're always setting up that infrastructure to benefit them. It's opportunistic.
Sure. But there's this great piece after my grandfather dies in '69, there are a bunch of tributes and this big radio station has a call-in tribute. Muddy Waters calls in live, says something very heartfelt and says a line to the effect of, "He made me just as much as I made him." It's great because he's dispelling all this bullshit.
I've always been pained by the fact that our Jewish history and black history are so intertwined in a lot of ways—slavery, diaspora—but people don't see it.
That's the opposite of your piece—that's where there's common ground. There's both the plight of being a Jew and the plight of being black in the '50s. So we get it.
But it was interpreted as hierarchical, and in others those business relationships seem to have fueled a lot of anti-Semitism. 
People will say what they say about the royalty stuff, but I'll defend it till the sun comes up, because there's no lawsuits, no hard [evidence]…it never happened.
Where are we at with equal, transparent relationships in the business now? Do you think technology can help people negotiate fair contracts that benefit all parties?
In terms of education in general, we could sit here and Google everything.
Sure, but outside people still don't understand these things. There's still this issue of a song's performer making nothing when their tune comes on the radio if they didn't write it. Aretha Franklin still makes nothing when "Respect" is played on the radio. Are you invested in that fight?
I am, on the more money for the publisher side. [Laughs] The contract stuff is a tough one. On the other side of the table, I wanna be compensated just as much. I'm on the phone, I'm hustlin', you know? And we all need to share.
There's always been a lot of collusion between publishing arms and terrestrial radio, but of course those distribution models are changing entirely.
It's definitely tough with royalties. Statements come in from sources like Pandora, and its micro-pennies. We print out a statement that's, let's say, 500 pages, and it adds up to $13.
Chess always had one of the strongest legal teams in the game, too. If something was used without permission or negotiation, you were on top of it.
You've gotta be, yeah. Nobody tries to sneak sample stuff by anymore. But there's still situations. We had a situation last year when there was a song on Broad City, actually, and the song had a sample of ours but nobody had told anyone until [the last minute]. "It's cutting this week, we need to clear it ASAP!" At that point we had the leverage, so we got a little more of a percentage. Business is business, you know? You could have come to me earlier. Us, as the rights holders, have the power.
How do you separate your managing these storied back catalogs with your own publishing enterprise, with Sunflower, when it comes to taking on new artists and how you operate? Where do you draw that boundary between family business and what you've got to do elsewhere?
We handle all of our classic American music catalogs via Sunflower and we have now separated our Latin Business in a joint venture wth Spirit Music called Spirit Music Latino. Family business is tough, because it's so interesting.
Does it teach you about the other stuff, give you the tools to do other work?
It does, but it's such a mixed bag. There's no nine to five, it's all one thing. But it's all I've ever done. I've never had a resume. For me it's about how I carry on the tradition and legacy, but also do my own thing. And so I did.
What does that look like?
Hispanic, Latin music. We got into salsa, some Columbian, Dominican, Mexican music. We represent catalogs in South America and monetize for them here. We make money with it, but we do a lot of creative stuff. We do a lot of film and TV licensing, so we did the Narcos Netflix (NFLX) stuff. And we just partnered with a bigger music company called Spirit Music, they have The Who and Pete Townsend's catalog, and we started Spirit Music Latino to do some new stuff. For me it's like, O.K., let me pivot to an opportunity we can really grow on, but I'm still carrying on the tradition of my father and grandfather.
Have you ever thought of trying to run a reissue label like Light In The Attic? We don't really have a good label here for great unheard Afro-Latino recordings.
I've actually written on a cumbia music-driven scripted series for Netflix, we're working on the pilot right now. I have a lot of street cred within Netflix for Narcos. The Narcos stuff is a good example, because Netflix isn't calling Medellin, Columbia, to clear music and deal with gangster shit, you know? They wanna deal with me, or a trusted source.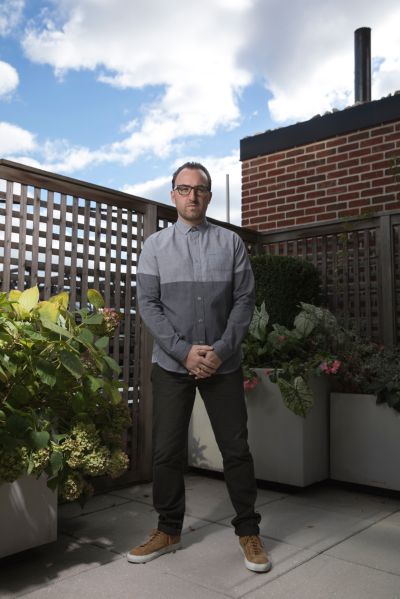 You go to Medellin for Netflix?
Yeah, it's pretty awesome.
You're their emissary?
I've sort of become a conduit of Latin music for Netflix. No one's trying to work with a small village that makes good cumbia stuff, no one's doing that. For us, that's where the opportunity is.
What safety considerations do you have to make when you travel?
It's been pretty fine, Medellin has had a few…not wearing my watch. No jewelry, no flash, low-key. In Medellin, one time we were going to dinner, I had the window open with my hand out and all-of-a-sudden I feel all the windows come up and the door lock and hear, "we're driving through a rough patch." Nothing happened, but you just have to be aware.
I was in Mexico recently and felt really good, but the trip before that, I was happy to leave. The energy was weird. You would see guys in S.W.A.T. uniforms just chillin', and some taxi driver tried to take us for a little ride.
"World Music" is a meaningless label, but at the same time, working with genre is a function of both of our industries. It's a codifier, and you want to stay open to new things. But taste is a value you can't put a price on. Your family had taste, but they weren't like Alan Lomax who wanted to preserve old songs so they didn't disappear
No, it was very much about the music business. It wasn't making about some art that's gonna be in fucking MoMa. It is now, but that wasn't the intention.
How does this rich back catalog live in a digital economy? How do you leverage these emerging platforms and technologies while still keeping your margins healthy?
That's what keeps me up at night. There's been slowing, and the market's been up and down. After 9/11 there were no advertisers, no one was licensing Chuck Berry songs! But then it came back after about six months.
Your grandfather was also a patron, because he interacted with the artists on the daily. But there's more noise and more tech channels between everything these days. Even when you're in a different economic bracket, it's important to keep that pulse of otherness very small and slow.
Tech is great, yes, but the data shit drives me crazy. I have a good Pandora story, actually. I'm good friends with the Latin programming/curator guy at Pandora, and he called me up last year to say, "Hey, there's this band from Mexico called Los Daddys that's blowing up," because Pandora has so much metrics and data on the backend, they see everything.
"They're a band from Pueblo, Mexico, that's blowing up, they're not available on any digital stores, I can't get in touch with the leader, but Pandora metrics are through the fucking roof. You should try to help them out, at least get their shit up on digital or whatever."
[youtube https://www.youtube.com/watch?v=-2_-dwHPnOQ]
So I get in touch with the guy, his name's Chucho, and we do a deal. We get it up, and we do really, really well with it. The parallel in the old days with my grandfather would be a disco jockey from Cleveland calling Leonard to say, "We've got this great record, we're getting requests, these girls are coming in. You've gotta sign, I'll send it to you!" And he would drive out and sign it on the spot or whatever, the single. But nowadays a guy from Pandora's calling me to say, "The metrics are blowing up, you've gotta sign this record!"
The difference seems like with data there's many more gray areas. We all learned on technology as a culture together, and through these tools that are privy to people in the industry, data can be deceptively interpreted. We can learn a lot about our consumers and customer base, with more opportunities for profits and revenue, but ethical considerations exist too about what to do with so much information. Is that something you think about?
Nah, I don't think about it. [Laughs] But what I will say, what's sad in a way, is that human relationships, like the relationships Leonard had with that DJ in Cleveland or Philly, I have it with fucking zeroes and ones. There's that human element that's lacking a little bit. The guy in Detroit who was getting calls about that doo-wop song hears real passion from girls requesting it. Narcos and Pandora means looking at spreadsheets. Data's cold.
And it doesn't take into account the element of chance and adaptation and changing tastes.
Right. How exciting can someone get? That bothers me. There's a good story in my family about trying to sign James Brown, not a lot of people know this. It was his first record, in Macon, Ga., I believe, and this new artist is hot, he's blowing up. My grandfather tries to fly from Chicago, there was this thunderstorm, and Syd Nathan from King Records beat him to the signing.
Everyone was excited about going to Georgia to sign this new guy, they were passionate. How can you get that passionate about numbers? That's my issue. YouTube's gonna give me a fuckin' hard on? No! I wanna hear something and know "This is a hit!"
I've always looked at the way analog sound recordings look compared to digital recordings, as waves that never end, as a nerdy means of understanding there's no substitute for the warmth of music that sounds like you're right there in the room.
We're being a little romantic, but fuck it!
There's an intimacy that's lost.
That's what I'm trying to say. Spotify can do all their "Discover Weeklies" or whatever the fuck they wanna do, but it's tough. For me, what I try to do in the Latin space is replicate that. Let's jump on a plane tomorrow, go to Santo Domingo and sign this kid who's blowing up because there's passion there, not just fucking YouTube plays.
Do you want to stay in publishing your whole life?
I think so. There's a bit of honor for me to carry the third generation, and I have this 60 years of experience that I can sort of bank on.
My colleague Tim Sommer says you can tell the story of America through Bo Diddley.
That's interesting. He was a true artist in every sense. He made his own guitars, his own pedals, he was a true, all-around artist. For me, to blast a Bo song in 2017 is just amazing.
What about the power of cultural influence? Our people were kind of the channels of black American art before they were legitimate, and I hate this phrase, but giving people a seat at the table.
I don't think we take credit for it, no. Chuck Berry left Saint Louis, saw Muddy Waters, who was his hero, and Muddy told him to go talk to Leonard, he'll help you out. The next day they made "Maybellene," and it was rock 'n' roll history, but we all wanted the same thing. We all wanted a better life, and I don't think there's any dispute to that at all. Whatever that means socioeconomically, I don't know! [Laughs]
[We go upstairs, talking about how our grandfathers were both part of a scrappier, tougher generation of Jewish Americans.]
Tough Jews don't really exist anymore, like my grandfather. That generation is dying by the day, and it's sad. I would like to be more of a tough Jew, but, you know, I'm not.
Well you're also involved in an area of this business that requires a certain diplomacy, not making blanket political statements or aligning yourself with any ideologies.
Right, but my grandfather's generation had to be tough Jews to survive. My grandfather's driving through the South, selling records out of the back of his truck in a segregated area. On one of my first trips to the Dominican Republic, everyone thought I was a federal agent.
What are you doing here? I told them I was a music guy. I went to this town, San Pedro de Macorís, where all the big baseball players come from, and no Americans but baseball coaches ever go there. You had to be tough, but in a different way. I'm tough with a MacBook, while my grandfather was paying people to play their record. It's their generation.
That grittiness tears down boundaries, in a way. A good artist gets in people's faces too.
It's romantic, and that's fine, I'm happy with that! My guy from Mexico with the Pandora thing, before he met me he was making nothing. All of a sudden we've transformed his life and his family's life in a Pueblo, Mexico, village. What happens now is that guy who tells everyone else, "I'm working with Jamar" starts a grassroots, organic kind of thing. Muddy Waters tells Chuck Berry to go see Leonard because he can help him. It's the same thing.
Patrick Carney [of The Black Keys] is kind of full of shit.
They're copies of all of our artists—Howlin' Wolf, Muddy Waters.
You can listen to a song and know directly who they're aping, but so much blues music becomes content slurry in the current media landscape. How do you keep it from becoming ubiquitous?
It's tough. Howlin' Wolf was so big, he was 6'8", there's a story where he came to our family house and his shoes were cut open on the sides because his feet were so wide and they didn't make 'em that big. He was a giant. The Black Keys are a straight copy, but they would say they're keeping it going, which I believe. But some fucking 18-year-old in Williamsburg doesn't know that.
Music's only as resonant or important to a listener as the collection of narratives and contexts around it. I can imagine some of that is hard to reconcile for you all. New businesses have to be more transparent than they used to be, and I feel like the record industry is particularly slow to catch up with that idea. There are tons of dynasties and family relationships. So what do we do to prevent the big three media companies from becoming the big three tech companies?
Yeah, well all the major labels own some small, minority share of Spotify.
Does Chess?
No, I wish. I would have a Rolls Royce waiting outside ready to take you home! [Laughs]
What's your favorite smoked fish?
Sturgeon, I like sturgeon. Food is a big part of our thing, a vehicle for love in our culture.
All my best friends growing up were Italian. And just like us, they have strong food cultures, domineering mothers, and were victimized by fascism.
Yeah, my girlfriend's Italian, from Queens.
It's International Women's Day. Did the women play in Chess Records' success?
Not at all, because that was the era, you know? My grandmother maybe went to the office twice. My grandfather was type-A, workaholic, nonstop, possessed, obsessed.
[youtube https://www.youtube.com/watch?v=Bhuq9rNO_FQ]
When I'm a little down, the story I tell myself is of how NASA, when they launched Voyager I and II in the '70s, they made all these relics to launch into space and represent Earth to aliens. Carl Sagan gathered all types of shit to say, "We're gonna search for extraterrestrials, and on board we're gonna hold a capsule of what Earth is." So there was this golden record he made of Beethoven, Bach, and Chuck Berry's "Johnny B. Goode" to represent Earth to aliens. You take an immigrant from Poland, who migrates to Chicago and starts this label, then makes a record that represents Earth?!
When did your passion for Latin music ignite, adjunct from Chess?
I'm 35, so 10 years ago? Our business partner is Columbian, and he introduced the idea of getting into the Latin business because it's untapped, the fastest-growing demographic, middle class of America, and no one in South America knows what they're doing in terms of publishing, administration, licensing, monetization, and we went out and did it.
You saw an emerging market, arguably the same way your grandfather did.
Same thing. Yeah. But instead of black people I'm working with Dominicans and Puerto Ricans.
Cumbia's really great. I just learned about it recently.
Cumbia's amazing, the rhythms of Columbia.
There's a stigma about Columbia that may be a little inaccurate, but you've arguably contributed a little bit to it with the Narcos shit.
So I told you we have that pilot I'm working on, that's gonna be a fun project to do if we can really sell it. For me, what drove that is, we have all this amazing Latin content, but how do I leverage that to do something in a bigger picture. Let's make our own series, use our own music, and use it as a vehicle.
There's a quality control your family had that you want to keep as you start doing that.
For me, it's what feels good. We're working with this new artist El Dusty, he's from Texas, he's been doing a lot of remixes of some older cumbia and makes this Cumbia/EDM/trap.
[youtube https://www.youtube.com/watch?v=MT02fwtyVVU]
Labels with imprints are a clever way for that label to release music under the guise of being "indie" that puts kids onto some major shit through an underground narrative.
Yeah, totally. They're faking it in a way.
It must be frustrating to work within this new cottage industry infrastructure. Your family helped make an infrastructure that you now have to work within. But you guys don't seem to focus all your energies on a strong social media game or any of that shit.
I have a big issue with that, and this is totally off topic, but a lot of our business is B2B. I don't really give a shit about the consumer. You or someone would argue that I should have this fancy website, but I'm not sure that's necessarily true. Social is an interesting space, but it all goes back to the music.
Getting that stuff shored up anyway so you have a pulse or a feedback lever with your audience seems like a smart move though.
Right, well I have some funding now and am working on some new deals, but I have to pitch my funders about why something is hot.
But for you it's about the spiel, and the spiel is only as real as your appreciation.
Exactly, you got it.
How do you reconcile bottom lines with people's lives?
I know what you mean, it's tough. At the end of the day, we've all gotta pay rent.