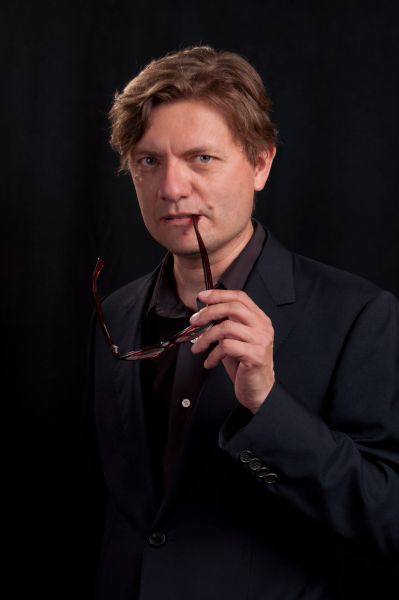 This is People Who Podcast, where we talk to the people behind some of the most fun and interesting podcasts available today. Why do they make their shows? What do they love about them? And is podcasting actually a viable career option to today's recent batch of graduates?
Most people who know James Urbaniak associate him with a particular character from a film like Robert Crumb from American Splendor, or as the voice of Dr. Venture from The Venture Bros television show. Others know him from those roles and many others, and excitedly list many of his credits in a row when they meet him, as one bearded gentleman did in a bar while I was talking to James Urbaniak himself.
"You're like a walking IMDB" James said with a grin to the man who excitedly thanked him and walked away.
But not everyone knows that James Urbaniak does an ongoing podcast called Getting On With James Urbaniak and just completed a ten episode podcast mini-series named A Night Called Tomorrow  for the podcast network HowlFM.
The Getting On series will provide you with all manner of laconic characters in unusual and sometimes heartbreaking situations, and all named James Urbaniak. Often, in the narration of that show, his clear dulcet voice will be the only thing you hear.
As for the other show, the mini-series, it's an absolute blast from the past with old Americana style accents, faux excited movie stars, and murder! The Night Called Tomorrow episodes are very short, usually about ten or eleven minutes and the twists and turns happen so quickly that you are forced to either pay close attention, or run the show backwards to see what you missed.
I had the most fun listening to those programs, and it was my absolute pleasure to talk to James about them on an off day from shooting the television show Difficult People.
Observer: I noticed you worked with writer Brie Williams extensively on both shows. How did you meet her?
James Urbaniak: We met at the Sundance Directors Lab at Redford Sundance Resort where they have writer/directors workshopping things they're developing. I was there as an actor and Brie was there as an assistant editor. It's a very social scene. The whole program lasts for a few weeks, and there's a bar where you hang out when you're not working, and you just meet people. We both lived in LA and we stayed in touch afterwards. She told me her main thing was writing, and she gave me a script she was working on. We were having lunch one day, and we came up with the idea of Getting on With James Urbaniak together.
I told her that I wanted to create something, and we came up with the idea where it was James Urbaniak's podcast. He's talking to a microphone, but what's coming out of his mouth is scripted and every week it would be a different person, but he would just have my name. They're little fictional monologues where the given circumstances of James Urbaniak would change and the only consistent thing would be his name. However, because the writers were writing for me there will be parallel images and themes, often of bad relationships and loneliness. I tend to find the sad James Urbaniak character funny. Another thing is all the characters come out pretty articulate, and there tends to be a thing where the dialogue isn't that naturalistic, and it comes out poetic and writerly.
I started approaching writer friends, and the first script I got was from a great NY playwright named Anne Washburn who wrote the first episode. Brie also wrote one of the first episodes I produced, which was about when I was apologizing for a tweet that I did. It was called A Public Apology.
I started writing another one thinking it would make a good Christmas episode, and then Christmas came and went. I was talking to Brie about it, and I said "It's a Christmas thing, but we can de-seasonalize it if you want to work on this with me", and that was called Down. It was another early one where I play a college professor who's been fired from his job, and gets drunk and makes a scene. It was the first time we did something together, and it clicked, and I really enjoyed writing with her. We complemented each other. We had similar concerns, and distinct approaches, and it worked. It was fun.
So that first year I was churning them out like once a month, and if I didn't have one I would bang something out with Brie. We worked fast. I did that for a couple years, and then I kinda took a break from it. Then some people from Howl approached me about doing something with them. Those Getting On episodes are stand alones, so I thought it would be a fun challenge to write a continuing story in podcast form and out of that Brie and I created A Night Called Tomorrow.
I want to get back to doing the Getting On show again as well as do something for Howl again so Brie and I came up with an idea to write about an hour long standalone episode. It's gonna be a contemporary story about someone having an identity crisis, and there's a political backdrop to the character with sort of a "ripped from the headlines" bent. He's going to be another Urbaniakesque weirdo.
I noticed that there's a continuous thread running through all the narratives with you and Brie where your character just has these great throwaway jokes. The one that I liked the best from A Night Called Tomorrow was when you said "It was cold and dark back then, but of course it was the Great Depression." Is that something you do in real life?
Humor is really important to me, and we both use that in the writing. I like stuff that's pure comedy, but often what I'm interested in writing isn't purely joke oriented. I'm interested in the balance between story and character, but there's still going to be jokes, and there's still going to be humor. I can't imagine writing something that's not funny. That's just the way we write.
How much of that Arch Hutton character (from Night) is you? Would you say for instance, that "Being alone is easier"?
You always put part of yourself into the characters, and I'm not someone that prefers being alone at all. Arch was a World War II vet who's gone through some heavy shit. He goes slow and steady, trying to get along day to day, and trying to not ripple the waters. I can certainly see aspects of myself in him when I was in a kind of self-imposed stasis, and I recognized things about myself that I wanted to change, and I wasn't changing them. It's kind of a tradition that the characters in Getting on With James Urbaniak aren't that happy. They're kind of fucks ups and losers, and it's more dramatic and funnier. I'm fond of films and literature of the early to mid-20th century, and there's a pleasure to playing a character from that time, and the tropes of it.
The movie star and film studio stuff in A Night Called Tomorrow seems to be poking fun of that era of filmmaking. What are some of your thoughts on that?
I've been a huge fan of classic films since I was about 18. I was and am obsessed with actors and there's a lot of great acting in that era, which became a sort of fuel for creating the show. The '50s in particular were an interesting era when the country was prosperous again, and the men of the time were marrying and having families, and there was sort of a can-do optimism in the culture. However, if you look at the literature and films of the period, there's a very dark paranoid theme happening that was reflected in the culture with the red scare and McCarthyism and the black list. A Night Called Tomorrow was influenced by those two warring fronts on the country: a kind of manic and denialist optimism and the repression tied to that.
Was this all on location or was it in a studio?
It was in a studio. We recorded the vocals in a studio in LA and then me and my co-producer Mark McConville mixed it at home on our laptops. We wanted it to feel like a little movie and we got sound effects from online effects libraries, and we made some of our own sounds. It's funny that Getting On started as "what's the simplest thing I can make?", and as it progressed we got ambitious, and we played around with genre. There's one where I'm a space captain, and another one set in the old west.
I moved to LA ten years ago, and I was finding out the history of Los Angeles, and out of that came a "B" story (from Night) about the building of Dodger stadium that we mixed in with our fictional history.
A lot of period shows tend to overload you with references from the time, but you didn't do that. How did you select those key references and weave them into the story?
I was reading a lot about the period and found out about the history of Dodger stadium. There was a Latino Mexican American community in LA called the Chavez Ravine and there was an effort to build public housing there, which would have meant dislocating the people who lived there. That project was going to happen, and a republican mayor named Poulson didn't want the city to build public housing because it seemed too commie. There was talk of the Dodgers coming in so he said, "That's what we're going to do. We're going to build a giant stadium", and this Mexican community was told "you're out". That seemed like a good real life thing that we could reference, and tie into the fictional world. Of course all the other stuff we made up like secret tunnels, and we had some real movie stars, but most of them we made up.
And you also had a Shirley Temple character in there.
Yes, a lesser Shirley Temple who's out of the limelight. In sort of a procedural tradition, she was the eyes on the street; a girl that's been around. She knows about lots of offices and secret hideaways and bedrooms in Los Angeles. She's sort of ostracized now because her glory days are behind her. We thought that would be a fun character.
I love it when your character goes to her house, and the guy that answers the door says something like "I'll keep your secret".
Yeah, with the assumption that I was one of her conquests.
"The thing speaks for itself" doesn't mean what I thought it meant. The studio head says it at the beginning and it's foreshadowing, and afterwards I looked it up and it means something different.
I chose that because the old studios had these slightly pretentious slogans. MGM had "Ars Gratia Artis". They liked having a Latin slogan to give class to the product. Of course in the show, in all noir, things are not what they seem. The affable Disneyesque studio head has this faux humility at the beginning, and "oh it just speaks for itself, it just is what is", and of course nothing is just what it is and by the time Arch and Anne (the female lead character in Night) go down the rabbit hole in the final episodes the show gets more surreal and bizarre because the world is much stranger
Wikipedia gives the definition of "the thing speaks for itself" as "an injury does not occur without negligence".
It's a legal term and only used in legalese. I thought it sounded like one of those old studio slogans, and I thought it was a funny idea.
It is! But the meaning of the term ties in to the story too, and at the end you're telling the girl "Oh if I die are you gonna care? Is it going to be just another accident?"
Oh that's good. It wasn't as thought out, but once it's in there, things have a way of fitting when you create them.
How did you put the rest of the cast together, like Weird Al Yankovic?
They're all friends from LA, and a couple of them are not actors. I just thought they would be good, and Al is a sweet guy. If you're in showbiz in LA you just see him around. He comes to comedy shows and he's a real approachable guy. The way we had written that character was influenced by the character that Jack Webb plays in Sunset Boulevard pre Dragnet. He's a very affable outgoing young Hollywood guy, and he's the boyfriend of the girl that William Holden ends up falling in love with. He's a casualty of their meeting. We thought it would be fun to have a guy who has an indefatigable 1950s optimism "Hey how ya doin?" kind of guy, and he ends up working for this cabal at the end.
I was thinking about who could play the part, and I thought that someone who has this intense joviality is Al, and in real life he's super friendly, and a very nice guy, and I just started laughing thinking about that wonderful voice of his. I know the guy so I thought "what it could hurt?", and I called him, and he said "I'd love to do it, but I'm going on a national tour in a week. Now that doesn't mean I can't do it, just contact my manager." We hadn't even started recording yet, and I emailed his manager and wrote "I know this sounds like a longshot, but Al told me to contact you, and is there any chance he can record for the next four days before he leaves?" He wrote back and said "Al can do it tomorrow" and I called Earwolf, Howls parent company, and they were like "Yeah you can bring Al in here tomorrow." We recorded all his stuff, and got it all together later and he's a mensch a real mensch. He was perfect for that part, and I'm glad I called him because he wouldn't have been able to do it at all later.
Andy Richter is the same way as the studio chief. He supports a lot of stuff that people are doing, and I approached him, and he said he would do it, and he was very nice. He's so great. With his voice, and his presence, you buy him as what was conceived as an evil Disneyesque character. He is a showbiz legend, and his history is sort of what makes that character work. Everyone else was someone that I asked, or my producer Mark McConville asked, and everyone said yes.
Azure, the leading lady, was an old actress friend of mine in LA and we just thought she would ring true as someone from that era. Jonathan Dinerstein, the composer, was a friend who I had known for years and he was a fan of that era as well. There's a certain Bernard Herrmannesque quality to the music, and we had fun collaborating on the ideas for the music. The score is just a huge element of the show.
I'm surprised you don't sell it separately.
There was talk of that, but it hasn't happened yet.
There are two questions I wanted to ask you that I found in one of your old interviews if that's okay.
Sure.
You told Al Pacino a joke in You Don't Know Jack. Can you tell me what joke you told him?
I have a part in the Jack Kevorkian bio pic, and I play a journalist. My first day of shooting was a scene where my character is interviewing his character in a diner, so my first scene is with the great man in a diner.
That sounds intimidating.
It is! But Al was very warm and welcoming, and Barry Levinson directed it and he's quite an established figure. Barry was equally lovely, but you're very aware that you're working with people like this. Al Pacino forgot his lines, and Al said in the parlance of actors "I went up", which is what you say when you forget your lines, and then Barry said "Oh its fine we'll get it." Then I said to Pacino "Are you nervous working with me?" and Pacino laughed and grabbed my shoulder as if to say "Hey buddy that's good." I made Pacino laugh, and everything that happens with him takes on an epic quality. I made a guy laugh at work, but it was Pacino and I was so proud of myself. And i was taking my cues from him in the shoot, but he's one of those guys that's always in the zone, but he would joke around on the set and he was really delightful.
You said in the interview that you lived behind a bookcase. How much would you say that informs you today keeps you humble or gives you stories?
This was approximately 1991, and I had run out of money. I wasn't making a living as an actor yet. I was doing a terrible day job, and an off-off Broadway theater at night for no money – quite happily though. And every actor without a trust fund has experienced this. I got to the point where it was "Do I spend this dollar on food or on the subway? Am I gonna eat an apple and a bagel today, or walk to midtown?" At that point, the apartment I was in was raising the rent, and I looked in the Village Voice for an ad, and it said there was a roommate situation available in Chelsea for 300 dollars and even in 1991 that was very cheap. I was like "That I can afford." So I went over there, and 2 young men were sharing a nice apartment on 23rd Street on the West Side. There was a small living room and an Ikea type bookcase there and a futon, and for three hundred dollars I was permitted to sleep on the floor, and it created the illusion that I had a room. None of us brought lovers or anything there. A friend of mine came over once, and saw my accommodations, and he didn't have any more money than I did, and he said "You live behind a bookcase?" It was true. I was like a troll living behind a bookcase, and I spent a year in there. I saved a little money, and got a better roommate situation with my own room.
That's when you know you've made it in New York.
Yeah, that was a good sign.