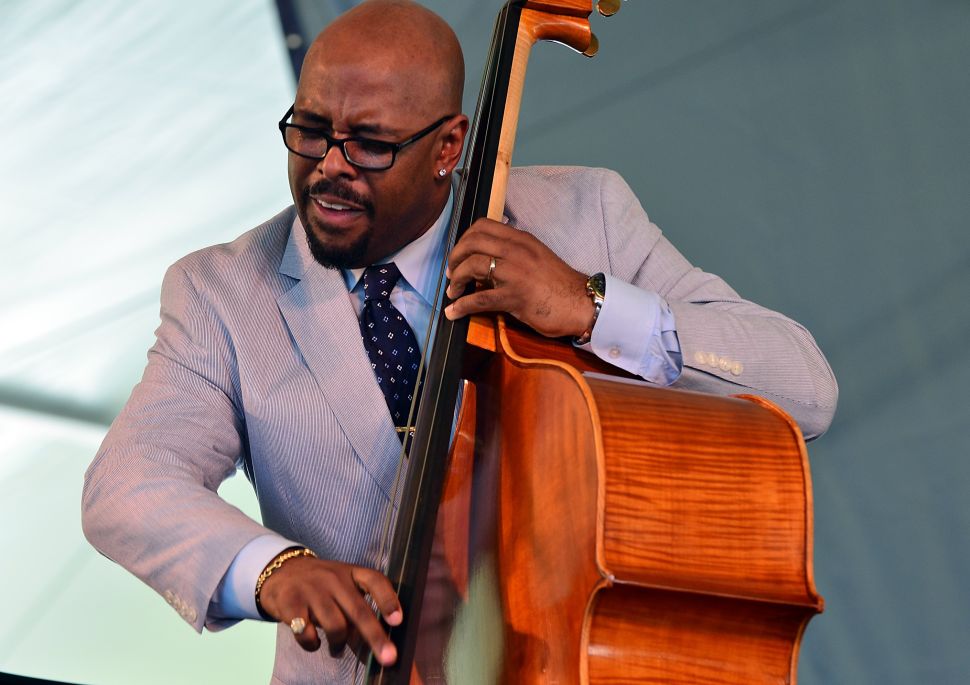 There's no doubt that the No. 1 bandleader, spokesman, and role model of the contemporary jazz scene is Wynton Marsalis. But, as a virtuoso soloist, an organizer of many different ensembles, and an eloquent advocate for the music in general, bassist Christian McBride is right behind him.
Where Marsalis runs Jazz at Lincoln Center, virtually unchallenged as the central organization for the jazz world entire, McBride is an artistic director for the admirably ambitious jazz program at the New Jersey Performing Arts Center (in Newark), the National Jazz Museum in Harlem, and, as of last year, the venerable Newport Jazz Festival.
For all that, Marsalis and McBride are hardly competitive with each other—they work together frequently, on various levels. McBride is one of the few contemporary jazz headliners with enough drawing power to sustain a nine-night run at a major club like Dizzy's Club Coca Cola, the nightclub venue of Jazz at Lincoln Center, where he is currently in the middle of playing roughly 18 shows over 10 days.
He opened the run last weekend with his big band, which is best known for having won the 2012 Grammy Award (Best Large Jazz Ensemble) for its premiere (and so far only) album, The Good Feeling.
For the rest of the run (until Sunday April 16), McBride will introduce an ensemble he calls "New Jawn," which, he explains is a phrase from his local Philadelphia for "new joint"—itself slang for a "new project."
Using an unusual instrumentation of two horns (trumpeter Josh Evans and saxophonist Marcus Strickland) and two rhythm (McBride and drummer Nasheet Waits) this will be a quartet well worth hearing.
Yet the big band (16 sidemen, including a deputy bassist, plus a vocalist, the leader, and an announcer) was a rather spectacular opening act for McBride's run at Dizzy's.
At least 90 percent of big bands over the last 80 years genuflect in the general direction of the Holy Royal Trinity of the Duke (Ellington), the Count (Basie) and the King (Benny Goodman, who remains eternally un-usurped as the King of Swing).
McBride makes a point of informing us that his band was inspired not by a member of this monarchy, but a man whose stage name came from a combination of organized religion and organized crime, the Godfather of Soul, James Brown.
There were numerous references to Brown throughout his early set on Sunday evening, most notably in the way that McBride opens with a theme song and considerable fanfare; he makes a big entrance that is heralded by Brown's own emcee and "cape man," Danny Ray. There's one instrumental, "Brother Mister" specifically devoted to Brown, and numerous tunes that refer to Brown-style funk backbeats.
Yet it seems that the basic dividing line in large-format jazz is between those bands that play in concert style and call themselves "jazz orchestras" (like Maria Schneider's) as opposed to those who think primarily in terms of dance grooves (whether they're swing or funk or whatever) and call themselves "big bands"—and Brown, no less than Ellington, Basie, or Goodman, is solidly on that side of the fence.
[youtube https://www.youtube.com/watch?v=QQumIJgE5-4&w=560&h=315]
Even when the music incorporates funk rhythms, they're deployed in a way that's very much in the beloved jazz big band tradition—you could lindy hop to everything this band plays.
Sunday opened with a bright and cheerful bouncer, appropriately titled "Optimism," by trombonist Steve Davis. Along the way, there was also a new and no less optimistic treatment of the jazz standard "Black Narcissus" (featuring tenor saxophonist Ron Blake), which McBride had first recorded in 1996 alongside its composer, the late Joe Henderson.
The band also essayed a thoughtful expansion of George Duke's "Black Messiah Part Two." In a speaking voice no less resonant than his bass—he could take up preaching the Gospel anytime he wanted—McBride stresses the funkiness of it all; yet in the music itself, the ties to Ellington and Basie are just as obvious as those to James Brown.
In every set by the Christian McBride Big Band that I've seen, Melissa Walker, the band's vocalist (and the bride of McBride) takes over for three songs, creating a highly entertaining mini-set-within-a-set.
The jazz waltz "A Taste of Honey" extends the allusion to 1960s pop styles, the piece sounds very much like something from the wheelhouse of Woody Herman and the Swinging Herd.
[youtube https://www.youtube.com/watch?v=P9hInXLveB4&w=560&h=315]
"When I Fall In Love," forever associated with Nat King Cole, is a surefire ballad. "Mr. Bojangles," however, shows the willingness of the McBrides to take chances: this 1968 country song, learned from Sammy Davis, Jr.'s iconic 1972 recording, was never intended for the big band idiom.
This is what was once called a "talking song" in which the main ingredient was narrative rather than melody. Yet Mr. and Mrs. McBride went for the gusto, with an all-out big band jazz re-imagining of a song that is ultimately about a black dancer; in the best tradition of Sammy Davis, it's an exercise in radical storytelling.
In addition to the remaining week at Dizzy's, McBride's next engagement in Manhattan is an all-storytelling event at the National Jazz Museum in Harlem on April 20, titled "Session Stories, Part Three."
McBride (who will turn 45 next month, making him roughly 10 years younger than Marsalis), is most clearly a successor to the greatest of bass-playing bandleaders, like Ray Brown and Charles Mingus, who spark their ensembles with their personalities as much as their playing, their raw energy as much as their bass notes.
I'd of course be remiss to not mention that jazz celebs packed the room for McBride's set—NEA jazz master Lee Konitz, the storied trombonist Steve Turre, and 91-year-old Newport impresario George Wein were all in the house, proving that Sunday is the perfect day to spend quality time with a Christian.