John Scheinfeld's latest film, Chasing Trane, isn't just another jazz documentary—it's more like a history lesson with heart.
For his tribute to the great saxophonist, the director has assembled a stellar cast of family members, friends and musicians (including Benny Golson, Reggie Workman, Jimmy Heath, Wayne Shorter and the man whom he was most often compared to, Sonny Rollins) to testify to John Coltrane's brilliance as a musician, and warmth as a friend and father.
The film has a strong visual rhythm, featuring artwork by Rudy Gutierrez (from his children's book, Spirit Seeker – John Coltrane's Musical Journey) along with a steady stream of images of the American South and the battle for civil rights, tightly edited to Coltrane's music. Dr. Cornel West and former President (and sometime saxophonist) Bill Clinton offer insights, while Coltrane's own thoughts are conveyed by the voice of Denzel Washington.
"Black music was the response to being traumatized," Dr. West imparts as we're spirited back to Coltrane's youth in North Carolina.
By the time Coltrane was 12, music would literally save his life after the devastating death of his father, followed by various members of his tightly-knit extended family. By 16, he moved north, to Philadelphia where his mother had found work. He soon met saxophonist/composer Benny Golson, who recalled the teenager as painfully shy: "He never talked until he put that saxophone in his mouth."
Although fiercely committed to his art, Coltrane confessed he "felt inadequate," during his first stint with Miles Davis' group. Like many jazz musicians of the era, who followed the brilliant/mad path of Charlie Parker, Coltrane would also develop a serious heroin addiction, for which he was fired (along with Jimmy Heath) from Dizzy Gillespie's band and later by Miles Davis as well. In a scene filled with haunting sounds and images, his step-daughter Antonia Andrews recalled the nightmare of Coltrane going cold turkey at home.
A spiritual awakening soon followed and Coltrane, as jazz scholar Ashley Kahn explains, became "a man on a mission." Once off junk, Coltrane claimed he could "play better, think better."
"After he cleaned up, he began to unfold," Coltrane's bassist Reggie Workman offers.
In July 1957 Coltrane joined Thelonious Monk, loaning his singular voice to tunes like "Ruby My Dear" "Nutty" and "Well, You Needn't."
"Spending time in Monk's house," Cornel West muses, imagining that rare atmosphere of Coltrane and Thelonious working together. But Monk's unique sense of time and composition seemed to have had little or no influence on Coltrane's first album as a leader, which also released that year. No matter what he achieved, a creative restlessness continually propelled John Coltrane onward. "You could hear that he was going somewhere," saxophonist Ravi Coltrane says of his late father's constant quest in seeking "something higher."
[youtube https://www.youtube.com/watch?v=YMFNuDJmc1Q&w=560&h=315]
"John was about the big picture," Sonny Rollins adds. Coltrane's search for beauty and truth stretched beyond his music, as he delved into various spiritual practices, the origin of the universe, and Einstein's concepts. He would soon return to record Davis' classic Kind of Blue, while cutting his own benchmark album Giant Steps, which the film illustrates with clips of the great Davis quintet that also featured the great alto saxophonist, Julian "Cannonball" Adderley.
Although Davis offered Coltrane complete freedom to solo at will, and for as long as he liked, Coltrane soon left the band again. He had a vision of his own to pursue. As Wayne Shorter puts it, it was like he "took off the clothes he wasn't gonna wear anymore."
"A gorgeous thing," is how the Doors drummer John Densmore describes Trane's lilting rendition of "My Favorite Things," which became a jazz hit in 1961. Wynton Marsalis attributes the song's enormous popularity to Coltrane's "spiritual consciousness" and the "nasal tone" of the soprano sax.
"I sensed I was witnessing magic," Densmore says, still astonished all these years later after seeing Coltrane live. "They would go out on the edge as far as they could. They were inspiring."
"I copied his style before I had my own," he said of Elvin Jones. "I pushed Jim Morrison because of those guys."
"We were committed," Trane's pianist McCoy Tyner says, before poising a profoundly simple soul-searching question: "What's your reason for being here?"
One of the film's most powerful sequences comes with the stark black-and-white footage of protesters being attacked with water hoses and police dogs in the wake of the tragic Birmingham bombing as Coltrane's haunting "Alabama" plays, a somber soundtrack. "He didn't talk about it," Antonia Andrews says, referring to the raging conflict over segregation. "He put it in his music."
"A beautiful elegy, screaming with pain," says Bill Clinton of the song. We learn that "Alabama" was inspired by the inflection and rhythm of Dr. Martin Luther King's speech, in which he bid the four young victims goodnight. This is powerful stuff, heartbreaking yet simultaneously nourishing for the soul. As Dr. Cornel West puts it, "John Coltrane and Martin Luther King hand in hand…the best of human spirit."
The film then turns to scenes of domestic bliss with precious snapshots and home movies of Coltrane smoking his pipe in the back yard, playing with a puppy and the couple's children. It's priceless stuff. Michelle Coltrane wistfully describes her parents as "both gentle people, perfectly paired by the universe." Finding refuge from the frenetic pace of the jazzman's life in the suburbs in Dix Hills, Long Island, Coltrane spent hours and hours alone in his upstairs studio, composing and arranging his 1965 masterwork A Love Supreme, of which Alice says, it was "the first time he seemed satisfied."
Carlos Santana describes the experience of hearing the album for the first time in Haight Ashbury, calling it "a vortex of possibility." To this day, he claims to scour every hotel room he visits with A Love Supreme, as a sonic sage to neutralize whatever negative vibrations that might linger in the air.
Sonny Rollins considered his old friend "a genius" on the level "of Bach and Beethoven," while New York Times critic/author Ben Ratliff points to the "humanity" within the music, describing it as "a picture of the big beautiful universe."
As his great quartet reached their creative zenith, Coltrane relentlessly pushed on, even as Elvin Jones and McCoy Tyner left the band. "He had the right to go out as far as he wanted," Densmore declares.
We are then introduced to Coltrane's new group (featuring Alice on piano, Pharaoh Sanders on second tenor sax, bassist Jimmy Garrison and the young powerhouse drummer Rashid Ali) as they shred at the Newport Jazz Festival. Challenging and tumultuous, (critic Nat Hentoff famously claimed Coltrane and his crew were "speaking in tongues") Coltrane's new music drove audiences towards the exit doors long before the performance was over.
In 1966 the group toured Japan with a considerably different response from polite, intelligent and appreciative crowds. Rare footage and photos portray his visit to Nagasaki where he prayed and laid a wreath at the memorial. Spontaneously composing meditations on the flute, Coltrane hoped his music would be received as "a force for good" and perhaps "stop war."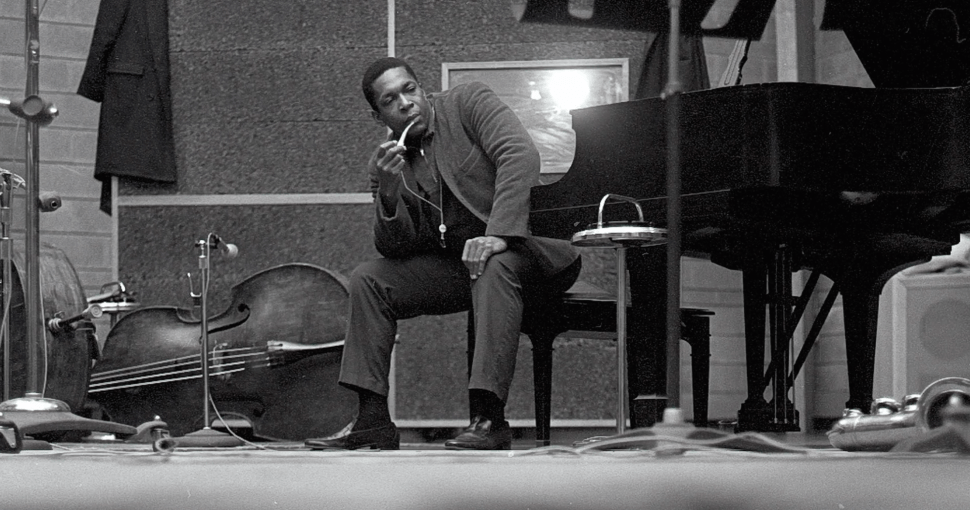 We are introduced to Japanese super-fan/collector "Fuji" who defines the word "obsession," having built the John Coltrane House in Osaka, to house and share his enormous collection of records, photos and ephemera with the world. Perhaps a visit to the Saint John Will I Am Coltrane African Orthodox Church in San Francisco, where woodwind bearing pilgrims testify on their horns each Sunday, should have been included in the film as well, to illustrate how Coltrane's music continues to bring people together 50 years after his death on July 17, 1967.
Another small shortcoming is the film's failing to address the generosity and the kinship Coltrane felt with his fellow saxophonists Pharaoh Sanders (not interviewed), Albert Ayler, Archie Shepp, and Ornette Coleman (along with Sonny Rollins and Yusef Lateef) who he not only jammed with but helped to secure recording contracts for with Impulse Records. The idea that a musician of his stature would go out of his way to open doors for so many of his peers seems unthinkable these days.
Whatever you called it…whether the "New Thing," "New Wave in Jazz" or "Free Jazz" it didn't come out of nowhere. It was a group mindset (while Coltrane was not the "inventor," he soon became the frontrunner of the genre) which reflected the chaos and brutality that African-Americans faced throughout the civil rights struggle. At its core was an idea known as "The Freedom Principle," a no-holds-barred approach to creating improvisational music free of conventional standards, that encouraged, or better yet, demanded musicians to stretch beyond the limitations of their instruments and imagination.
As Ornette Coleman, the architect of Free Jazz, once told me: "I think Charlie Parker and John Coltrane had the most influence on instrumental music in modern jazz. Coltrane studied with me for a while until one day he wrote me a note that said, 'I found it.' "
Scheinfeld wraps the movie up rather quickly. At 40 years old, Coltrane suffered abdominal pains and was diagnosed with liver cancer. He didn't linger long.
Although there are a few B&W stills offered, I was hoping to see and hear some footage of Albert Ayler's legendary performance at Coltrane's funeral. Bill Clinton returns once more to compare the many phases of Coltrane's career to Picasso's numerous stylistic periods, emphasizing how the great saxophonist's output matched that of the prolific artist but "in less time."
Other than a house in the suburbs and raising a family there was little "normal" or "average" about John Coltrane. It's particularly striking to hear that Alice described her husband's death as "beautiful." As John's spirit departed for "Stellar Regions," he, as Cornel West says, "left some heaven behind."
While the jovial Sonny Rollins encourages us to listen deeper, Carlos Santana grapples with words to sum up his inspiration's contribution: "Some people play reggae or blues…some people play life."
Perhaps tenor saxophonist/bandleader, and latest inheritor of the Coltrane mantle, Kamasi Washington says it best, describing his music as "like looking at the sun…the brightest light you can hear."
Chasing Trane illuminates the spirit of John Coltrane for us all to understand and enjoy. Just being in the man's presence for an hour and a half will probably make you a better person. The film opens at the IFC Center on April 14.