John Lydon has an agenda. And John Lydon has a consistent point of view.
Recently, John Lydon's startling blue eyes and skull-wide smirk were splashed over newspapers on two continents due to comments he made in which he appeared to be favorably disposed to Brexit and Donald Trump.
We all love to point accusatory fingers at our heroes; it makes us feel better about our own compromises, our own inaction. But John Lydon has an agenda. And John Lydon has a consistent point of view. You'd be an idiot to judge him without considering these things.
First, let's discuss the point of view.
Even a perfunctory examination of Lydon's comments (especially an interview with Jeff Perlah in Newsweek that appeared online on April 4) reveals this: John Lydon has enormous empathy for the working class and the economically disenfranchised in both his native country and his adopted one.
If Lydon hears that the working class is making some kind of noise, he will immediately respond to that with some instinctual empathy; later, he'll take a breath and use his rather enormous intellect to parse the issue with some greater depth.
(I once knew John Lydon, a little. I say, without hesitation, he is one of the smartest musicians I've ever met.)
In order to have anything but a one-dimensional view of Lydon's controversial comments, you need to consider these factors: Lydon believes that the disenfranchised of Great Britain and America need to be heard, then understood, and then an intelligent analysis should be applied.
There is another factor at work here, behind the big splash of provocative remarks. I will call this Lydon's Agenda or Lydon's Prime Directive:
You take care of your family. You do what you need to do (and say what you need to say) in order to draw people's attention to a product you have to sell (in this case, a new book of illustrated lyrics titled Mr Rotten's Songbook—note to my editor and any other grammar wags on the webbernet, the period missing after the "Mr" is in the actual title).
John Lydon is 61. Again, here I note that I once knew him, just a little. I believe that his agenda, first and foremost, is to support his family, support his step-grandchildren, and see that they are fed and clothed and educated and made to feel safe, emotionally and fiscally. He takes responsibility for this challenge, and he does what he needs to do in order to gets his name in the news and sell his book.
John Lydon's agenda is not to make great art (though he is most certainly capable of this). His agenda is not to stand in the shadow of his past ideologies, though he understands that these are useful, since he can capitalize on the fact that his face alone can be used as a shorthand for a generation's rebellion; he is one of the rarest of stars, a pictogram.
His agenda is certainly not to please you; what you need from John Lydon in order to make yourself feel better or make your generalizations simpler is not interesting to John Lydon. In this sense, he has a great deal in common with Bob Dylan, another pictogram.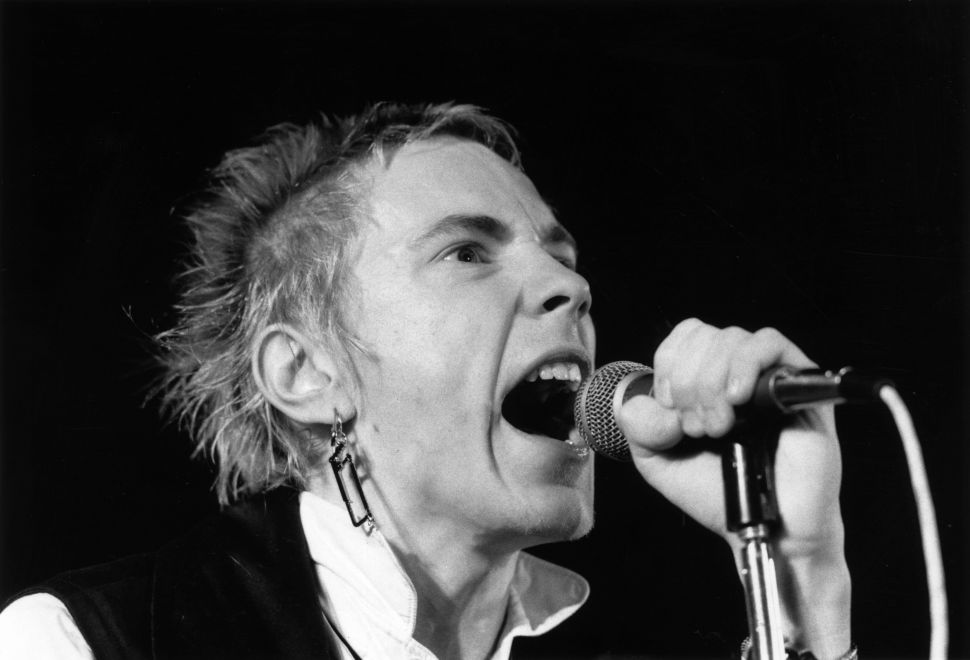 When he was still in his 20s, Lydon made a very conscious choice: he recognized his responsibility to his family, and abandoned the extremes of art rock, a format he was exceptionally adept at (PiL's Metal Box/Second Edition is the Pet Sounds of emptiness, and First Issue and Flowers of Romance are, like the work of the Velvet Underground, virtually unprecedented examples of the avant-garde punching the womb wall of the mainstream).
He recognized that a career in music could be an honorable and sensible profession, like union bricklaying, like long terms in tenured classrooms that turn gold and gray in the early evenings of late autumn, like truck driving up the rust red and lizard gray rising roads of the Lincoln Highway.
I suspect that this turn in John Lydon's voyage, where the angle of art became the softer curves of entertainment, was very deliberately taken. Although he was born to be an artist, making art became less important to him then making efficient payments on a house or a summer camp.
Lydon easily could have taken the path of Scott Walker—that is, crawl up an Everest of extreme, challenging, and unconventional work without looking back. But he didn't do that, and I'm fairly certain that's because of his prime directive: a man must provide for his family.
These comments about Brexit and Trump served their purpose: they made people aware that John Lydon had a new book out. Therefore, these comments assisted in his ability to support his family. And I respect that enormously. It is deeply honest. It is the most honest motivation in the world. It is the motivation of hunters and gatherers, of men and women who work at Home Depot and CVS, of young immigrants who work at uptown Manhattan hospitals and old ladies who work at South Louisiana lunch counters.
Please also consider this: Will John Lydon's comments alter one single vote in 2018's midterm elections? Let's get serious here. If you are looking for an artist to focus your liberal outrage on, please look elsewhere.
There are other artists, also generational pictograms, who didn't raise one finger to prevent the election of candidates who threaten our rights and the well-being of our children and grandchildren. There are other artists whose words and deeds could have moved hundreds of thousands of voters, much less a crucial 75,000.
There are artists who have made a fortune by being the voices of their generation, yet when their generation needed them, they were silent. Where is your outrage regarding those who took no meaningful action to change a single American vote?
For that matter, where's the headlines about Skip Marley and his song in that Roy Cohn-directed Triumph of the Will-You-Buy-Pepsi ad?
Yet you get all outraged because you have some old idea of what Johnny Rotten should do and say.
He moved on, babies. Any and all great artists refuse to remain static just to please us, and virtually all of us would say very different things today than we did when we were in our early 20s.
Kill your idols with wisdom, by acknowledging the true failure of your pictograms to use their power to do anything truly politically impactful. But John Lydon's musings come at no cost to our republic, and he owes you nothing.