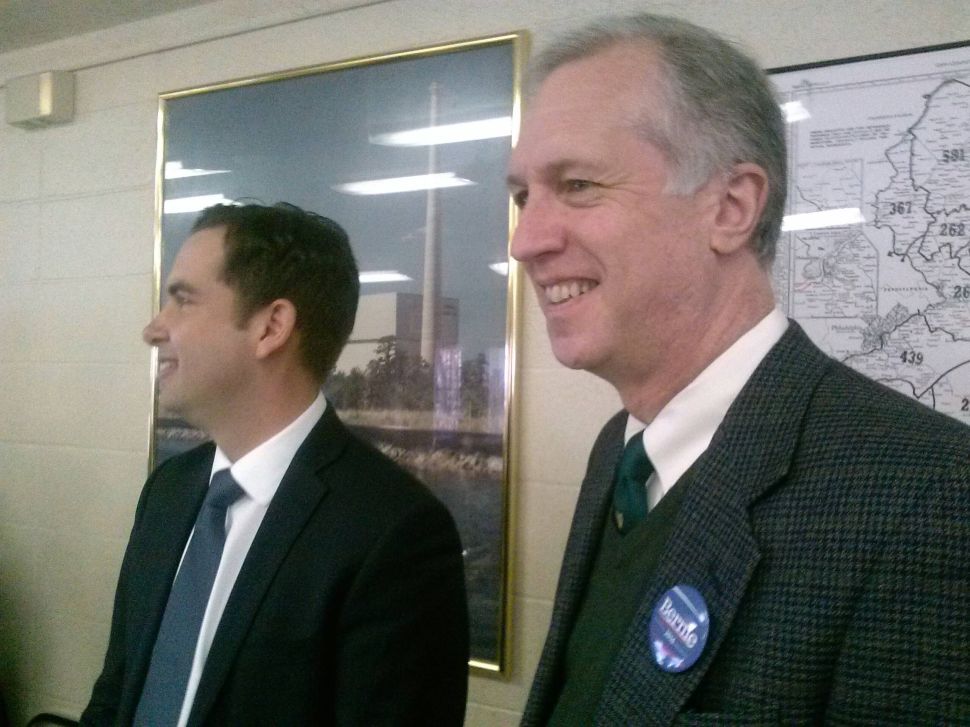 It's the most beautiful time in New Jersey. Cherry Blossoms? Nope, petitions.
By today, Monday, April 3, all candidates for Governor will have to file signatures with the Secretary of State. The requirements are straightforward – in order to get on the ballot, a Democratic gubernatorial campaign is required to file at least 1,000 signatures of registered Democrats or unaffiliated voters, and if you sign a petition for one candidate, you may not sign another candidate's petition or your signature will be disqualified on both.
It's a quaint ritual, probably outdated, but it does serve as an early test of organizational acumen because the signatures are invariably garnered by operatives – kids who volunteer or are paid to stand outside grocery stores and annoy people with requests to "Sign for Joe Smith and here's a button and a pin."
But not all candidate—apparently even for Governor—rely on others to gather the needed signatures.
On March 23, John Wisniewski, the Assemblyman who is running for the Democratic nomination, entered the building on Dolan Street where Sayreville's Code Enforcement and Zoning offices are housed. He proceeded to go around the office and ask municipal employees, who were working at the time, to sign their names to his petition.
Sayreville is in the 19th District, which Wisniewski represents in the Assembly and some workers have since said that they felt pressured by the approach from someone with considerable political clout in the shore town. In addition to representing the town in Trenton, Wisniewski was the Democratic municipal chair in Sayreville and thus surely is connected to the people who staff the office.
A New Jersey lawyer who specializes in election law told PolitickerNJ, "It's certainly odd, but not illegal per se. Many municipalities have local ordinances against politicking on public property and doing so during working hours," said the attorney, who declined to speak for attribution because he feared retribution from the Assemblyman. "It could certainly put these government employees in an awkward position, as he likely helped secure their job there."
Kirk Miick, Sayreville's Director of Construction, told PolitickerNJ that "Assemblyman Wisniewski visited my office to speak with Fire Marshal [Kevin] Krushinski about the rescheduling of a state fire safety commission meeting. At some point during their meeting, Fire Marshal Krushinski signed a petition regarding the gubernatorial race."
According to Tom Pollando, the Chairman of Sayreville's Democratic Committee, "It is definitely the case" that Wisniewski pressured municipal workers to get signatures. "I received a call from the business administrator, Dan Frankel, that John Wisniewski was in the construction office going around getting signatures," Pollando told PolitickerNJ. "From what I've been told, Krushinski is Wisniewski's Godchild. He was in his office as well as one of the code enforcement officers named Andrew. [Pollando is probably referring to Zoning Officer Andrew Mashanski.] I was also told that that people felt uncomfortable because he came in there to get signatures. I confirmed that with Kirk Miick and I also confirmed it Thursday night after I got the phone call from [Clerk] Joan Kemble, who told me that John Wisniewski came into the construction office getting signatures."
There is nothing unseemly about an elected official meeting with a fire inspector or a quasi relative (or both), even during work hours. However, according to a source inside Sayreville, some of those who felt pressured to sign the petition are either employees of the fire inspector or colleagues, which added to the sense that they had better be willing to add their name when asked to do so in front of colleagues.
Multiple attempts to contact Wisniewski and his campaign manager were unsuccessful. An email to Krushinski has not been returned as of press time. This story will be updated if any of them responds.
Meanwhile, members of Wisniewski's own party are part of the group agitating about this story. Michael D'Addio, Deputy Chairman of the Sayreville Democratic Organization, has been pushing this story. Unsolicited, he came to PolitickerNJ and said, "You should give John Wisniewski a call and ask him why he thinks it's okay to break the law and collect signatures for his Gubernatorial Ballot in a government building."
As PolitickerNJ already reported, there's no reason to think that asking for signatures "breaks the law." But it's noteworthy that D'Addio, who is also the Chairman of the town's Economic & Redevelopment Agency, has enough animus toward a fellow Democrat, indeed one who represents him in Trenton, to reach out to reporters to stir the pot.
Regular Readers of PolitickerNJ know that animosity between Wisniewski and Democrats from his home county is not new. He was handily defeated by Phil Murphy in the Middlesex County convention and PolitickerNJ broke the story that Carteret Mayor Dan Reiman won't speak to Wisniewski because of the Assemblyman's representing as a lawyer a company that has polluted Carteret.
D'Addio, who is supporting Phil Murphy, told PolitickerNJ, "Wisniewski locked the Dems out of their headquarters this past election. Illegally, I am being told by our attorney. … The mayor of Carteret threw him out of a fundraiser. List goes on and on. … Wisniewski was absolutely getting signatures in the construction office. …If Wiz denied it he is lying."
There's one final strange element to this story.
Dan Frankel, the town's Business Administrator, wasn't sure the whole visit even happened. Even though Chairman Pollando maintains that Frankel called him to report the signature gathering, Frankel himself denied any knowledge.
Asked what day Wisniewski visited the Code Enforcement office and how many signatures he'd gathered, Frankel responded to PolitickerNJ, "I don't know" and "I don't know." But asked "Did he have a meeting with the fire inspector there?" Frankel responded, "I was told that there was no meeting with the fire inspector." Perhaps Frankel was being so literal that asked about fire inspector rather than fire marshal, he chose to answer with precision.
Ultimately, this isn't such a secret. Once the petitions are filed today, rival campaigns will begin the ritual of going over them with a fine-tooth comb. It won't be hard to spot a bloc of municipal workers' names from one town, if there is one. So this story might just turn out to be a nothingburger, especially if the signers decline to come forward and say they felt pressured. But the fact that there continues to be such animosity among Democrats in the 19th District points to an exciting—and explosive—gubernatorial primary.