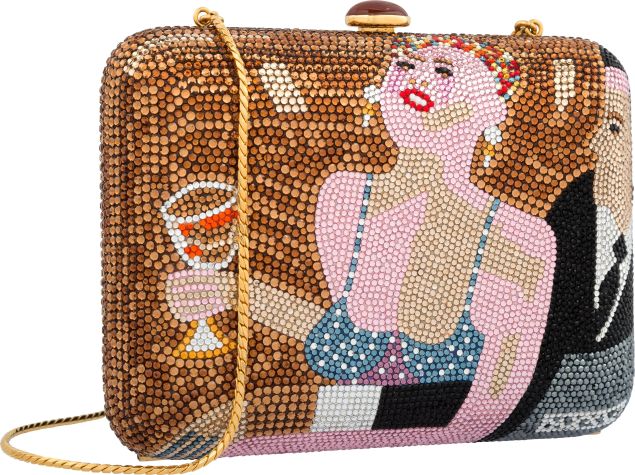 "I consider her to be a genius, absolutely, without a doubt, and the greatest pathfinder for women. She broke through the glass ceiling so many years ago," said Gerson Leiber about his wife, handbag designer Judith Lieber, at last week's opening of the Museum of Arts and Design (MAD) exhibition, "Judith Leiber: Crafting a New York Story."
His enthusiasm could be dismissed as familial pride, if not for Judith Leibers objectively extraordinary accomplishments. She was born Judith Peto in 1921, in Budapest, Hungary. As a Jew, she was not allowed to attend Hungarian universities, and so she went abroad to London to study chemistry. But then, while home on summer vacation in 1939, war broke out and she was stuck in Hungary. While waiting out the war, she apprenticed at a local handbag factory. Her skills as a handbag artisan grew, and she soon became the only woman accepted into the Hungarian handbag guild.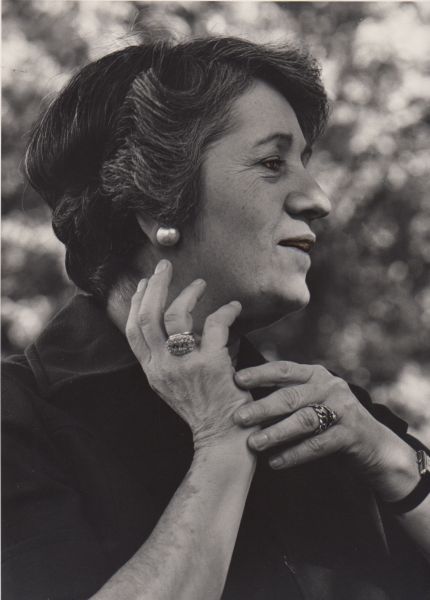 After surviving the war, she came to the U.S and carved out a place for herself in New York's competitive fashion business. As she worked her way up the hierarchy of Seventh Avenue, she decided to open her own handbag line in 1963. Leiber was intensely involved in every step of production, from designing to crafting the final piece. "As you look around the exhibition, you can see the intense craftsmanship and skill involved in her work," the curator of the exhibition, Samantha de Tillio, explained. "I think her work really transcends fashion."
The exhibition is designed to look like a jewelry store. The walls are painted purple, like the inside of a plush jewelry box. Mirrored-bottom vitrines dangle from wire scaffolding rigged to the ceiling. Within, a spotlight highlights a vast range of handbag styles, including much of her early work, which was, according to Women's Wear Daily, "decidedly understated."
There's a 1993 sleek black woven horsehair envelope trimmed with calfskin, and a 1965 rhinestone-encrusted handled pouch. A burgundy needlepoint "Bon Voyage" tote circa 1980 is displayed near a crystal-embroidered Folk-Art inspired patchwork quilt coin-purse from 1991. So much of her work was inspired by fine art, as evidenced with her Piet Mondrian-inspired snakeskin envelope from 1990. There is also a minaudière encrusted with crystals shaped into a series of women standing next to each other from 1987, modeled after Faith Ringgold's 1986 art piece The Purple Quilt (which, incidentally, is hung on a wall across the room).
But that's just in the Jane and Leonard Korman Galley. Turn a corner into the Tiffany & Co. Foundation Jewelry Gallery, and there's a labyrinth of glass walls showcasing Leiber's best work: her crystal-encrusted minaudière's. These ornately jeweled bags that are so small that they are barely bags – the word 'minaudiere' is  French for "coquettish air," and the term was coined  by famed jeweler Alfred Van Cleef in the 1930s. They are also Leiber's most famous work, worn by nearly everyone important: from First Ladies to princesses to socialites. And it's not hard to imagine why. The bags – ranging from Buddhas to hat boxes; eggplants to dogs – are little treasures, objects of wit and whimsy, glamour mixed with humor.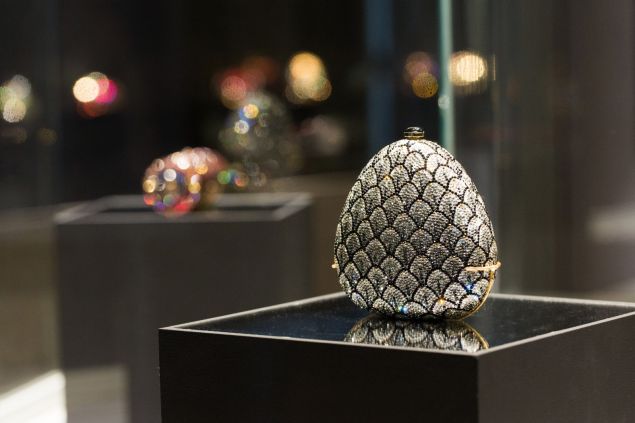 The exhibition is difficult to navigate, with descriptions of each bag and paraphernalia tacked on the wall like an afterthought, like it were a menu at a takeout bistro, numbered to reference the the tiny numbers in front of each bag. Perhaps it was done to preserve the beauty of the bags, minimizing superfluous embellishment. But it ends up confusing the viewer as one meandera around searching for the bag's year of creation.
However, the layout also forces the viewer to stop and consider, to move through the exhibition carefully and analytically. And when you understand Leiber's story, her struggles and her triumphs, it makes her extraordinary work all the more worthy of a second or third glance. This is a business built up by an immigrant woman with the determination to succeed, an inspiration for all who visit.