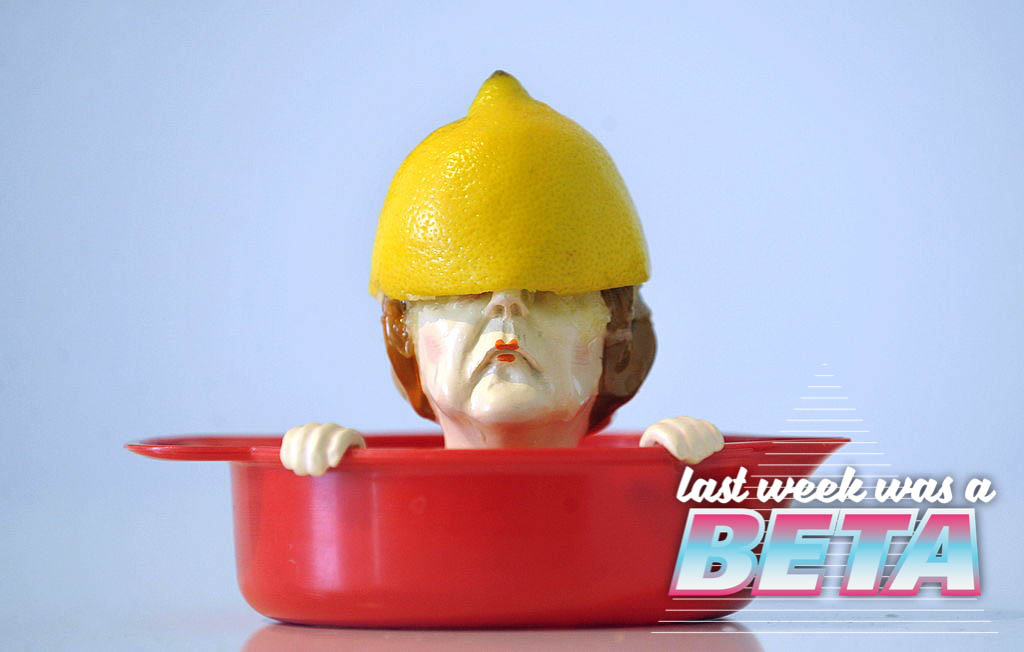 Welcome to Last Week Was a Beta, our Monday look back on the big stories in tech last week.
Everyone who follows tech industry news lost their minds last week over a report on beverage platform company Juicero in Bloomberg. With $118.5 million in venture backing, the company sells a $400 device that squeezes out prepackaged bags of fruit and vegetable juice. It doesn't blend the juice or let you customize a formula on the fly. Nope—it just squeezes, but reporters found that the expensive device wasn't really necessary. Your hands can empty the bag just fine.
It brought to mind another Observer post about initial research that blood from fresh umbilical cords can reduce the effects of aging … in older mice. It could one day prove true for humans, too. So we thought: maybe folks shouldn't throw out those Juicero squeezers just yet? Maybe they could be repurposed to maximize that umbilical blood harvest?
Was that too dark? It's been a bleak week in tech news.
A murder was broadcast on Facebook. As police closed in on the suspect, he took his own life, as CNN reported.
In many ways, the news overshadowed what should have been the social network's big week of hopeful forecasting. The company ran its annual developers' conference last week. Techcrunch has a quick summary of all the new ideas that were on display. Most people heard about the AR and VR stuff, but the company has also open-sourced some of its development tools in order to foster more coders making stuff for its platforms.
Poorly encrypted, closed-source chat app Confide faces a class action lawsuit for false advertising, according to Techcrunch. A user asserts that it is possible to screenshot messages and that the app doesn't do a good job notifying users one has been taken.
Despite ongoing doubts swirling around the product, some users keep paying money every month for it even though there are open-source, thoroughly vetted and free apps with nearly all the same features. Maybe some folks just don't trust products they didn't pay for?
It turns out that the volume of money paid for video games has been obscured for years. Its size has been under-counted by many billions of dollars, according to Ars Technica. Market research firm NPD corrected past estimates last week, explaining that it has been hard to count how many games have sold as the market has shifted to online sales from the old cartridge or disc market.
Online ads may be going dark (or darker). From both the "Never Thought We'd See This Day" and "Define Irony" files, Alphabet subsidiary Google may build an ad blocker into Chrome, according to the Wall Street Journal. As nutty as that sounds for a company that makes most of its roughly $75 billion in annual revenue from ads, no one actually expects them to block all ads. Just bad ads.
In other words, an ad publisher is using an ad blocker to grow its ad business probably. Will Chrome ever define Google's ads as bad? Who can say, but we know how we'd place our bets. If Chrome defaults to ad block soon, it won't be the first to do so. Insurgent browser Brave was built from Chromium (the open source version of Chrome) to block trackers and ads by default. We'll have more on this company later this week.
The craziest tracking news came from (wait for it)… Uber. The biggest unicorn apparently kept tabs on iPhone users who had deleted its app, according to a profile of its CEO Travis Kalanick published in The New York Times (Techcrunch has a good technical follow-up). The spying stopped when Apple found out, and Kalanick got called into the principal's office. Apple CEO Tim Cook summoned Uber's chief to Cupertino, where he promised he would kick Uber out of the iOS store if they didn't stop, according to sources who spoke on condition of anonymity.
A ban would have basically killed the company. So they stopped.
In fact, it's hard to see how an company like Uber could survive if it lost access to Apple's app store, even today. Apple has built a platform so powerful that its CEO holds the lives of companies with values up to the multi-billion dollars in his hands.
In fact, who knows how many ventures with weaker name recognition it has killed because it didn't like their business model?
Apple's not the only titan. We touched on some similar themes in this Amazon overview. Then there's Google: CelebrityNetWorth.com put a lot of elbow grease into coming up with estimates for famous people's wealth, and it paid off as long as that hard work led lots of people to visit its site. The Outline reported this week that it's been on life support since Google began scraping its data and publishing it directly on its search results page, rather than directing people querying celebrity names to the website's pages on those people.
If this is the day and age when corporations are people, too, then isn't CelebrityNetWorth's case an example of attempted murder captured live online, for all the world to see?