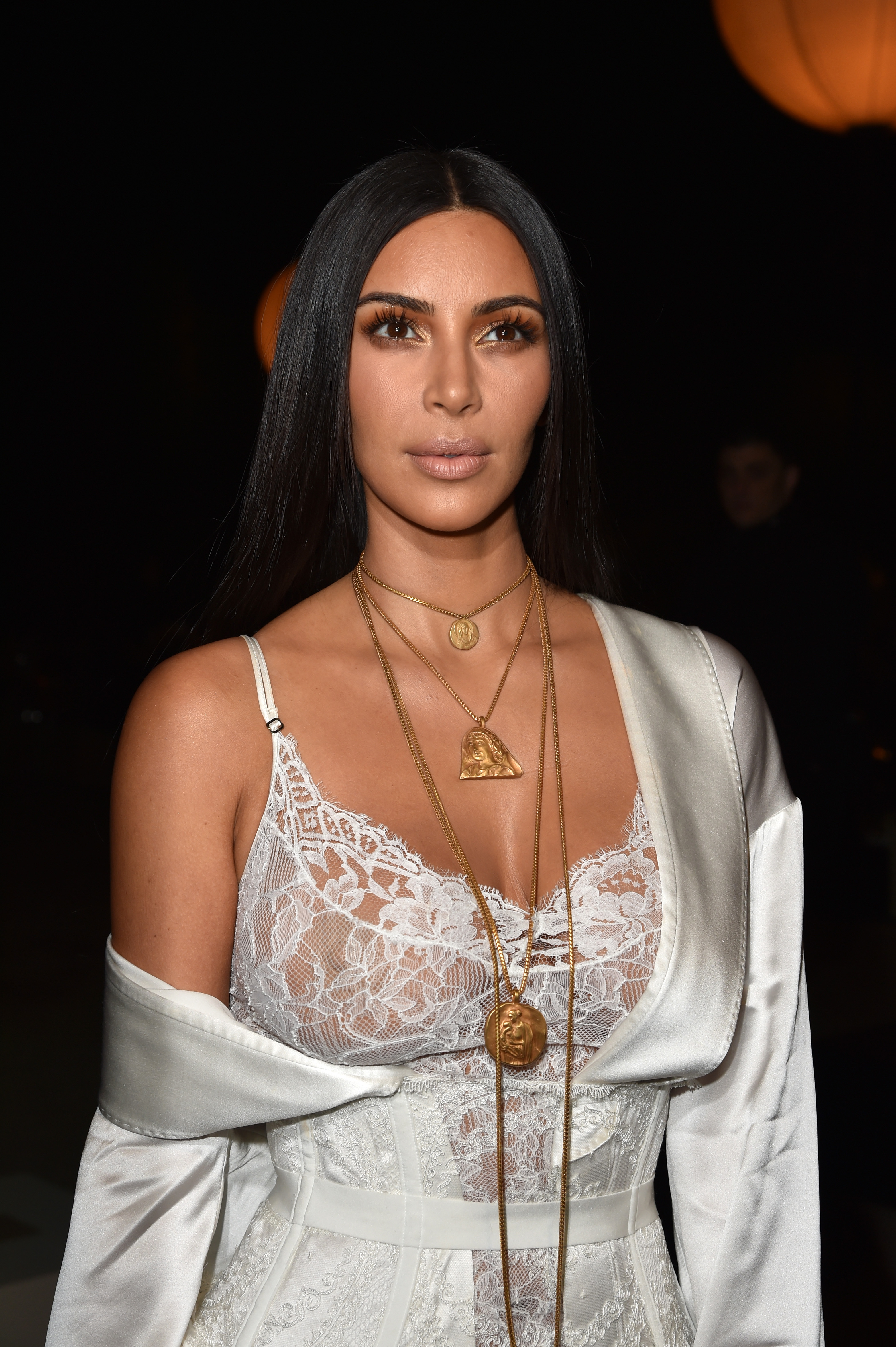 Kim Kardashian is arguably one of Kanye's most devoted fans, especially when it comes to sporting anything from his various fashion collections. In the past, that has included sheer bodysuits, sold-out sneakers, open-toed booties and branded t-shirts splashed with Saint Pablo and Yeezus. So it comes as little surprise that Kardashian was the first person to wear Kanye's foray into fine jewelry, which just hit stores today.
Simply called Yeezy and created in partnership with Jacob the Jeweler, this 12-piece range (which is known as S4, for this season) made its official debut at the September 2016 Yeezy runway show; the February 2017 show offered a preview of the forthcoming S5 jewelry collection. However, Kardashian has been wearing the bold golden chains, dotted with pendants, long before either of those shows.
Though there are few details behind what inspired Kanye to release a line of jewelry that resembles ancient painted figures, we do know they are based on "14th-century Florentine art" and he wanted the line to represent "timeless love." So it really makes sense why his wife, and the mother of his two children, was the first person to rock the range. In fact, the first time she wore one of the S4 designs was in August 2016, to the MTV VMAs, where she layered three of the round medallions with one triangular pendant.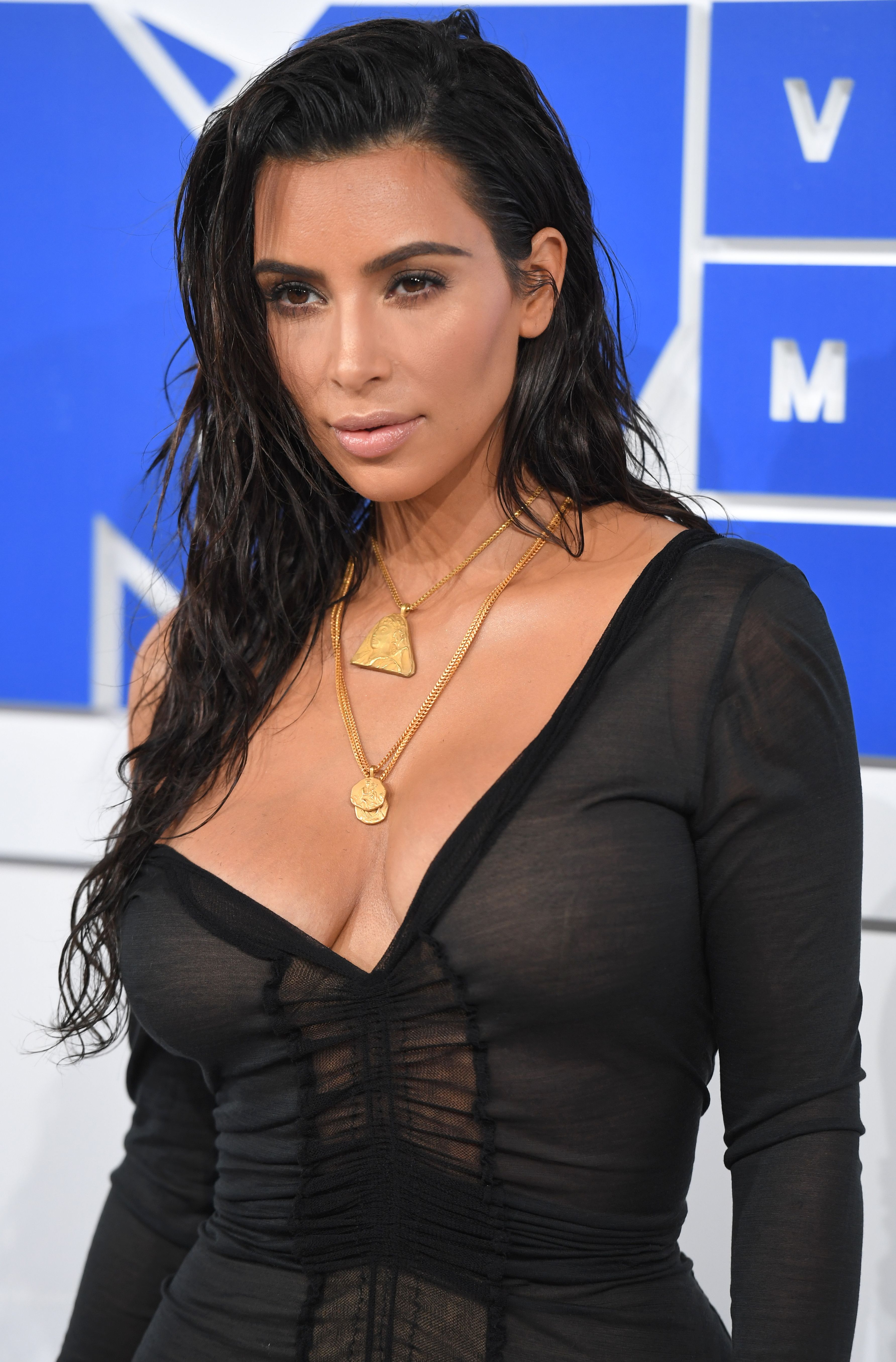 She layered the collection once again during Paris Fashion Week, on October 2, 2016, to the Givenchy runway show. True Kardashian fans will recognize this as the same night that she was the target of a robbery, when millions of pieces of jewelry were lifted from her personal collection. Hopefully the robbers didn't touch any of these S4 designs.
Jacob the Jeweler (whose given name is Jacob Arabo) has been hip-hop's go-to custom jewelry guy for decades; seriously, he's been mentioned in no less than 68 rap songs. Arabo and Kanye first met in 1997 and have collaborated plenty of times on custom jewels, but it's usually of the blinged-out variety. The first piece he ever made the rapper was a Jesus pendant, otherwise known as a Jesus piece. However, S4 marks the very first collection from this dynamic duo that is shoppable to the public.
So, what's it really like to work with Yeezy? "Kanye and I have been friends for a long time and we've worked together a lot over the years. It's always a lot of fun, I have great respect for his creative vision and am excited to be collaborating with him in bringing it to life," Arabo told the Observer.
This jewelry range is far pricier than any previous Kanye merch (and most Yeezy Boosts), so expect to spend a pretty penny on the S4 accoutrements. Starting at $1,530 for an 18k yellow gold ring, the range tops out at $13,360 for two pendants strung onto an 60 inch 18k gold chain.
Check out the full collection at Yeezysupply.com or at Jacob & Co., 48 East 57th Street, New York, NY 10022.