If this looks familiar, it's probably because it was the backdrop of many Kylie Jenner Instagrams.
Courtesy Brown Harris Stevens
No pink paint here.
Courtesy Brown Harris Stevens
We wonder which Jenner got the master suite...
Courtesy Brown Harris Stevens
Not that the other bedrooms are too shabby.
Courtesy Brown Harris Stevens
Kim and Kanye had their own complimentary Airbnb in Chelsea.
Courtesy Brown Harris Stevens
An internal staircase for when that pesky elevator might act up.
Courtesy Brown Harris Stevens
Maybe those are shopping bags left over from Kendall and Kylie's stay.
Courtesy Brown Harris Stevens
Has anyone else noticed the surplus of board games in this place?
Courtesy Brown Harris Stevens
This limestone bathroom is amazing.
Courtesy Brown Harris Stevens
Unclear if this office was used by either of the Jenner sisters during NYFW.
Courtesy Brown Harris Stevens
Just one of the six terraces...
Courtesy Brown Harris Stevens
More than enough space for the two youngest members of the Kardashian-Jenner clan.
Courtesy Brown Harris Stevens
The apartment takes up the top three floors of 15 Leonard.
Courtesy Brown Harris Stevens
Finding a hotel or temporary lodgings of any kind during busy weeks such as, say, NYFW, tends to be a laborious task. As expected, this is not the case when you are a member of the Kardashian-Jenner clan, and are gifted with a free stay in a multimillion-dollar New York apartment, during one of the busiest times in the city.
As one may recall, Kendall and Kylie Jenner spent September 2016 Fashion Week reveling in a lavish Tribeca penthouse at 15 Leonard Street; the pair documented features like 1,577-square-feet of terraces and a gas fireplace, all via social media. They also captured the now-infamous incident, when the sisters, along with Hailey Baldwin and Jordyn Woods, were trapped in the elevator of the Tribeca condominium, though the FDNY came to their rescue. And yes, that was photographed as well.
Now you have the chance to live like the Jenners, as the apartment they stayed in is now on the market for $16.8 million. The unit was also listed when the Jenners stayed there in September 2016, but as a quadraplex with Douglas Elliman. This slightly smaller triplex iteration is still very luxurious.
The five-bedroom, 5.5-bath home has no less than six terraces, and there's direct keyed internal elevator access on each floor. If that publicized elevator incident scared you off, don't fret—there's a polished concrete staircase made of floating glass, walnut and steel. The apartment also comes with a deed parking spot—Kylie should consider scooping up the space so she won't need to search for a spot for her orange Lamborghini.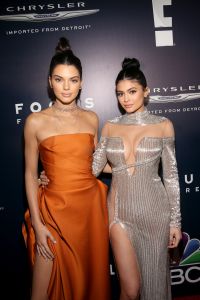 The master suite has its own private terrace and a 60-square-foot customizable closet, plus a limestone bathroom complete with a white stone soaking tub, steam shower and radiant heated floors. The eighth floor is comprised of a windowed chef's kitchen as well as a living room and dining room, from which one can directly access even more terraces, equipped with two outdoor gas heaters. As a side note, the home is sans the appetite-suppressing Pepto Bismol pink color Kendall Jenner chose for one wall in her Los Angeles home.
Finally, the ninth floor is set up with a bar area, wine fridge and gas grill, and "inspires the best of lifestyles," per the listing held by Brown Harris Stevens brokers Laura Moss and Stephen E McArdle.
It seems like it's the season for selling Kardashian-Jenner homes—the Hamptons manse the family lived in during the summer of 2014 is also on the market, with a $12.75 million price tag attached.