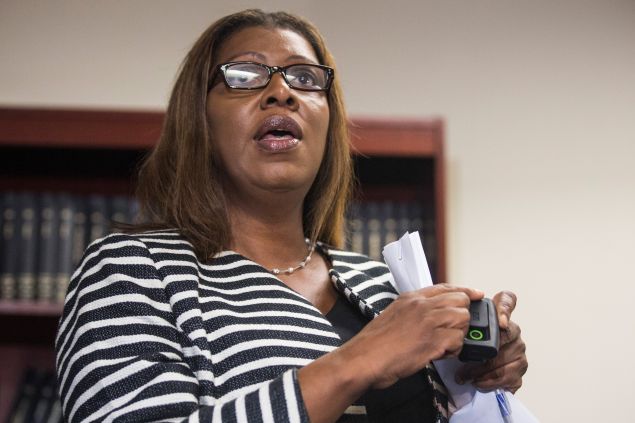 Public Advocate Letitia James is calling on Charter Communications—which bought Time Warner Cable for $55 billion in May 2015 and rechristened it Spectrum—to meet with 1,800 striking employees represented by the International Brotherhood of Electrical Workers Local 3 to renegotiate a new contract.
In 2013, IBEW Local 3 reached an agreement with Time Warner Cable that was ratified, according to the May 2013 issue of Union World—before Charter purchased Time Warner Cable—and expired last month. But the union has been working under an expired agreement and accused Time Warner Cable and Charter of refusing to bargain with them for more than two years—provoking the labor walkout late last month.
In a letter dated April 4 to Charter President and CEO Tom Rutledge, James noted the state had permitted the purchase of Time Warner.
"When the state agreed to allow Charter to acquire Time Warner Cable, it was contingent upon their pledge to protect our workers and give them the fair treatment they deserve," James said in a statement provided to the Observer. "It is inexcusable that Charter has refused to negotiate with IBEW and we will continue to protest until they come to the table in good faith."
More than half of the 51 Council members—35—added their signatures to James' letter.
IBEW Local 3 did not immediately respond to a request for comment.
James further asserted that it is "unconscionable" that Charter is seeking to remove or reduce "basic provisions" of overtime, healthcare and retirement security—and referred to filings with the Securities and Exchange Commission indicating that its personal compensation alone "ballooned" to $98.5 million last year following its acquisition of Time Warner Cable.
She also said that representatives from IBEW Local 3 recently told her that Charter has "refused" to bargain with them, saying that it does not abide by the franchise agreement that was transferred over to Charter last year.
In particular, she noted that Section 17.1 stated that as the franchisee, Charter "shall recognize and deal with the representatives duly designated or selected by the majority of its employees for the purpose of collective bargaining." And she said that the city approved the transfer to Charter last year even though it was discovered that Time Warner was not in "substantial compliance with several provisions of the franchise agreement."
She also recalled that state Attorney General Eric Schneiderman announced a lawsuit against Charter and its subsidiary, Spectrum Management Holdings, for allegedly conducting a "deliberate" scheme to swindle and deceive New Yorkers by promising internet service that it knew it could not provide.
This built up to the ominous suggestion from James that the city could deny the company a renewal of its franchise rights in the five boroughs.
"All told, this is a troubling record for a company that wishes to be granted the right to provide these services in New York City beyond the 2020 expiration of Charter's franchise," James wrote in the letter.
A Charter spokesman said that Spectrum is committed to providing "great service" to customers, noting that investing in its workforce "is a critical part of how we do that."
"This is why Spectrum is offering our field technicians a pay increase larger than the union has demanded, along with competitive and robust healthcare and retirement benefits," the spokesman said in an emailed statement. "We believe this greater compensation to be more beneficial to our employees and allows us to grow a well-paid, highly skilled workforce for the benefit of our customers."
When Schneiderman first announced his lawsuit, Charter said it was "disappointed" that he filed the lawsuit concerning Time Warner's broadband speed advertisements that took place before Charter's merger.
Charter said that it made significant commitments to the state as part of its merger with Time Warner Cable in the areas of network investment, broadband deployment—providing broadband services by developing networks or infrastructure—and offerings, customer service and jobs. Charter also said that it was among the highest-rated broadband providers in the Federal Communications Commission's 2016 Broadband Progress Report and that it had made notable investments to upgrade Time Warner Cable systems.