Any girl whose bra size is bigger than a C cup will tell you that it's nearly impossible to wear a bralette. The cute, comfy and casual style just doesn't offer enough support, they will complain. Or, better yet, it isn't even produced in larger sizes.
Those complaints weren't falling on deaf ears. Michelle Cordeiro Grant was actively listening; even taking tabs on what the most common gripes were about. She happens to be the founder of Lively, a lingerie startup with a reputation for quality underpinnings that look cute, but actually fit. She previously worked at Victoria's Secret, so she knows a thing or two about lingerie and what women are looking for in their underpinnings.
"We had had so many conversations with our community around the concept of The Busty Bralette," Cordeiro Grant told the Observer. "The amount of feedback and emails around the need and want for this kind of solution style―a bralette that was stylish, functional and comfortable that could support a wider range of sizes―it was probably the number one thing we heard about collectively."
She went on to detail how Lively was receiving requests via Instagram DM, email, Facebook message and customer service channels, so she knew there was definitely a need for a busty bralette in the market. In fact, when I met Cordiero Grant at the launch of her brand, in March 2016, I even mentioned how great it would be to see one of her pretty pink bralettes in larger sizes. At the time, she told me that they were looking into it.
Not long after, the Lively team got to work and started reworking their best-selling style, The Mesh Trim Bralette. They strengthened the shoulder straps and introduced a larger elastic band under the cups, both of which would provide greater support. In the cups, they introduced a breathable, soft sling and voilà, they created The Busty Bralette. Fitting sizes from 34D to 38DDD, this style, offered in Jet Black or Soft Pink, was priced at just $35.
On March 28, Lively launched The Busty Bralette; it sold out in less than 24 hours.
EDITED, a fashion and retail analytics firm, analyzed 80 global lingerie retailers and found that the sellout of bralettes have skyrocketed by 120 percent year-on-year, while push-up bras have fallen by 50 percent. They also reported that the growth of bralettes in the lingerie space is up 18 percent this year. Perhaps it has something to do with the rise of athleisure or the simple desire to wear clothing that is comfortable and cute, but women seem to be plain old tired of conventional bras; bralettes are it.
However, Lively didn't just use their community to glean information on how to make a great product for busty women; they actually included those women in the product's campaign. Like Madi, the co-founder of Montauk Juice Factory, Elianah, an FIT student and artist, Kayla, an agent at a modeling agency here in NYC and Elizabeth, a student and race + gender activist.
"When we shot this campaign, the empowered vibes and complete confidence on set was contagious! It's amazing that we are now able to show our entire community how this bralette works for a number of sizes, body types, and lifestyles. That kind of accessibility and simplicity in the process was everything to us," explained Cordiero Grant.
Customers who have gotten their hands on the Busty Bralette are already outspoken proponents for the new design.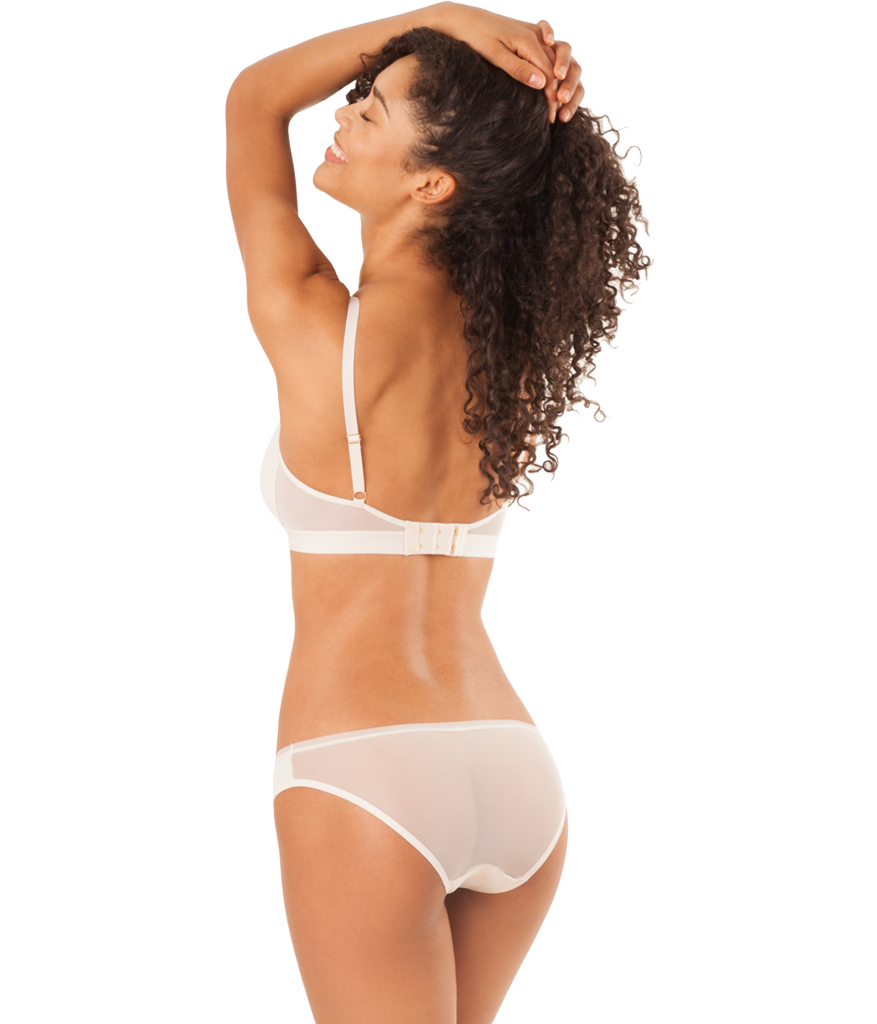 "As a woman with tricky proportions, I have never felt more empowered or accepted by a lingerie company, so you can definitely expect a customer here," said Olivia B.
"I'm a 30DDD which makes it nearly impossible to find a bra that's not a chest bind or a granny bra with 2-inch straps," explained Alexandra P. "The Busty Bralette is super comfortable, supportive, and fits PERFECTLY (for once)."
Interested customers can pre-order their Busty Bralette, which is set to be restocked by mid-May. In the meantime, can we expect to see more size-inclusive styles from Lively?
"It is absolutely on our radar to expand offerings and maintain a mindfulness to size inclusivity. We are taking our time in extending our size range in order to do it responsibly…There will definitely be more of this to come." Busty girls rejoice…and place your orders, stat!