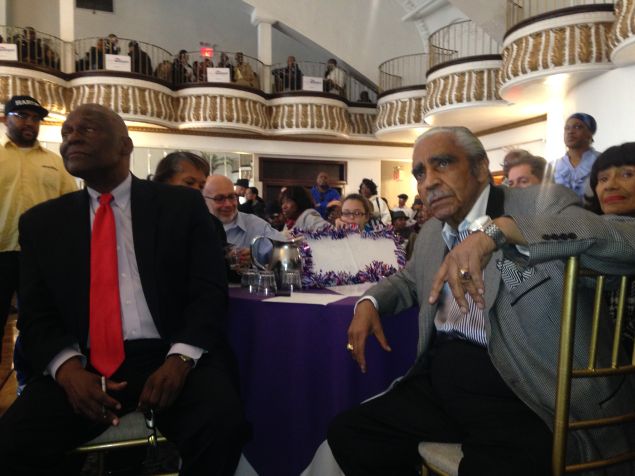 New documents filed with the Federal Election Commission show Manhattan Democratic Party chairman Keith Wright still $202,337.72 in the hole from his unsuccessful campaign to replace retired Harlem Congressman Charles Rangel last year—with cash owed to an array of consultants, staffers and contributors, including GOP power players like former Sen. Al D'Amato and supermarket billionaire John Catsimatidis.
More than half the red ink in the ex-assemblyman's ledger marks money donors handed him to spend in last November's general election—a round Wright never reached, having gotten knocked out in the June primary by then-state senator and now-Congressman Adriano Espaillat. This includes cash from individual givers like Catsimatidis and D'Amato, from political action committees like the Teamsters' DRIVE Committee and the Ultimate Fighting Championship's Zuffa PAC, from real estate interests like Lemor Development Group and WG & Associates Management and Development, from law firms like Harter Secrest & Emery and Donaldson & Chilliest, and from the campaign accounts of fellow pols like Brooklyn State Senator Kevin Parker and New Jersey Congressman Donald Payne.
Candidates are supposed to keep general election funds separate from donations for the primary, but FEC records show the Wright 2016 committee has just $53,735.05 of the $830,542.88 it raised last year left on hand.
The filing also counts a number of outstanding bills among the campaign's debts and obligations. These include $5,000 still unpaid to his former chief of staff—and longtime Manhattan Democratic Party law chair—Jeanine Johnson for legal services, as well as $6,250 in fees owed to powerhouse law firm Perkins Coie.
But the biggest open tabs are for literature and field work by the Brown Miller Group, amounting to almost $20,000, and for $42,000-worth of "fundraising consulting services" by Mercury Public Affairs. Mercury's New York co-chairman Charles King is close to Wright, to the Manhattan Democratic Party, to the New York State Democratic Committee, to Gov. Andrew Cuomo and to the Rev. Al Sharpton, all of whom he has worked for in some capacity.
During the primary campaign, Wright frequently tweaked Espaillat for the $100,000 in unpaid debts the rival pol had run up in his two unsuccessful attempts at unseating Rangel in 2012 and 2014. The current congressman, the first former undocumented immigrant and first Dominican-American elected to the House, has trimmed that figure to $62,147.10 as of the most recent filing.
The party boss, who now works for the lobbying firm Davidoff Hutcher & Citron, did not respond to requests for comment. Unlike his fellow failed 2016 candidates for the Upper Manhattan House seat, such as ex-Assemblyman Adam Clayton Powell IV and former White House aide Clyde Williams, Wright has not attempted to terminate his 2016 campaign account, which would require him to pay off his arrears.
Wright could bring his balance back into the black by raising money from new donors, but they would have to specify their checks for the 2016 election cycle.
The Manhattan Democratic Party is badly fractured, and Wright controls a scant handful of positions, procedures and appointments. He recently scored a victory against Espaillat by securing the Democratic line for his preferred candidate, Brian Benjamin, over the congressman's pick Rev. Al Taylor in next month's special election to fill Harlem's vacant State Senate seat.