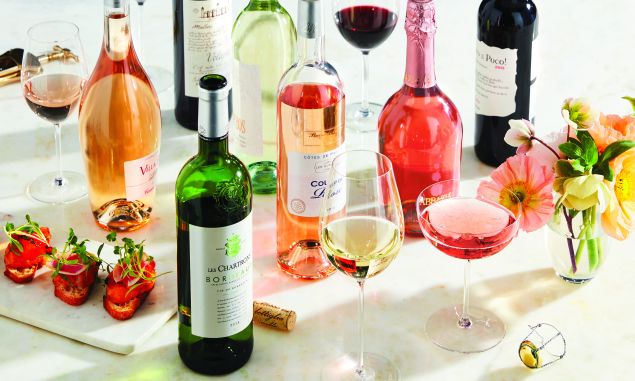 Wine of the Month clubs have been spiking in popularity, and last year the Observer reviewed a bunch of them to see which one came out on top.
But now there's a new player in this space—Martha Stewart. And if her wine club is anywhere near as good as her subscription meal service (which is one of our favorites of the 10 we've reviewed, beating out popular brands like Blue Apron and Hello Fresh), then this is exciting news for wine lovers.
"I am excited to bring my passion for wine to wine lovers across the nation with Martha Stewart Wine Co.," said Martha Stewart in a news release. "Wine has played an important role in that part of my life focused on entertaining and teaching others how to entertain. With the launch of this fabulous online wine shop, I am confident that we can teach consumers how to pour the right wine, and enjoy the right wine, at every occasion."
Martha Stewart Wine Co. is both a wine store where you can purchase a la carte as well as a monthly subscription club. Each month will feature a selection of carefully curated wines from the world's great wine regions such as Bordeaux, Tuscany and coastal California. Stewart herself will select and approve wine for taste, and of course, ability to pair with food. She'll have some help from an expert panel that includes vintners from around the world, the company's own in-house winemaker and Chris Hoel, the former sommelier of The French Laundry.
Additionally, there will also be a special collection of "Martha's Favorites" that she reaches for first when entertaining family and friends. This personal touch is reminiscent of her meal kit service Martha & Marly Spoon, which provides recipes from her vary own cookbook.
The individual bottles currently on the site are priced pretty inexpensively—about $12 to $20 each, with most hovering around $15. You can also make one-time purchases of specific assortment packs like the "West Coast Wines" collection ($75.94 for six bottles), the "European Passport White Wine Selection" pack ($55.46 for four bottles) and the "Discovery Case" ($119.98 for 12 bottles)
For the subscription service, two plans are available. The half-case club gets you six bottles every six weeks for a price of $8.33 per bottle. The case club, which gets you 12 bottles every eight weeks, comes out to $7.49 per bottle.
Drink up.