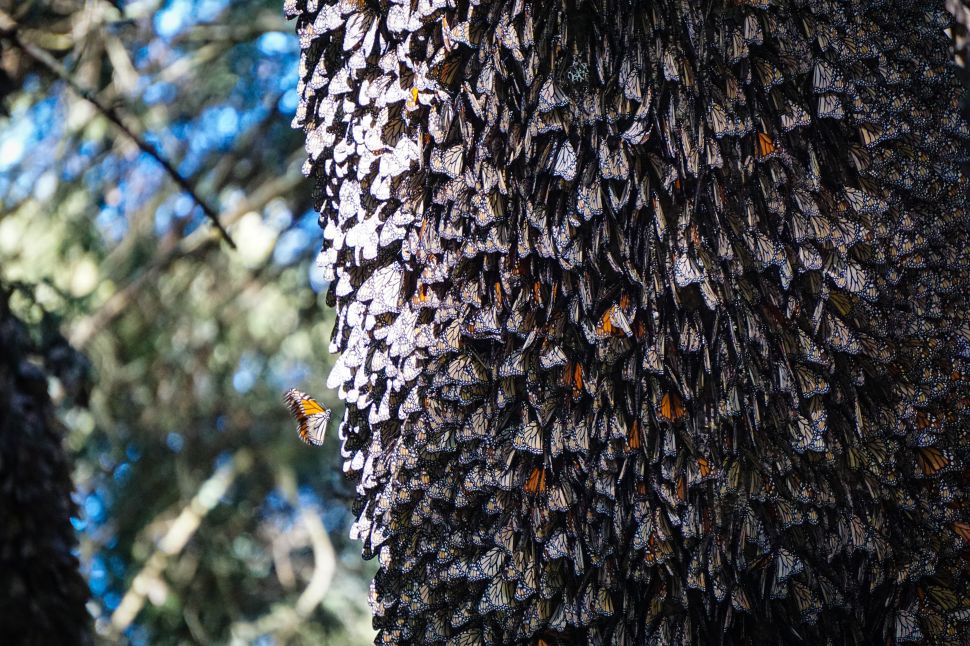 Mining is embedded in Mexico's history and culture. In many small towns throughout the country, it is still viewed as an economic savior—though the jobs and benefits it provides are few.
Decades after Mexico achieved its independence from Spain, the immense wealth mined from its land reaches only a handful of wealthy elites like billionaire Alberto Bailleres Gonzalez, whose primary source of wealth is mining silver. Currently, Mexico is one of the largest producers of silver in the world, and it produces gold, copper and zinc as well. By 2020, Mexico's mining sector is estimated to reach an industry value of $17.8 billion.
In the small town of Angangueo, which is a few hours outside of Mexico City, mining has been the backbone of the town's economy since it was first founded. The local high school's mascot is miners, and a statue of a miner overlooks the town. Though mining is entrenched in the town, relying on the industry is an unsustainable, short-term solution to economic development in the area. Just as regions in the United States have suffered from their dependence on coal mining, the area around Angangueo cannot depend on mining either.
Despite Angangueo's inhabitants' reliance on mining's fickle and short-term job market, Angangueo has another natural resource it's hoping will create sustainable economic infrastructure: colonies of monarch butterflies that spend winters in the mountains surrounding the town.
These two economic lifelines to the town are in a bitter debate over whether a local copper sulfide mine should reopen. It could pose another threat to the monarch butterfly population, which is already in decline. The monarch butterfly population has decreased by over 80 percent throughout the past few decades and estimates placed 145 million butterflies at the wintering grounds in 2017 compared to 1 billion in 1990. Canada announced in 2016 that they would be protecting the monarch butterfly as an endangered species, and a push for similar protections is underway in the United States. Climate change has impacted the geographic distribution of the monarch butterfly's host plant, milkweed, which has adversely impacted migratory routes and reduced the abundance of milkweed along traditional routes. A 2015 study conducted by Colorado State University researcher Nathan Lemoine found that climate change's impact on milkweed will force monarch butterflies to expand their range north to compensate for reduced distribution of milkweed along their traditional migratory routes. Rampant pesticide use has contributed to reductions in milkweed along the monarchs' migratory routes throughout the United States.
In Mexico, winter storms, illegal logging, and climate change have contributed to drastic reductions in populations. Heavy, cold rain storms wiped out more than seven percent of the overwintering monarch population in March 2016. In January 2002, The New York Times reported a severe winter storm killed 220 million to 270 million monarch butterflies overwintering in Mexico. As global climate intensifies, storms will become more severe and persist for longer periods, so it's likely that monarch butterfly populations will suffer further declines.
Between 1984 and 1999, the forests in the monarch's overwintering region in Mexico decreased by 44 percent and became highly fragmented—largely due to illegal logging.
Climate change is impacting where monarch butterflies reside in the mountains during the winter as they seek to maintain an equilibrium that minimizes their metabolism without freezing to death. Over the past several decades, warmer temperatures have pushed butterfly colonies farther up the mountains so that they can achieve their preferred metabolic state, but the butterflies are running out of mountain altitude.
Re-opening a large copper sulfide mine near the monarch butterflies overwintering grounds poses short-term and long-term environmental risks to monarch butterfly populations that will negate any economic benefits the mine provides. The mined copper sulfide requires large amounts of water to process, which threatens to deplete and contaminate local water sources. The National Wildlife Foundation cited that the type of water pollution produced by the mines could potentially wipe out entire populations of the eastern monarch butterfly. In the United States, government authorities have trouble finding the funding and resources necessary to properly clean up mining spills and hold the culprits accountable.
In August 2015, the Denver Post reported that 230 mines in Colorado were leaking heavy metals into the state's rivers and that the state was struggling to fix the spills. They reported, "First impacts of water contaminated with heavy metals generally show up as dead fish or aquatic life, with drinking water supplies threatened. Later damage, depending on exposure, include human health harm and higher costs of cleaning up water at municipal treatment plants. Fully restoring poisoned fisheries after past disasters in Colorado has taken decades."
Copper sulfide mining has a disastrous environmental record. "The sulfide-ore copper mining industry has a disastrous track record," stated a 2015 report on copper sulfide mining by Save the Boundary Waters. "A peer-reviewed report prepared by Earthworks studied 14 sulfide-ore copper mines representing 89 percent of current U.S. copper production. Of those 14 mines, all had experienced some sort of pipeline spill or other accidental release. Thirteen of the 14 (92 percent) had experienced water collection and treatment failures that resulted in significant impacts to water quality."
The company pushing for reopening the copper mine, Grupo Mexico, also has an unreliable track record regarding environmental concerns. In 2014, a copper mine in northern Mexico operated by the group leaked roughly 10 million gallons of toxic copper sulfate acid into two rivers that thousands of people depend on for drinking water, resulting in one of the worst environmental disasters in Mexico's history.
Increasing mining in Angangueo will likely result in similar leaks and spills that will threaten the health of several species in the area, ultimately impacting humans in local communities. The boost in short-term income that the new mines provide may be entirely negated by the multimillion dollar clean-ups and environmental monitoring that will result from them.
Ecotourism is emerging as a viable replacement for Angangueo's economic dependence on mining. The town's monarch colony sites, Sierra Cinque Reserve and El Rosario Sanctuary, are helping to revitalize the local economy. Ultimately, ecotourism could be a greater, more sustainable generator of economic prosperity than mining or illegal logging in the Angangueo region. In the United States, the National Park Service notes that every dollar invested in the parks service yields $10 in return for local economies, providing thousands of jobs and fueling several multiple industries. Across the world, ecotourism generates income for local communities to mitigate other economic drivers that adversely impact the environment in ecologically important areas.
"The global market for ecotourism, a small scale alternative to mass scale tourism, has exhibited double-digit growth since the early 1990s due to the rising ranks of discerning tourists and market players acutely conscious about the fallout on environment from reckless development of tourist spots," Transparency Market Research reported in a March 2017 press release. Mexico's monarch butterfly colonies provide opportunities to boost the local economy while providing the necessary resources to protect monarch roosting sites. With the struggle between environmental activists and special interests groups who seek to mine in areas like Angangueo poised to continue, it's imperative to the livelihood of the monarch butterflies and the global environment that international communities and organizations ensure special interests are kept in check.