Do you want to see an animated history of modern art in 20th century France? You'll have to go to Montreal, to a festival that shows nothing but films about art. There was a documentary on the Spanish master Diego Velazquez, and one on Buster Keaton, and one on Kiki Smith.
These are the best films that you are unlikely to ever see—in America, at least.
FIFA, the International Festival of Films on Art (March 23 – April 2), had and still has the misfortune of having the same acronym as the international football federation, the world organization of soccer.  And soccer is about the only subject that wouldn't make it into this festival, where you find films on everything from performance art to painting.
And then there's film on film itself. This year's FIFA had docs made for European television that won't show in the US because most television presenters won't show films with subtitles. Pedro Almodovar, Everything on His Women was made for Spanish television, and it takes on an obvious subject, the director's fascination with women, from his mother to his actresses to the characters in his films. You could call women the opposite sex, but for Almodovar there's too much grey area between women and men for that term to mean much.
No surprise, his mother is where all this began. She came from a provincial village, where she was one of the few women who could read and write. That meant that her neighbors gave her personal letters to read to them. The secrets came out, as did imaginative storytelling to soften any bad news.  She herself says as much in the film, so it's not just another story that her son invented. Ultimately, the doc pulls its punches, and we don't hear about the dark side of Almodovar's relations with his actresses, but there's enough here to help you see into a man who communicates in film through women.
Pedro Almodovar, Everything on His Women can probably be found on the internet for those who speak Spanish. So probably can Billy Wilder, Nobody's Perfect, a French documentary by Clara and Julia Kuperberg, which has some unexpected parallels with Almodovar. Double Indemnity, Wilder's dark look into infidelity, was a grim view of the home front in 1944. Some Like It Hot is the comic prequel to the trans movies of today. Since Wilder is interviewed in German, much of the film is subtitled, and I haven't seen it on American television.  The subtitles are raunchy enough, yet Wilder speaking German can be a lot more transgressive than his films.
FIFA always has films on architects and architecture, the kind of films that are a fixture in France or Germany but are rarely produced in the US. This year my favorite wasHaving a Cigarette with Alvaro Siza, an hour-long doc by the German director Iain Dilthey on the Portuguese architect known for his expansive modernist designs that interact with the landscape and the sea. The title fits the free-ranging visit with the unpretentious man who takes you through his studies and his influential career. Portugal was isolated under a military dictatorship for much of Siza's early life, but the architect says that one positive effect of that insularity was the preservation of local craftsmanship. Buildings like his were built by workers who practiced crafts that had been passed on for generations. You could take issue with Siza on craftsmanship, since the long clean lines of his designs seem to eliminate details and foreground a modernism that transcends craft. A closer look proves otherwise.
As Siza talks, he always comes back to the traditions that you can see in his work. You also see tradition in the fact that he's smoking, preserving another venerable Iberian practice that later generations have abandoned. If you work with traditional styles, he says, you have to bring something new to them. Otherwise, he says, tradition can be stifling.
Which brings us to Tadao Ando, the Japanese architect known for the "zen" of his buildings in concrete, many of them situated alongside ponds of water that you might call meditative. The film's title, Samurai Architect, seems more provocative than concretely descriptive. Yet if the suggestion is that Ando is a warrior for his designs, the label might fit. Ando has a mischievous look throughout, even though his health is in crisis. At one point, in the construction of an unadorned bunker of a church, we see that he has designed a cross in negative space for the church's front inside concrete wall, which is also its exterior concrete wall. Negative space here means that the cross is an incision of two lines that cut a space through the wall, leaving it truly empty and open to the outdoors. Ando is delighted, but the congregation doesn't want to be open to the elements. We leave that building with Ando still persuaded that that the open cross fits the austerity of his design. Looking at the cross, once glass is inside it, you know that he was right.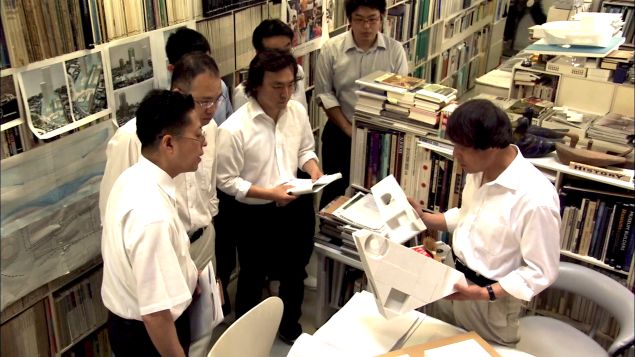 In a 26-minute study, the French filmmaker Francois Chaye visits the home of Victor Hugo on the English Channel island of Guernsey, where the author fled in after Napoleon III came to power in Paris. Hauteville House was on a hill overlooking the ocean, as almost everything on Guernsey does, and Hugo filled it with books, Asian (or Asian-inspired) art, and endless decorative flourishes. I mean endless. His mistress was installed in a home just a short walk away. With all that detail closely observed, there's not much mention of security, so you don't get a sense of whether Hugo was a threat to the French regime or whether the reinstalled Bonapartes were a threat to him. Yet exile of an author has rarely looked so comfortable, and the isolation moved Hugo from writing pamphlets to writing novels. He left Guernsey in 1870, after 15 years. Hauteville House, now a museum, looks as if he decamped yesterday.
Even as classical music stumbles uneasily in search of a younger audience, films about music from countries where the classical audience is stronger are a staple at FIFA. You could sample two new docs from the production company Accentus, based in Leipzig (Germany), which is leading the way.
Maestras: The Long Journey of Women to the podium, was a look at the recent rise of female conductors in a profession that had been closed to them. Why should classical music be any different than any other art form?  The film is Swiss, so we hear from conductors who might not be household names in the US, but we also hear from Maren Alsop, now an accomplished musical director, and we hear from a new generation of conductors in performance. The proof of their accomplishment is in the sound, which is a remarkably good affirmation for these newcomers.
Another Accentus production focuses on a single artist. Zhu Xiao-Mei: How Bach Defeated Mao by Paul Smaczny follows the Chinese pianist Zhu Xiao-Mei, a French citizen for decades, as she returns to China for the first time to perform Bach's Goldberg Variations. Zhu was persecuted during the Cultural Revolution in the 1960's. Her memories of that time, when pianos were burned along with European music, and professors were humiliated in public, come to us in vivid images. The title might more accurately refer to surviving Mao rather than defeating him. But Zhu may have indeed won. Wherever she played, young musicians were lining up to listen to her. Again, the sound is extraordinary. You might not be satisfied to watch this one on your computer.
Was Stalin any better than Mao in his treatment of classical musicians? Pianos weren't burned in the Soviet Union, except perhaps for warmth in the Nazi siege of Leningrad, but musicians who failed to toe the line paid for it. Silenced: Composers in Revolutionary Russia by Anne-Kathrin Peitz of Germany tells that story.
Russia of today is the setting for a study in performance art as political protest, Pavlensky: Man and Might by Irene Langemann of Germany. The subject of this doc is Max Pavlensky, who might qualify as the Houdini of political performance art. This is a man with an imagination. He wound himself up in barbed wire, so that police in Moscow had to cut the wires free in order to arrest him. Also clever was another gesture, the sewing together of his lips so he could not respond to officers.  Pavlensky's coup de grace was nailing his private parts into the pavement at Red Square, while he was nude—of course. Talk about giving everything to a performance. It's almost as if we're watching a character out of Dostoyevsky, as the cadaverish Pavlensky lives with his wife and two daughters in squalor, and still fearlessly addresses the court that's ruling on the rest of his life. By the way, his offenses included plotting to destroy monuments. Art against art.