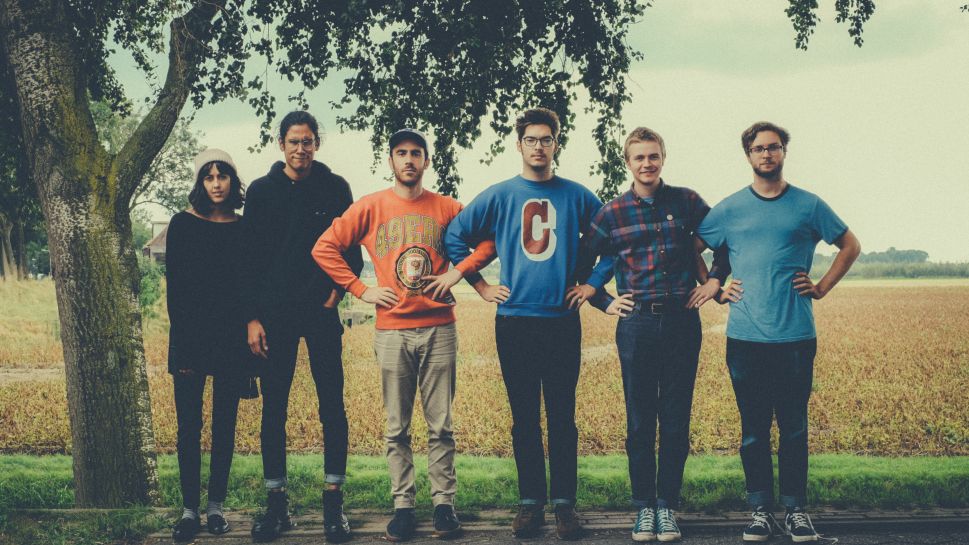 It's no secret New Jersey has consistently churned out some of the best modern indie-rock bands in the last several years alone (Screaming Females, Real Estate, Titus Andronicus just to name a few). While they might have fallen under your radar until last year, Montclair's Pinegrove are just as worthy of your attention.
Started in 2010 by lyricist Evan Stephens Hall, Pinegrove has steadily gained recognition ever since, especially for its 2016 debut LP Cardinal, a breezy alt-folk record that saw them oscillating between emo revival and the indie-rock scene.
Hall named the band after a "beautiful and regulated, yet natural and messy" grid of pine trees at his alma mater, Kenyon College. "[The Pinegrove] was a place of introspection, repose and spiritual serenity, and it felt like an honor to try to live up to that," Hall tells us. The Pinegrove was a place he had established to be creatively fertile, and in a way, it led him toward the name before he even realized it (it started off as a lyric in the band's song "Morning Time").
Since their beginnings seven years ago, the six-piece has grown into a well-oiled touring machine—they played over 200 shows last year alone—and they're now back on tour again promoting the collection of work they made prior to Cardinal. (They've been busy with Pinegrove, but half of the band also plays in Brooklyn's Half Waif).
Never ones to shy away from releasing more music or performing, Pinegrove play The Bowery Ballroom on April 27, release their compilation album Everything So Far on vinyl for the first time on April 28, and then play the Music Hall of Williamsburg on April 30.
We caught up with Hall recently to discuss the band's new material, how body language is influencing his songwriting right now, and how he uses Pinegrove to promote humanism and equality.
[youtube https://www.youtube.com/watch?v=-BIjLiL9NT8&w=560&h=315]
Cardinal was one of my favorite records of 2016. Do you have a new record coming out in 2017 or are you focusing on touring?
I'm excited to say I've been writing. I've been doing some solo shows out on the West Coast with my friend Alex who sings in the band Great Grandpa and my friend Kevin who plays as Field Medic. The occasion of this—besides to hang out with my friends—is to try out new material.
It can open up new perspectives about what songs work. I kind of expect that there's no way we'd get out [a new album] before early next year. Probably in April, May and June we'll be working on arrangements. Cardinal took about two years to record and just as many to write—maybe more. Some of the oldest melodies were kicking around since 2011. We can't really put a timeline on it because we need to listen to what the songs are saying.
Have you noticed a theme weaved throughout your new material?
I've been writing a lot about geometry and interpersonal geometry or body language: the shapes people's bodies make to communicate different moods. Kinesthetics is the name for it. Spacial metaphors have been coming up a lot in my work, which is not really a new thing for me, but I think I'm developing acute language for it (no pun intended).
Cardinal was really your breakout album. What was making that album like? How did it come together?
We've been putting stuff out since 2010, and most of the people involved with the project have been involved variously since the beginning. It was a long time ago, but at first we weren't taking the recording of it seriously. We were playing a lot shows and then played our first tour. We were recording casually at home, and then at some point we were like, "We really need to finish this thing up."
The songs are about different kinds of love: familial, platonic and also romantic. Frequently they identify as failures of love or failures to act as kindly as I, or the speaker could. These songs are based on experiences, but I don't consider them autobiographical. They're from accumulated details of my life and observational details. Of course they come from the eyes and ears of the writer—and that's me—but it's fiction, I think.
I saw those themes emerging at a certain point, and my move was to work to move towards those themes. In the past, I think my redundancies as a songwriter were a weakness, but noticing this time around like certain words like "friends" were popping up, I saw it as an opportunity to make it more thematically coherent.
As a listener and as a writer, it's always really exciting when it seems like the artist has made a puzzle for the reader to play around in. I think in a way it lends trust to the reader or listener. I do want to extend that to listeners of Pinegrove because I think that it's a fun project to do together.
You guys have been pretty outspoken about the political climate, and you were hesitant to speak to Observer because of its prior affiliation with Jared Kushner. How are you guys trying to make a difference given what's happening right now?
I do consider myself politically progressive, but I feel like our message [as a band] isn't a politicized one—it's a humanist one. It's almost common sense: do you believe that all humans deserve dignity, equality and happiness in this world? Of course the answer is yes.
We see all of these policies and leaders in this country that don't agree. We'd like to humbly offset that in any way we can. Part of it is donating proceeds to organizations [with our record sales] that are promoting the equality of all people. Fundamentally, this project is a humanist project either way.
We are writing songs about what it's like to be a human being. We want to start that conversation about how we can love better. I think we'd be doing that either way. Another part of this is basically that we acknowledge that we have a microphone, so of course we're going to talk about things that we think are important. This isn't about a single administration: it's way more about the ongoing fight for equality.
What's your advice to other musicians on how to be proactive and create changes in the next four years?
One of the most damaging things the current political climate is suggesting is that there's a "right way to be yourself": that quirks in diversity are evil or don't deserve as equal a life as people who are normative. I think the best way to resist is to be yourself as loudly and as confidently as possible.
To be yourself is to honor the vast variety of human existence. It needs to be known how beautiful and individual everyone is. Moreover, if you're writing a song directly from your viewpoint then you are more likely to be saying something that no one else can say. The more you're emphasizing your strengths, then no one can take your place.
What do you think about Pinegrove being a part of an emo revival?
Well, I understand why we're connected with that scene—a lot of those bands are our friends, we're on Run For Cover [records], we came up through the basement scene and DIY America and our music is emotionally direct. But, I'm way more likely to listen to indie-rock, lo-fi, alt-country or ghost country. I'm familiar with these bands and I respect what we do, but candidly, it's not that similar to what we're trying to accomplish. At the same time, it's an honor to be associated with these groups.
[youtube https://www.youtube.com/watch?v=hWOBMGEDO6E&w=560&h=315]
Who's inspiring you the most right now?
George Saunders is maybe the best writer right now. He writes short stories and essays, and just came out with his first novel. He's very funny and very sad. He's writing about, as David Foster Wallace said, "what it means to be a fucking human being." I believe that his project—with the tension of happiness and sadness in a single line—the bittersweet reality of being a human and loving as best as you can is totally captured by Saunders' project. I really admire him and take a lot of cues from what he does.
I love Gillian Welch, Green Day, Frankie Cosmos, Alex G, Great Grandpa, Field Medic and Stephen Steinbrink. I recently saw Dear Nora play in San Francisco, and that was totally terrific. Incidentally Steinbrink was playing in the band. I am just being introduced to their songs, and it's clearly an emotional predecessor to some of the songwriters I consider my peers, like Greta Kline of Frankie Cosmos. You can see the lineage that's so beautiful and interesting.
You're going to release Everything So Far on vinyl for the first time, which is a compilation of your material recorded before Cardinal coming out later this week. Tell me about what that's going to look like.
It's really interesting and exciting to have these songs that are really quite old [come out]. It includes "New Friends," which is the same recording, but we wanted to include to introduce us. We felt like it was our strongest song at the time, so we wanted to add that.
"Angelina" I recorded after we recorded Cardinal too, so that's probably the newest released song [on there]. The Metronome I recorded when I was 18 or 19, and I'm 27 now. It's been really interesting to evolve with that song and still notice new things about it.
In a way, it's depressing that I still relate to it so hard. It's like, "Damn, why am I still making these same mistakes?" At the same time, it makes me feel the continuity of learning and growing. I still identify with that person from so long ago, and I'm still trying to learn something from that person that knew something that I still don't.
It's been awesome to revisit these in a live context, relive them and see how compatible or incompatible these songs are with me today. I'm proud of the presentation of it, and it's really cool and surreal to have these old songs out there specifically on vinyl. I didn't see a path to that when I was writing a song. Cardinal is the first time we've ever been on vinyl, so it's cool to remember when we were still so new to it.