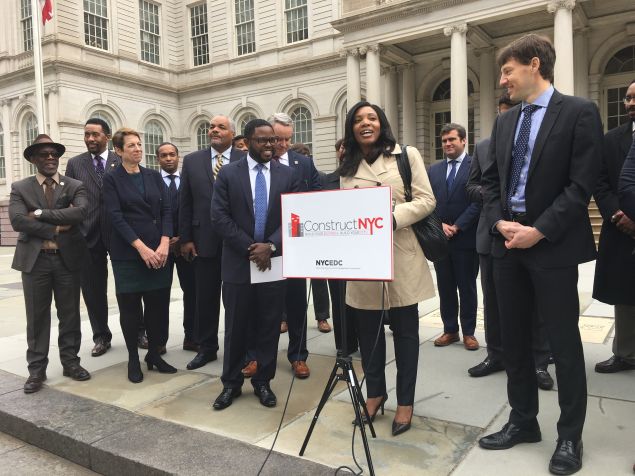 The New York City Economic Development Corporation, a quasi-governmental entity charged with promoting business growth, announced this morning that it had inked contracts with three minority- and women-owned construction management firms to oversee renovations at several city owned sites.
The NYCEDC announced it had retained certified "minority- and women-owned business enterprises" NobleStrategy, the Armand Corporation and McKissack & McKissak to administer the rehabilitation and maintenance at the Brooklyn Army Terminal and infrastructure improvement at the Hunts Point Food Distribution Center. Representatives from the corporation and the city pointed to the administration's ambitions to allocate 30 percent of all public contract dollars to MWBEs by 2021 and subsidize the creation of 100,000 jobs paying at least $50,000 a year by 2027.
"EDC invests billions of dollars in infrastructure projects and yet not enough of those projects go to minority-, women- and disabled person-owned businesses," said James Patchett, who Mayor Bill de Blasio appointed president of the NYCEDC in January. "So today's announcement is about our efforts to encourage more of those companies to have access to that work."
Deputy Mayor of Strategic Initiatives Richard Buery, the city's MWBE director, said contracting and building are a "great opportunity to build economic sustainability and power."
"It is really and truly a simple question of access and opportunity," Buery said. "We know if we open those doors, we know that all New Yorkers will walk through those doors."
The business owners expressed gratitude to the mayor and NYCEDC for hiring them.
"We are grateful to the Economic Development Corporation and to the de Blasio administration for recognizing and supporting the contribution of minority and women owned businesses in the construction [industry]," Shamsell Abdill, a project manager at Armand, said.
William Parish, president of NobleStrategy, said MWBEs need "direct opportunities" to work as prime contractors in addition to training.
"We're very, very grateful for that opportunity, an opportunity to contribute to the local economy but also to have small- to medium-sized firms grow to large firms and you do that with direct contracting opportunities through an agency like EDC," Parish said.
Brooklyn Councilman Robert Cornegy, chairman of the City Council's Small Business Committee, said he's "optimistically encouraged" and complained de Blasio "gets a bad rap"—a seeming allusion to city Comptroller Scott Stringer's criticism of the administration for not allocating more contracts to nonwhite and female-owned firms.
"It's funny because in and of itself, it's awesome but in addition to everything else the city is attempting to do to move the needle forward for MWBEs, I think it's terrific," Cornegy told the Observer following the event. "So I think any opportunity we can to get minority contractors into the pipeline is awesome and I think this just illustrates the city and the administration's commitment."
Manhattan Councilwoman Helen Rosenthal, co-chairwoman of the Council's Women's Caucus and chairwoman of the Contracts Committee, said the data of "how we're doing, what the results are" give a sense of "where our successes are and where we need to spend a little more energy." She said African-American women business owners "are having the roughest time."
"This could be through the Economic Development Corporation, this could be the opportunity," Rosenthal said. "And so my message is if you are an African-American woman and you own any sort of construction company, now's your time."
In September, de Blasio announced a new 30 percent participation goal, an MWBE office and the appointment of Buery. Last month, the city formally launched the Contract Financing Loan Fund, which enables MWBEs to apply for low-interest contract financing loans of up to $500,000 as part of the city's new $10 million revolving fund for MWBEs.