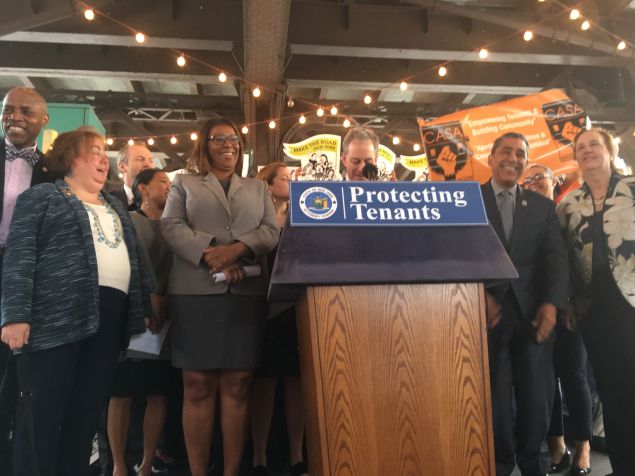 State Attorney General Eric Schneiderman and a host of other left-leaning pols debuted a new handbook outlining protections for undocumented renters facing landlord harassment—a legal manual they called crucial given the "very hostile, very toxic" current climate for foreign nationals under President Donald Trump.
The prosecutor's office released new "Know Your Rights" guidance—available online—for non-citizen tenants whose landlords have threatened to report them to federal authorities or have claimed that eviction protections do not apply to them because of their lack of formal paperwork. The Democratic officials at today's presser at La Marqueta in East Harlem blamed Trump, who ran on promises of mass deportations and who has pursued an aggressive immigration enforcement agenda in office.
"We have had complaints…from immigrant tenants who are being harassed or threatened because of their immigration status," Schneiderman said. "That harassment is not just inexcusable, it is against the law in New York. Every tenant has rights."
Flanked by elected officials and members of immigrant advocacy group Make the Road New York, the attorney general encouraged anyone who thinks they are the victim of immigration status-based harassment due to their immigration status to call the New York State Office for New Americans hotline at 1 (800) 566-7636.
Schneiderman's legal booklet explains that federal and state housing and anti-discrimination laws protect them and that landlords cannot evict non-citizen tenants. It also states that it is illegal for landlords to threaten tenants with violence to pressure them into leaving, lock them out of their apartments or remove their possessions or basic services such as electricity, heat and water.
The prosecutor also premiered new state legislation today that will eliminate the requirement that suits against property owners prove injury to the tenant. This would facilitate litigation against landlords who turn off heat and hot water, expose children to lead dust and otherwise make rent-regulated buildings unlivable.
It is unclear whether such a measure has any chance of passing the Republican-run State Senate.
Congressman Adriano Espaillat, whose Upper Manhattan-Bronx district is home to numerous recent arrivals from Latin American nations, argued that the bill and handbook are necessary to ensure that immigrant New Yorkers are protected.
"The current environment is very hostile, very toxic, very intolerant and so that promotes aggression from landlords as well," Espaillat said. "And so it is important that we protect not only tenants but those that are immigrants, particularly know their rights and even if we have funding for legal services, if the Attorney General does not have codified laws that allow him to move forward, we will be able to do very little."
The congressman, a formerly unauthorized immigrant from the Dominican Republic, asserted that Trump's inflammatory rhetoric has only emboldened unscrupulous landlords.
"That also includes, I think, people's tenancy rights as well," he said. "I think the environment, the atmosphere lends itself for people to go out there and say, 'I can do this because if the president of the United States is speaking on those terms, why can't I do this?'"
City Council Speaker Melissa Mark-Viverito, a Puerto Rico native, also reported a significant uptick in the number of immigrants coming to her office with complaints about landlord harassment.
"We've all heard the stories, those of us that are elected officials that live in our communities: the denial of services, the harassment, the stress that that brings on to families, particularly now with the climate that we have at the federal level," she said.
Mark-Viverito said that the Council will soon introduce its own legislation that will make it easier for local prosecutors to prove harassment charges. She also highlighted the $12 million she requested from Mayor Bill de Blasio to underwrite no-cost legal services for undocumented individuals facing deportation.