Three candidates for governor — Lt. Gov. Kim Guadagno, Assemblyman John Wisniewski and former U.S. Treasury official Jim Johnson — have received a combined $2.8 million in matching public funds for their primary campaigns, the state Election Law Enforcement Commission announced Wednesday.
Candidates who raise a minimum of $430,000 from donors are qualified to receive two dollars in public funds for every one dollar raised. So far ELEC has approved $2.8 million in public matching funds for this year's gubernatorial primaries.
To this point, Guadagno has received $1.1 million in public matching funds for the Republican primary. That includes a Wednesday disbursement of $295,110 and a March 27 disbursement of $830,818.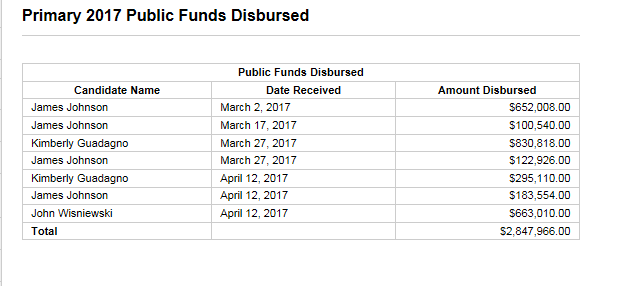 ELEC certified $183,554 on Wednesday in public funds for Johnson, who is pursuing the Democratic nomination. That takes his total matching funds to just over $1 million to date.
Wisniewski on Wednesday was approved for $663,010 in matching funds for the Democratic primary, his first disbursement.
While Assemblyman Jack Ciattarelli — a Republican poised to face Guadagno in the primary — announced in late March that he had qualified for matching funds, ELEC has yet to make any disbursements to Ciattarelli's campaign. According to ELEC Deputy Director Joe Donahue, Ciattarelli's submissions are still being reviewed.
"The assemblyman's submissions are just going through the normal vetting process faced by all candidates seeking public funds," Donahue said. "Sometimes the first submission takes the longest. All their private contributors must be fully identified, including their addresses, name of employer, employer address, and occupation. If not, the contributions can be rejected for public matching funds until the information is supplied."
Candidates who receive public funds must limit campaign expenditures to $6.4 million in a primary election and $13.8 million in a general election. Publicly financed candidates are also required to participate in two debates.