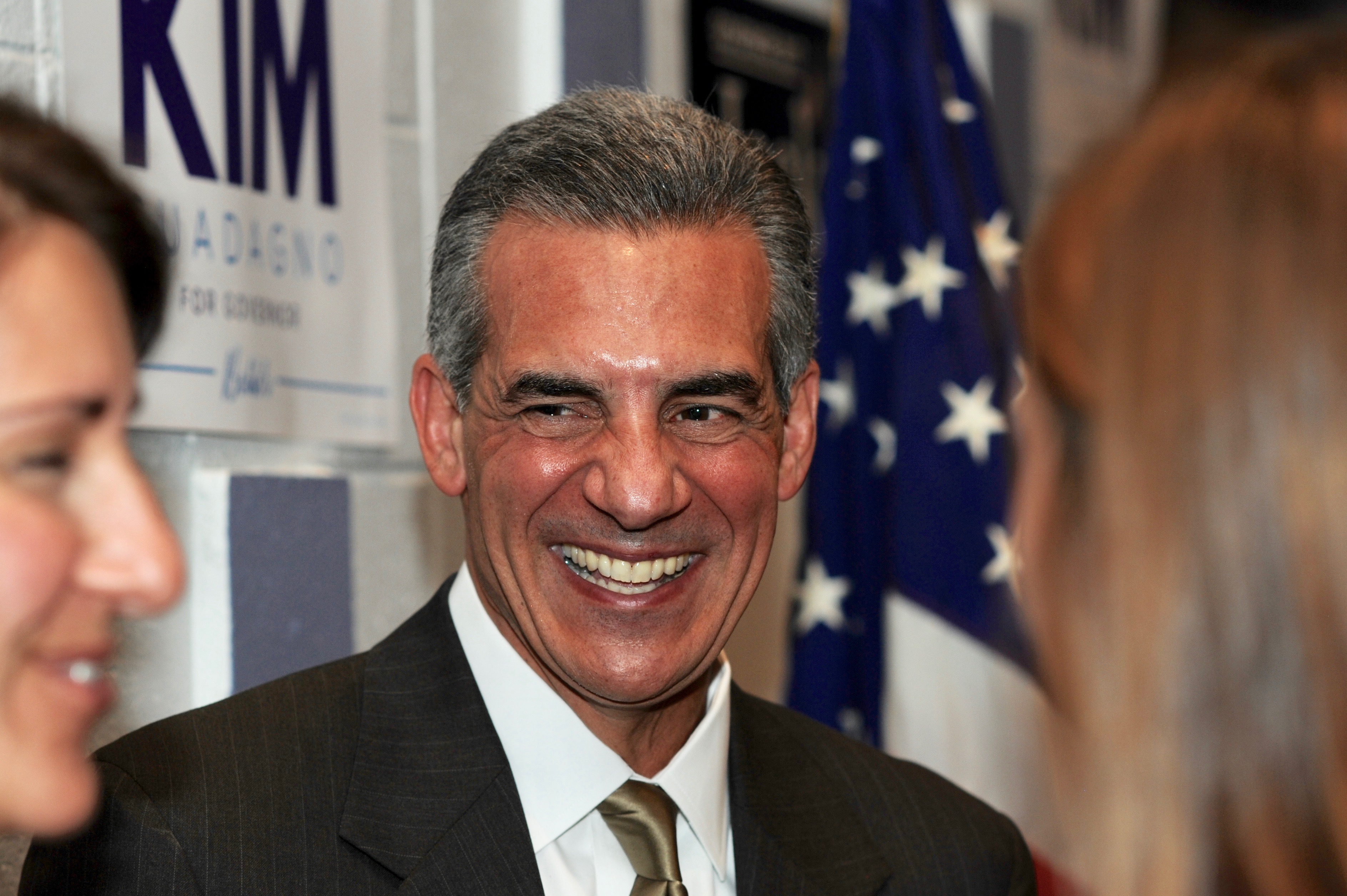 Brendan Byrne, the Governor of New Jersey from 1974 to 1982, celebrated his 93rd birthday on Saturday.  Five former governors — Tom Kean, Jim Florio, Jim McGreevey and Dick Codey – were there to help him celebrate.

Ladies and Gentlemen of New Jersey, we have ourselves a real race for the Republican gubernatorial nomination. For a while, it looked as though Lt. Gov. Kim Guadagno would coast to victory.  She's remains the front-runner, but Assemblyman Jack Ciattarelli has won enough county lines – and raised enough money — to make this a real race.  Last week, Ciattarelli won the Hunterdon County line (the last of the counties to endorse).  He also qualified for matching funds.
Guadagno has a significant advantage.  She has the line in eleven counties, which have 50.4% of the state's registered Republicans.  Ciattarelli has the line in seven counties (43.8% of the statewide GOP registration).  Three other counties – Morris, Sussex and Warren—have no line, although Guadagno has permission to use the party slogan in all three.
The most recent poll, released last week by Fairleigh Dickinson University, has Guadagno leading Ciattarelli by a statistically wide margin, 24%-5%.  But the LG's 19-point lead masks the fact that despite two statewide campaigns, she remains mostly unknown among rank-and-file GOP primary voters.  54% of Republicans remain undecided.
In the FDU Public Mind poll, Gov. Chris Christie has an upside-down 20%-72% job approval rating.  Among Republicans, it's 40%-52%.  Guadagno has taken some steps to distance herself from Christie (she opposed the gas tax increase and the statehouse renovation project), but Ciattarelli was one of the first Republicans to separate himself from the Republican governor.  The poll presents two interesting questions: who will the pro-Christie Republicans vote for? And which anti-Christie candidate will get the votes of Republicans who no longer love their governor?
Add to that one more twist: the same FDU poll has President Donald Trump at a 72%-16% approval rating among New Jersey Republicans.  Guadagno and Ciattarelli both refused to endorse Trump last year.   A third candidate in the race, Nutley Commissioner Steve Rogers, was a Trump supporter even while Christie was still an active candidate.  But Rogers has no organization lines (not even in his home county, Essex) and is unlikely to qualify for public financing.  That means he won't be part of the two GOP gubernatorial debates — a likely two-candidate forum between Guadagno and Ciattarelli.
Rogers is polling at 1% (as are Joseph Rullo and Hirsh Singh), which means all three could be in a statistical dead heat with Ciattarelli.  Of course, with a +/- 6.7% margin of error in the FDU poll, it could mean many, many different things.
FDU apparently didn't realize Dana Wefer, the Bernie Sanders-supporting Hoboken Housing Authority Chairman, had dropped out of the Republican gubernatorial race a week before the poll went into the field.  Wefer polled at 2%.
The clear front runner for the Democratic nomination for Governor is Phil Murphy, a former investment banker who served as U.S. Ambassador to Germany under President Obama.  The FDU poll has Murphy at 23%, with 53% of Democrats still undecided.  Former U.S. Undersecretary of the Treasury Jim Johnson (4%), Assemblyman John Wisniewski (4%), State Sen. Ray Lesniak (3%), retired firefighter and Christie critic Bill Brennan (2%), newspaper publisher Lisa McCormick (2%), and Tenafly Councilman Mark Zinna (0%) trail far behind.  The margin of error on the Democratic side of the FDU poll is +/- 5%.
More important than polling, Murphy has the line EVERYWHERE! Lines matter in both primaries, but for Democrats the value is slightly higher.
Murphy also earned the backing of the influential New Jersey Building Trades Council.  Besides the Princeton Community Democratic Organization for Wisniewski and civil rights leader Steven Goldstein for Lesniak, Murphy has essentially swept just about everything.
Murphy and Johnson went at it last week.  Johnson threw the first punch, filing an ELEC complaint alleging that Murphy set up and used non-profit organizations to prepare for his run for governor to avoid disclosing his early donors.  Murphy hit back, with his campaign alleging that Johnson is covering up a $10 million no-bid contract his law firm won to defend "alleged influence peddling" in New York City.  Wisniewski sided with Johnson.
The Record's Charles Stile had a great take on Wisniewski's failure to capitalize on the national publicity he received as the chairman of the Bridgegate legislative inquiry.