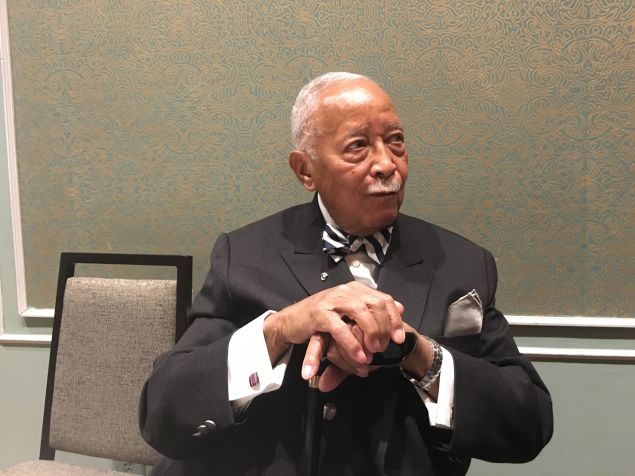 Former New York City mayor David Dinkins on Wednesday endorsed Jim Johnson, a Democrat seeking the gubernatorial nomination this year.
Dinkins, who was the city's first and so far only black mayor, said that Johnson's record as undersecretary of the U.S. Treasury Department and as a lawyer guided his decision. Johnson is the only black candidate running in the governor's race this year.
"I know firsthand what it takes to challenge the establishment in order to make history," Dinkins wrote in a statement. "Jim Johnson not only has what it takes, he has dedicated his life to fighting for justice and bringing about change. … Jim has challenged the powerful on behalf of the people, and brought diverse communities together to solve big problems."
Johnson said that he was "honored to receive the endorsement of Mayor David Dinkins, who has been a role model of mine for years" and that Dinkins "paved the way for so many of us to run for office." Dinkins won the Democratic primary in 1989 and served until 1994 after an electoral defeat to Rudy Giuliani.
Back in New Jersey, the front-runner for the Democratic nomination, Phil Murphy, a former U.S. ambassador to Germany and Goldman Sachs veteran, has swept all of the Democratic county conventions and is considered the odds-on favorite to win the nomination because of the raw power Democratic county machines have in terms of getting out the vote.
Assemblyman John Wisniewski (D-Middlesex) and state Sen. Ray Lesniak (D-Union) are also vying for the nomination. The primary is scheduled for June 6 and the first of two primary debates is set for May 9.