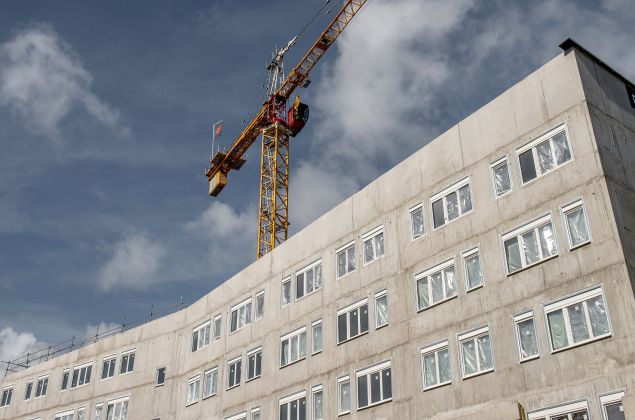 New Jersey towns are on the hook for 280,000 affordable housing units through 2025, according to a new study by the Fair Share Housing Center.
To put the number in context, it averages out to 496 new units for each of the state's 565 municipalities, although not all towns face the same requirements.
The affordable housing debate is as wonky as it is politically fraught in New Jersey, pitting Democrats against Republicans and local officials against judges. A small army of lawyers always seems to be in court somewhere fighting over how many units to build.
Fair Share, a nonprofit representing low- and moderate-income families, has been pushing towns and Gov. Chris Christie's administration for years to revive what has been a stalled affordable housing program. Christie has declined and the courts now run the program. Fair Share said the new numbers in its study take into consideration a ruling handed down by the state Supreme Court in January.
The high court ruled 6-0 that towns could not ignore affordable housing obligations that piled up from 1999 to 2015, a period of rampant dysfunction in New Jersey's affordable housing program. It was the latest landmark housing decision by the justices since they first outlawed exclusionary zoning in the Mount Laurel case in 1975.
The state needs 146,000 units to cover that 16-year gap period, according to Fair Share's methodology, and another 140,000 or so to fulfill housing quotas from 2015 to 2025, subject to municipal caps.
Kevin Walsh, the housing group's executive director, said "we expect the courts to affirm this study as we work to finally end the systemic exclusion holding back New Jersey's working families, minority communities, seniors and those with disabilities."
"New Jersey is one the most expensive states in the country," he said. "Working families are still recovering from the effects of the recession, the ongoing foreclosure crisis and the devastation caused by Superstorm Sandy. The Supreme Court's January ruling affirmed in the strongest terms that towns meet their obligation under the state Constitution to provide quality, affordable homes in communities with good schools and access to jobs."
Sen. Kip Bateman (R-Somerset) called the new numbers "outrageous" and said "towns are being mandated to build thousands of homes that they don't have the infrastructure or space to accommodate."
"It's going to force towns to build new schools, and spend thousands or hundreds of thousands of dollars in infrastructure," he said.
Bateman has introduced legislation attempting to set new affordable housing standards and address some of the issues being litigated in the courts. But the Democratic leadership in the Senate has declined to post the bill for a vote, Bateman said.
"There's no interest from the Democratic leadership," he said. "It doesn't impact their districts like it impacts the rural and suburban districts" in Hunterdon, Somerset and Warren counties, and part of Mercer County, he said.
The League of Municipalities has said the Supreme Court justices did not really settle how many units must be built. "The ruling provides little guidance and will likely result in additional property tax resources being expended," Michael Darcy, the League's executive director, said in response to the January ruling. "We again call upon the administration and Legislature to craft long-overdue reforms and promulgate a reasonable, rational state housing policy."
Responding to the new study, League assistant executive director Michael Cerra said Thursday that "it is no surprise that the Center has again advanced a deeply flawed and discredited methodology based on obligations that are not rational, reasonable or likely to be viewed favorably by the court."
A Superior Court judge in Mercer County is poised to decide who is adding up the numbers the right way, part of an ongoing case.