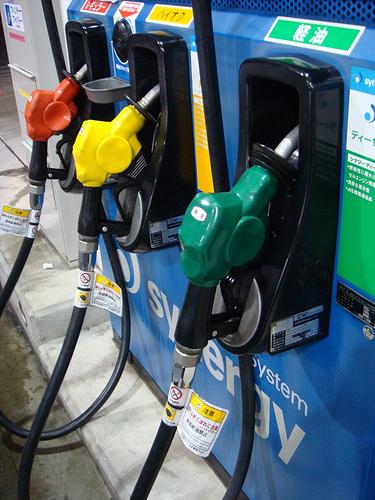 Everybody in the state is paying for the same gas tax hike approved by Gov. Chris Christie and the Democrat-controlled state legislature. But, if you live in the state's southernmost counties, you aren't seeing the immediate benefits of the massive tax hike. New Jersey 101.5 reports that only three of 66 projects included in a $400 million spending bill signed by Christie are in Atlantic, Cape May and Cumberland counties.
Not that transportation is stellar for folks living in the northern part of the state, as Christie continues to posture following last week's derailment at Penn Station, and two of his former aides are planning to appeal their convictions for masterminding the Bridgegate traffic jam plot.
In Atlantic City, students are taking online chemistry courses because the district can't find a qualified teacher to lead the classes, and in Monmouth County, Brookdale Community College is asking staff to take unpaid time off to help it overcome financial problems.
Quote of the Day: "Just 'cause you're dumb enough to cover it doesn't mean I'm going to be just as stupid and answer a question about it," – Gov. Chris Christie, about activist Bill Brennan's misconduct complaint against David Samson, a Christie mentor and former head of the Port Authority who has pleaded guilty to shaking down United Airlines.
Sorry South Jersey — Little of that $400M in transportation spending is for you
Sixty-plus projects are set to benefit from an extra $400 million in transportation spending signed into law by Gov. Chris Christie weeks ago, but just three will take place in New Jersey's southernmost counties – Atlantic, Cape May and Cumberland.
Dino Flammia, NJ101.5 Read more
Christie says more pension reforms are on the way
After the dramatic public breakdown of an "unprecedented accord" between Gov. Chris Christie and the state's largest teachers union, further reforms to the public employee pension system are back on the table as Christie formulates a package of proposals intended to ease its burdensome debt.
Dustin Racioppi, The Record Read more
Christie, Cuomo demand role in Penn Station inspections
New Jersey Gov. Chris Christie and New York Gov. Andrew Cuomo are demanding that their states' transit agencies be allowed to participate in a rail safety assessment at Penn Station, where a derailment last week caused commuter backups across the region for four days.
Nicholas Pugliese, The Record Read more
Democrats, GOP Dispute Size of Structural Deficit
As a Republican challenger nearly a decade ago, Chris Christie used the routine Trenton fiscal exercise of calculating the "structural deficit" to attack the budgeting skills of then-incumbent Democrat Jon Corzine.
John Reitmeyer, NJSpotlight Read more
That $300 million Statehouse renovation? Full-speed ahead, with no clear direction
Lawmakers seeking details about the Statehouse renovations slated to start this summer got precious few in their initial budget hearings with the state treasurer.
Michael Symons, NJ101.5 Read more
No chemistry teacher at this high school so kids will learn online
Students at Atlantic City High School who take chemistry don't have a teacher, according to a report.
Jeff Goldman, NJ.com Read more
Patients Prescribed Shelter and Medication Are Wary of Trump Cuts
For eight months, Jamal Brown's body shook, so violently that he lost consciousness and ended up in the hospital more than 30 times. Though only in his 30s, his face drooped, his arms and legs often felt numb, and he was overcome with the anxiety of being a homeless drug addict trying to get clean in Camden, N.J.
New York Times Read more
Dems challenge Jen Beck's candidacy for June primary
New Jersey Democrats are trying to get District 11 state Sen. Jennifer Beck tossed off the Republican primary ballot, alleging fraud with several of the signatures on her petition for the June election.
Susanne Cervenka, Asbury Park Press Read more
Pinelands pipeline not out of the woods yet
After the Pinelands Commission gave the OK to build a natural gas pipeline through the protected forest, environmentalists pledged that the campaign wasn't over; they said it was merely switching venues, from the commission's meeting room to a courtroom.
Russ Zimmer, Asbury Park Press Read more
Judge considering Samson misconduct complaint that's been blasted by Christie
A municipal judge says he will take a few weeks to consider whether a citizen activist's complaint alleging official misconduct by Gov. Chris Christie's disgraced Port Authority chairman should trigger in a new criminal summons.
Claude Brodesser-Akner, NJ.com Read more
Former Christie insiders to appeal their convictions in Bridgegate scandal
As expected, two former members of the Christie administration convicted in the Bridgegate scandal have formally filed their intention to appeal the verdict.
Ted Sherman, NJ.com Read more
Christie to mark prison's reopening as drug treatment center
Gov. Chris Christie on Monday said a one-time New Jersey prison has reopened as a drug treatment center for inmates and could be a national model as he leads a task for on addiction for President Donald Trump.
Associated Press Read more
N.J., Conn. state troopers swipe at each other … on Facebook
Quips about pumping gas. Jokes about hats. A Tom Cruise movie clip.
Brent Johnson, NJ.com Read more
Shore town looks to tax Airbnb, VRBO
Asbury Park has become the latest New Jersey town to try to regulate short-term rentals such as Airbnb or VRBO.
Mari A. Schaefer, Inquirer Read more
New $1 billion Virtua Hospital complex would put tiny Westampton on the map
It is a trapezoid-shaped farm, 110 acres dotted with shaggy-haired sheep, baby goats, and a clapboard farmhouse built in the 19th century.
Jan Hefler, Inquirer Read more
Brookdale asks staff to take unpaid time off
Brookdale Community College, facing a "tight" financial situation, is asking administrators and staff to volunteer for a reduced workweek and summer pay cut.
Amanda Oglesby, Asbury Park Press Read more
Monmouth prosecutors: Brookdale trustee wasn't hacked
The Twitter account of a former Brookdale Community College Trustee was not hacked, according to a letter from Monmouth County Prosecutor's Office.
Susanne Cervenka, Asbury Park Press Read more
Bergen prosecutor offers a new outlet for help
The Bergen County Prosecutor's Office announced Monday that it will double down on efforts to treat heroin and opioid addiction as a disease rather than a crime by allowing addicts to seek help in local police departments.
Svetlana Shkolnikova, The Record Read more