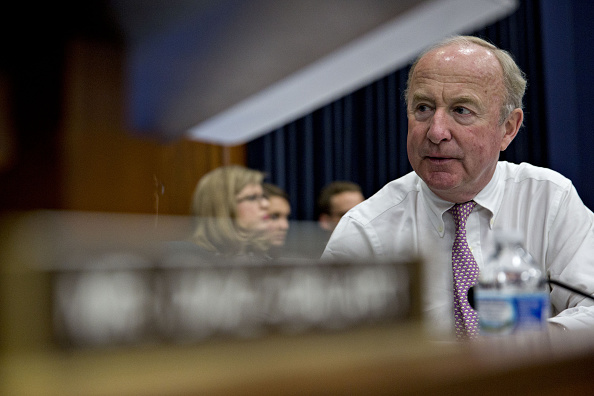 It took months of pressure, but U.S. Rep. Rodney Frelinghuysen has agreed to meet with voters from his district, as long as they head down to his office in Washington. The group NJ 11th for Change is scheduled to meet today with the congressman, who prefers holding invitation-only telephone town halls. Meanwhile, U.S. Rep. Leonard Lance, a Republican who met face to face with groups of voters during town hall meetings earlier this year, is preparing for another event later this month.
Gov. Chris Christie is still making news for his endorsement last year of then-candidate Donald Trump, saying on Monday he'd hoped his backing would make the controversial real estate magnate "better."
And the New Jersey activist (and Democratic gubernatorial candidate) who pursued a citizen's complaint against Christie stemming from the Bridgegate scandal is now turning his aim on former Port Authority Chairman David Samson, currently serving house arrest in his posh vacation home for shaking down United Airlines.
Quote of the Day: "Rodney always meets with constituents. Despite a schedule that already includes over two dozen meetings with New Jersey residents this week, he's glad that we were able to establish mutually convenient times for several of these groups to meet."—Spokesman Steve Wilson, on U.S. Rep. Rodney Frelinghusen's decision to meet in Washington, D.C., with a group of his New Jersey constituents who have been pressuring him to hold a town hall.
NJ 11th for Change meeting with Frelinghuysen Wednesday
After months of requests, a group of constituents from New Jersey's 11th have finally landed a face-to-face meeting with their congressman.
Michael Izzo, Daily Record Read more
Will Obamacare supporters again flood Lance town hall meeting?
Rep. Leonard Lance's last town hall meetings came against a national wave of opposition to Republican plans to repeal the Affordable Care Act, and the lawmaker faced the wrath of angry constituents as did colleagues across the country.
Jonathan D. Salant, NJ.com Read more
Christie reveals exactly why he endorsed Trump, causing people to go "berserk"
Gov. Chris Christie offered some insight Monday on his decision to support President Donald Trump's presidential campaign shortly after the New Jersey governor ended his own White House bid.
Matt Arco, NJ.com Read more
N.J. activist pushes for Christie ally David Samson to face jail time
Democratic activist and candidate for governor Bill Brennan filed a citizen's complaint against former Port Authority chairman David Samson in Newark municipal court on Tuesday, a move that that could result in new criminal charges against Gov. Chris Christie's longtime friend and mentor.
Claude Brodesser-Akner, NJ.com Read more
Will Joe Piscopo run for governor? Maybe he'll say in Sparta
Former "Saturday Night Live" star Joe Piscopo is speaking at a charity fundraiser in Sparta Thursday as he weighs running for governor as an independent.
Rob Jennings, NJ.com Read more
Ex-governors urge N.J. representatives to oppose Trump's EPA cuts
As former New Jersey governors called on the state's congressional delegation Tuesday to defend the environment, one South Jersey Republican spoke out against President Trump's move to slash federal funding for environmental protection.
Maddie Hanna, Inquirer Read more
NJ issues report card on schools, and it's more wide-ranging this year
The New Jersey Department of Education announced Tuesday it has posted its School Performance Report for the 2015-16 school year.
David O'Reilly, Inquirer Read more
Menendez makes decision on Trump's Supreme Court nominee
U.S. Sen. Robert Menendez said he would oppose putting Judge Neil Gorsuch on the Supreme Court and would vote against bringing his nomination to the Senate floor.
Jonathan D. Salant, NJ.com Read more
Booker, Menendez pitch in to help borough on 5th try to get zip code
Kinnelon is trying for the fifth time to get its own zip code.
This time, however, U.S. Sens. Robert Menendez and Cory Booker have jumped on board their band wagon, possibly making the battle for this Morris County borough a little easier.
Justin Zaremba, NJ.com Read more
Democratic gubernatorial candidate visits post-Sandy sites
A Democratic hopeful for his party's nomination for governor of New Jersey in 2017 took a bus tour Saturday with a group of impacted homeowners to sections of Manahawkin still recovering from Superstorm Sandy.
Steve Moran, Asbury Park Press Read more
Shore's FAA Tech chief questioned in D.C. about drone traffic control
Fending off a proposal to privatize air traffic control systems, a plan that could threaten 3,000 jobs at the Shore, Shelley Yak, the director of the FAA Technical Center in Egg Harbor Township, N.J., answered questions mostly about drones Tuesday from the aviation subcommittee of the U.S. House of Representatives.
Amy S. Rosenberg, Inquirer Read more
NJ Transit on holiday schedule through Thursday—says it's as frustrated as you
NJ Transit will remain on a holiday schedule on the Northeast Corridor and North Jersey Coast Line through at least Thursday afternoon's commute.
Dan Alexander, NJ101.5 Read more
Frederick B. Lacey, former U.S. Attorney who took on the mob, dead at 96
Frederick Lacey's son first began to understand the danger of the work his father was doing when four federal marshals unexpectedly took up residence to protect the family in their suburban Glen Ridge home.
Ted Sherman, NJ.com Read more
Council hits brakes on Cedar Grove train station idea
Any notion of adding a train station to Cedar Grove remains premature, according to several members of the Township Council.
Joshua Jongsma, The Record Read more
Director: Montclair Animal Shelter "in the best place it's been" a year after fire
To mark a year since a fire severely damaged the Montclair Township Animal Shelter, its acting director, Liz Morgan, thought about lighting a candle—an electronic one—but then felt a candle was more appropriate when remembering someone's death.
Mollie Shauger, The Record Read more
Bridgegate The Scandal That Keeps Giving
The lane-closure scheme that stalled and snarled traffic in Fort Lee cost Christie his political capital, as his recent appointment to chair Trump's opioid task force makes clear.
Carl Golden, NJSpotlight Read more
Christie's priority was never Trump nor Jersey. It's Christie
If you've ever wondered why Chris Christie went all-in on Donald Trump, he'd like to make this clear: It had nothing to do with ambition or self-interest.
Star-Ledger Read more
EDITORIAL: Lineups set for June primary
As elections in New Jersey go, this year's could be the most important in years. With Gov. Christie's second term as governor winding down and all 40 Senate seats and all 80 Assembly seats up for grabs, the governorship and Legislature could once again be under all-Democratic control.
Asbury Park Press Read more