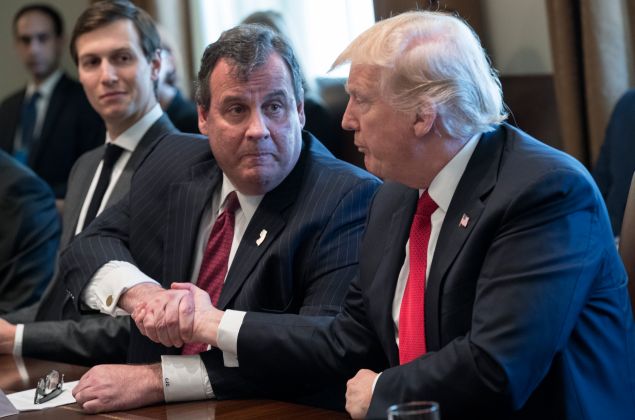 So how much juice does Chris Christie have with President Donald Trump? We might soon see, as the governor — who was passed over for key jobs in the new administration — tries to coax transportation dollars from the president and his defense-heavy budget. A New Jersey Republican is also figuring in Trump's attempts to pass new health care legislation. Rep. Tom MacArthur on Thursday discussed a compromise he thinks might get the measure over the finish line in the House of Representatives.
A school superintendent who received kickbacks will still get a $110,000-per-year pension, in a perplexing legal ruling. NJ101.5 reports on the case here. Meanwhile, there are fewer jobs in New Jersey to help pay for the state's struggling pension system — this report shows we have the worst pension debt in the country, while this details how the state shed 17,500 jobs last month.
And while Christie was in Atlantic City touting the success of his efforts to get the ailing resort back on track and financially sound, the national head of the NAACP stopped by to blast the state for its takeover of the city and the plan to sell A.C.'s public water system, which is coveted by some politically connected private firms.
Quote of the Day: "This is a national issue because we have seen in Atlantic City again and again and again public resources sold off to the highest bidder," Cornell Brooks, the national president of the NAACP, on his opposition to the state forcing the sale of the Atlantic City's MUA. At least two politically connected firms, including one that employs George Norcross's brother as a lobbyist, have expressed interest in purchasing the authority, which operates Atlantic City's water system.
Christie's inside track to Trump put to test
Gov. Chris Christie doesn't have a coveted top job in President Donald Trump's administration, but he says he has the president's ear.
Charles Stile, The Record Read more
MacArthur unveils plan to revive GOP health care overhaul
U.S. Rep. Tom MacArthur thinks he may have hit upon a way to save the Republican health care reform legislation.
David Levinsky, Burlington County Times Read more
Why a crooked NJ school official won't lose his $110,000-a-year pension
Former township schools superintendent Gary Vitta will collect a $110,000 public pension every year until he dies.
David Matthau and Sergio Bichao, NJ101.5 Read more
N.J. county to share license-plate reader data with the feds
Ocean County officials agreed Wednesday to share data collected through the use of license-plate readers with federal authorities.
Alex Napoliello, NJ.com Read more
NJ Shed 17,500 Jobs in March, But Jobless Rate Falls Again
New Jersey lost 17,500 jobs in March by one measure. But the unemployment rate was 4.2 percent last month by another, a 10-year low for the state, according to a Bureau of Labor Statistics report released Thursday.
Alyana Alfaro, Observer Read more
N.J.'s median teacher salary is up; see what every district pays
The median salary among New Jersey teachers is $66,117 this school year, about a 2.4 percent increase from last year, according to new state data.
Adam Clark and Carla Astudillo, NJ.com Read more
How much does NJ get from feds to fight opioid epidemic?
Nearly $13 million has been earmarked for New Jersey by the federal government to battle the opioid epidemic.
Ken Serrano, Asbury Park Press Read more
Ozone levels a concern in region
Most of New Jersey, including Bergen and Passaic counties, received poor grades again for smog which can aggravate health problems, but had much better rankings in terms of soot, the fine particles created when vehicles and power plants burn fuel, according to a report released Thursday by the American Lung Association.
Mary Jo Layton, The Record Read more
Another report shows N.J. has worst public pension debt in U.S.
Another study has found New Jersey's public pension system is in the worst shape of any state in the nation.
Samantha Marcus, NJ.com Read more
NJ Commissioner of Education strikes down transfer rule
Acting New Jersey Commissioner of Education Kimberley Harrington wants to weigh in on athletic transfers.
Darren Cooper, The Record Read more
Christie Touts State Takeover Results as New A.C. 'Gateway Center' Opens
New Jersey governor Chris Christie said that Atlantic City is facing a turning point after a decade of decline at Thursday's groundbreaking ceremony for the Gateway Project, a new development that includes a headquarters for South Jersey Industries and a residential campus for Stockton University.
JT Aregood, Observer Read more
Christie's stance toward selling A.C. water authority softens; NAACP condemns takeover
With Cornell Brooks, the national president of the NAACP, in town vowing to fight "for the long haul" against any attempt to sell Atlantic City's water authority, residents and activists appeared newly dug in Thursday to protect their rights despite a state takeover.
Amy S. Rosenberg, Inquirer Read more
Christie doubles down in PILOT fight as Atlantic County prepares for lawsuit
Mayors across Atlantic County are gearing up for a fight against the state to get its 13.5 percent share of the Atlantic City PILOT money and avoid a large, countywide tax increase.
Press of Atlantic City Read more
7 reasons Christie could have replaced Bill O'Reilly at Fox
Will Fox News viewers one day see a Chris Christie talk show?
The cable news network announced Wednesday that it's parting ways with Bill O'Reilly, host of popular prime-time show "The O'Reilly Factor," in the wake of revelations that O'Reilly reached settlements with five women who accused him of sexual harassment. Fox has replaced him with Tucker Carlson, moving Carlson to the 8 p.m. slot and reshuffling much of its evening lineup.
NJ.com Read more
Fight of the Week: Sweeney Versus Prieto
It didn't have to be this way.
Forget the titles for a second. For a moment, leave the Confederate and Union uniforms folded in the drawer. Don't think about the respective rat packs they hail from, or the bosses who back them, or the people around them whispering in their ears. When one examines Steve Sweeney and Vincent Prieto in isolation, they don't look far apart.
Max Pizarro, InsiderNJ Read more
Paterson ready to provide some cops with Tasers
In what officials are calling an effort to reduce the number of police-involved shootings in the city, Paterson is getting ready to equip some of its officers with the electrical devises commonly called Tasers.
Joe Malinconico, Paterson Press Read more
Mayor, chief declare Morristown a 'Safe Place'
in an effort to ensure the town is welcoming for those of all genders and sexual orientation, police launched a new program designed to offer safety and security to those in need.
Michael Izzo, Daily Record Read more
Madison Students Staying Silent
Madison High School will be noticeably quieter on Friday, when about a quarter of the students plan to not speak to show their support of the LGBTQ community.
Michael Izzo, Daily Record Read more
Proposed Stewardship Program Would Protect Forested Lands
The state is proposing broad new rules governing stewardship of privately owned forested land, a measure aimed at keeping more of New Jersey's woodlands intact.
Tom Johnson, NJSpotlight Read more
Tepee summonses reinstated against Ramapough tribe
The township has denied a Native American tribe's application to hold religious and cultural gatherings on tribal land and reinstated court summonses accusing it of building tepees without permission.
Tom Nobile, The Record Read more
New councilman wants Little Falls to reach 'true potential'
The newest member of the council calls his adopted hometown "a small town with a big heart."
Lindsey Kelleher, The Record Read more
Eli Manning fires back at Chris Christie, who (unlike him) is a confirmed liar
Eli Manning could have taken the label slapped on him by the governor of his adopted state as a compliment. After all, Chris Christie calling you a liar is sort of like Claude Monet calling you artist. He is a world-renown expert in the field.
Steve Politi, NJ.com Read more
EDITORIAL: Broaden gubernatorial disclosure
New Jersey lawmakers have been making some noise about requiring future presidential candidates to release tax returns to be eligible to appear on the state ballot. They're not alone; many other states are considering similar measures, largely in response to President Trump's ongoing refusal to provide his own returns.
Asbury Park Press Read more
Editorial: Trump should take a hint: He lost N.J. by 14 points
Donald Trump is summering in New Jersey – is that the verb he'd use? – which is either tempting fate or latent masochism.
Star-Ledger Read more