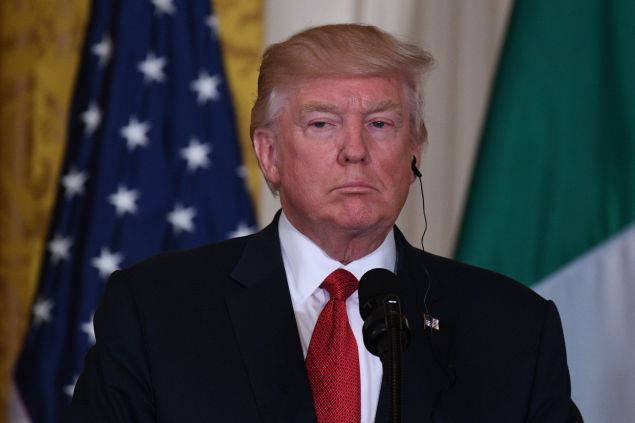 It's less than two weeks after tax day, but New Jersey residents smarting after sending Uncle Sam a good chunk of their hard-earned pay got some bad news after President Donald Trump revealed a tax plan that would eliminate a federal tax deduction for state and local taxes—a measure that particularly benefits residents of this tax-heavy state.
Trump's efforts to enforce immigration regulations are also causing consternation at Rutgers University, where faculty is mobilizing after an undocumented student there was told to report for an interview.
And Trump's health care reforms continue to simmer on a back burner, with GOP Rep. Tom MacArthur, who has helped craft a compromise now under consideration, again expressing confidence his party can get their plan over the finish line, while opponents are again warning of the large number of residents—nearly 4 million by their count—who will lose access to affordable care under the plan.
There are continued problems for the state's beleaguered commuters and continued outrage directed at those who let our transit system get to this point. But those stuck in any of New Jersey's innumerable traffic jams can take heart, the gridlock just might be saving their lives.
Quote of the Day: "This particular component could cause some real trouble for a lot of New Jersey families."—Jon Whiten, vice president of New Jersey Policy Perspective, on President Trump's proposal to eliminate a federal deduction for state and local taxes.
Trump tax plan would sock N.J. by killing property tax deduction
A tax cut plan proposed by President Donald Trump's administration Wednesday would eliminate the federal deduction for state and local taxes, a blow to New Jersey residents who pay the highest property taxes in the nation.
Jonathan D. Salant, NJ.com Read more
If Trump ends property tax deduction, that could mean 'real trouble' for NJ families
As a state with lots of wealthy residents, New Jersey could do well under aspects of the tax reform blueprint outlined Wednesday by President Donald Trump's economic advisers—lowering the marginal tax rate to 35 percent, repealing the alternative minimum tax, ending a surtax on investment income.
Michael Symons, NJ101.5 Read more
DACA student at Rutgers to be interviewed by immigration
Immigration officials have told an undocumented Rutgers University student who was brought to the United States as a child and later granted protection from deportation that she needs to report to their office in the coming weeks for an interview, a move that has raised concern among professors, who have asked that the school declare itself a sanctuary for undocumented students.
Monsy Alvarado, The Record Read more
ICE Arrests in NJ Up 20 Percent Since October
Agents with the Immigration and Customs Enforcement agency (ICE) say they are arresting more undocumented immigrants in New Jersey because of new directives from the Trump administration.
NJTV Read more
NJ's MacArthur takes lead in new GOP health bill
New Jersey's U.S. Rep. Tom MacArthur says the amended health care bill that now bears his name would lower costs, protect consumers and bridge a divide between the Republican Party.
Michael L. Diamond, Asbury Park Press Read more
Could 4M N.J. residents lose affordable health care?
Nearly 4 million New Jersey residents with pre-existing health conditions could lose their ability to get adequate insurance under revised Republican legislation to repeal and replace the Affordable Care Act.
NJ.com Read more
MacArthur 'cautiously optimistic' about his Obamacare replacement amendment
Shortly after his amendment received an endorsement from the conservative House Freedom Caucus, U.S. Rep. Tom MacArthur said Wednesday he was "cautiously optimistic" the changes he's negotiated to revive the House GOP Obamacare replacement plan could soon become a reality.
Katie Jennings, Politico Read more
NJ has some of the safest roads in U.S.—Thanks to our traffic jams?
A new report finds New Jersey ranked the fourth-safest state in the nation on our highways. But a Garden State highway expert says there is still room for improvement.
Joe Cutter, NJ101.5 Read more
N.J. DEP says PennEast pipeline permit application is missing information
The state Department of Environmental Protection on Wednesday deemed an application for water permits crucial to the proposed PennEast pipeline project to be "administratively incomplete."
Paul Milo, NJ.com Read more
Christie: Drug addiction should be treated like AIDS
Less than a month after taking on a new role leading a national commission battling the opioid epidemic, Gov. Chris Christie on Wednesday came to Toms River to tout one of the tools—started in New Jersey—for fighting drug abuse.
Ken Serrano, Asbury Park Press Read more
NJEA Elects Blistan as Next President
New Jersey's largest teachers union has elected a new president, Marie Blistan, a special education teacher and a tough critic of Gov. Chris Christie's administration.
Salvador Rizzo, Observer Read more
New Jersey settles stun gun ban lawsuit
New Jersey has settled a lawsuit that would end the state's ban on civilians buying stun guns.
Associated Press Read more
NJ Governor's Race: Former NYC Mayor Backs Johnson
Former New York City mayor David Dinkins on Wednesday endorsed Jim Johnson, a Democrat seeking the gubernatorial nomination this year.
JT Aregood, Observer Read more
Two Republican candidates for governor back North Jersey casinos
Assemblyman Jack Ciattarelli, R-Somerset, appeared at an "Eggs and Issues" forum on Tuesday that was run by the Meadowlands Regional Chamber at the Stony Hill Inn in Hackensack.
John Brennan, The Record Read more
Trump supporters at the Shore want their country back
Diana Simpson sees headline after headline criticizing President Donald Trump, from his tweets to his soundbites during his first 100 days in office. But she says, by now, she knows not to put much stock in the ridicule of the man she voted for.
Steph Solis, Asbury Park Press Read more
Ocean County judge sues judges, claims discrimination
A Superior Court judge is suing his two bosses—other judges—claiming he was removed from duty and is being discriminated against because he has a son with disabilities.
Kathleen Hopkins, Asbury Park Press Read more
GOP Candidate Sues for Spot in Debates
A political newcomer competing in the Republican primary for governor is suing New Jersey election regulators as a last-ditch attempt to get a place onstage for the first debate on May 9.
Salvador Rizzo, Observer Read more
Baraka and Pro-Charter Slate Sweeps Newark School Board Elections Again
The Newark Unity Slate—a compromise ticket designed by Newark Mayor Ras Baraka, the city's influential North Ward, and charter-school advocates—swept the city's school board elections Tuesday night.
Alyana Alfaro, Observer Read more
Police union: At least 26 county officers will be laid off
The local police union representing officers of the former Bergen County Police Department, who were merged with the Bergen County Sheriff's Office, posted a video to its Twitter account in which the union president was briefing officers about impending layoffs.
Matthew McGrath and Steve Janoski, The Record Read more
Hearing Thursday on Toms River Islamic school plan
After more than a year of delays, a proposal to build a new mosque and 17-classroom Islamic school on property owned by the Muslim Society of the Jersey Shore is at last scheduled to be heard at Thursday's Board of Adjustment meeting.
Jean Mikle, Asbury Park Press Read more
Newark Housing Authority announces furloughs amid budget crunch
Employees at the Newark Housing Authority will be forced to take 12 furlough days for the rest of the year as the agency faces a budget crunch coupled with escalating costs.
Karen Yi, NJ.com Read more
DEP Could Fight Legislature Over Highlands Septic Tanks
The state Department of Environmental Protection may be heading toward another confrontation with the Legislature — this time over a rule it is reviewing that would open up parts of the Highlands to more growth.
Tom Johnson, NJSpotlight Read more
Judge sides with Passaic County clerk in ballot squabble
A Superior Court judge on Tuesday sided with Passaic County Clerk Kristin Corrado in her ballot dispute with a slate of Republican candidates headed by Paul DiGaetano, her main rival in the Republican primary for state Senate in the 40th District.
Richard Cowen, The Record Read more