An outside group funded by New Jersey's largest teachers union is taking aim at Senate President Stephen Sweeney, the top elected Democrat in state government.
Garden State Forward, a 527 group funded entirely by the New Jersey Education Association, has quietly rolled out digital ads, direct-mail literature and a website — therealstevesweeney.com — viciously attacking the Senate president and portraying him as a fake Democrat more focused on cutting taxes and approving contracts for his campaign donors than funding schools and pensions.
NJEA leaders have been openly warring with Sweeney for almost a year and threatening to oust him from the Senate presidency, which he has held since 2009. The new campaign marks an escalation into attack-ad territory, the kind of knife fight rarely seen between Democrats and organized labor.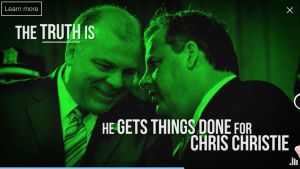 A union ironworker who has enjoyed strong labor support for years, Sweeney is now in the cross hairs of one of the most powerful and well-funded public worker unions in New Jersey. IRS records show Garden State Forward has received $9.9 million since it was founded in 2013, all of it from the NJEA, and has spent $6.1 million, much of it on Democratic legislative campaigns. The records run through Dec. 31 and indicate that the 527 group had $3.8 million left in the bank.
All 120 legislative seats and the governorship are up for election in November. Senate Minority Leader Tom Kean Jr. (R-Union) targeted Sweeney's seat in the 2013 elections, throwing financial resources to GOP candidate Nikki Trunk. Republicans see an opening again this year if Sweeney comes under attack from both the right and the left in his district.
Garden State Forward's website hammers Sweeney for enabling Gov. Chris Christie's agenda over the years, for allowing Christie cut some taxes while schools get funded below legally required levels, for taking campaign donations from oil and tobacco companies and the NRA, and for reneging on a pledge last year to send a ballot question to voters asking them to guarantee pension funding in the state constitution. Digital ads and mailers featuring Christie chumming it up with Sweeney are also part of the campaign.
"Sweeney was the only Democrat in the state Senate to vote against closing a business tax loophole that let 30 of the top companies in New Jersey pay just $200 dollars a year in taxes," one website passage reads. "Sweeney even fought efforts to increase the minimum wage twice. South Jersey needs a real Democrat, and that's not Steve Sweeney."
That's the tame stuff.
"Sweeney voted to give millions in taxpayer-funded contracts to companies who contributed over $412,000 in campaign donations — often getting thousands of dollars in contributions only days before and after his vote," another passage reads.
Representatives for Sweeney, Garden State Forward and the NJEA did not respond to requests for comment.
It's not clear how much Garden State Forward plans to spend on Sweeney attack ads. Ginger Gold Schnitzer, the NJEA's top lobbyist, told the Philadelphia Inquirer last month that it would be "exactly what's necessary to get the job done and not a nickel more." Still, the group has only ever spent its millions in support of Democratic candidates, most recently with a $2 million donation in 2015 to General Majority PAC, which funded Democratic Assembly races that year. The group's new Sweeney website includes links to a Twitter account and a Facebook page that have made only a handful of posts. And while there are mailers going out, there are no signs of expensive TV attack ads.
Sweeney has been Christie's lead negotiating partner in the Legislature on pressing issues such as the budget, pensions, taxes, bail reform, a consolidation of the state's higher education system and a state takeover of Atlantic City's finances. Last year, he and Assembly Speaker Vincent Prieto (D) struck a deal with Christie to raise the gas tax as a way to fund transportation upgrades, while also cutting the sales tax and eliminating the estate tax over several years as a concession to Christie. Public-worker unions opposed the tax cuts.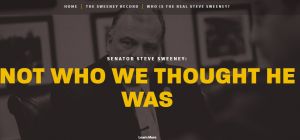 Sweeney's decision to partner with Christie to cut public workers' pension and health benefits in 2011 has always been a sore spot for union leaders. And they were incensed when Sweeney held a news conference in August to accuse officials from the NJEA and the Fraternal Order of Police of attempting to bribe him in exchange for the ballot question on funding pensions. The unions sharply denied his allegations and said threatening to withhold campaign contributions based on lawmakers' policy choices was not illegal. Sweeney ended up yanking the ballot question on the last day it could be approved by the Senate, which inflamed tensions even more.
On the other hand, Sweeney has a lefty streak, preventing Christie from installing a GOP majority on the state Supreme Court and blocking some of the governor's most ambitious conservative plans on charter schools and teacher tenure.
Sweeney has earned the loyalty of all but a few members of the Democratic caucus and perhaps the most progressive member of the Senate, Majority Leader Loretta Weinberg (D-Bergen). Allies note that Sweeney is a seasoned lawmaker and negotiator who often gets important Democratic policy proposals on health care, gun control, criminal justice, environmental and social issues past the finish line.
In November, President Trump edged out Hillary Clinton in Sweeney's 3rd District, but voter registration records show there are 50,000 Democrats to 30,000 Republicans. Sweeney was planning to run for governor last year but dropped his bid in October once former U.S. ambassador Phil Murphy secured a string of coveted Democratic endorsements from Prieto and other county party leaders in the north.
The NJEA did not field a Democratic primary challenger to Sweeney in this year's Senate race. Fran Grenier, chairman of the Salem County Republicans and a union worker at a local power plant, is challenging Sweeney in the general election. He has said he hopes to get the NJEA's backing, but that could be a tall order, since Grenier does not support the current school funding formula. Sweeney, the NJEA and most Democrats do, and the Senate president has proposed increased funding for schools.
Sweeney's campaign had more than $800,000 in the bank as of his latest report in January — and he enjoys the support of the most influential Democratic fundraiser in the state, George Norcross, a close friend with a deep network in South Jersey and many allies in the Legislature. The Senate president can also count on firepower from several outside groups that support him.
In a provocative shot across the bow, Garden State Forward says on the website, "Rising to state Senate president with the support of George Norcross and his political machine — who have given him over $120,000 dollars in campaign contributions and even more help behind the scenes — Sweeney voted for Norcross and his family's companies to get over $1.4 million dollars in contracts."
Norcross is not the best person to cross in New Jersey politics. And if Sweeney locks down another term as Senate president this year, as he is hoping, the union could be in line for some payback. The NJEA, however, has forged close ties with Murphy, who political analysts say is most likely to win the governorship.
"He has stayed consistent on his messaging throughout his time campaigning and we're excited to help him put a team together in the Legislature and in the counties and the local communities as well," Marie Blistan, who will take over as NJEA president in September, told Observer on Wednesday.
Sweeney, the vice president of the International Association of Bridge, Structural, Ornamental and Reinforcing Iron Workers, also has an array of building trades groups behind him and has collected endorsements recently from the New Jersey SEIU and JNESO, a health care workers union.
"He has led on issues vital to our state's elderly and their caregivers, championing safe and compassionate staffing levels in nursing homes," said Milly Silva, an SEIU leader and the 2013 Democratic candidate for lieutenant governor.
"Steve has always been an advocate for the labor movement and the working families across the state of New Jersey, day in and day out," said Dan Cosner, business manager of the International Brotherhood of Electrical Workers Local 351, which endorsed Sweeney earlier this month.
The NJEA established Garden State Forward in early 2013. It's a tax-exempt group that can raise unlimited amounts. Donors must be disclosed to the IRS, not state election regulators. "We established it so, if we wish, we can express issue advocacy with our members," an NJEA spokesman said at the time.
Update (8:12 p.m.): The Garden State Forward ad buy also includes direct-mail literature attacking Sweeney for partnering with Christie to raise the gas tax by 23 cents per gallon last year. Since the NJEA didn't field a primary candidate, the mailers seem designed to damage Sweeney in November's general election — which is more than six months away. All sides were mum on Thursday and did not respond to requests for comment. This story has been updated throughout.