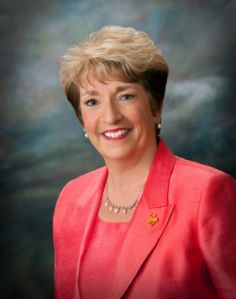 New Jersey's largest teachers union has elected a new president, Marie Blistan, a special education teacher and a tough critic of Gov. Chris Christie's administration.
Members of the New Jersey Education Association on Tuesday night chose Blistan, a teacher for three decades from Washington Township and the union's current vice president, to take over leadership of the 200,000-member organization beginning in September.
A powerful entity in the halls of government, the NJEA has deep pockets, lobbying muscle, and its endorsement is considered key for many Democratic office-seekers. The union has backed Democrat Phil Murphy in the governor's race, and it will be Blistan's job to negotiate with the next administration on issues such as school funding, New Jersey's deeply distressed pension system for public workers and a controversial standardized test for students called PARCC that factors into educators' yearly evaluations.
"We are looking at a new administration and we can't wait," Blistan said. Public education, she said, is a "social justice issue" and the key to social progress.
"One of my main goals is to make sure that the people in the state realize that when we talk about public employees in the union, we are talking about administrators … aides, bus drivers, cafeteria workers, custodians, librarians, maintenance, nurses, security, secretaries and teachers," she added. "It takes all of us in order to provide the quality public education that we are able to provide. Our public schools are still rated the top in the country."
Fully funding state aid for schools under the School Funding Reform Act of 2008 will be a top priority, Blistan said,  along with securing funding for the pension system. Those are multibillion-dollar propositions at a time when the state's $35 billion budget is already stretched thin due to rising costs. Unwinding several measures Christie signed into law during his term are also on the NJEA's list. "Legislation that has been out into place shall we say, over the last eight years, has really impacted public education and public service in the state and our ability to recruit," Blistan said.
Blistan will serve a two-year term and is eligible to run for another two-year term afterward. She praised Murphy and said a top political priority would be to get union-friendly lawmakers elected in this year's legislative races. In addition to the governor's race, all 120 seats in the Legislature are up for election in November.
"He has stayed consistent on his messaging throughout his time campaigning and we're excited to help him put a team together in the Legislature and in the counties and the local communities as well," she said.
Wendell Steinhauer, the current president, will remain in the top job until his term expires Aug. 31. He has led the union during a critical period in which Christie reneged on his own pension-funding reforms from 2011 amid a budget crunch in 2014.
The NJEA and other unions sued Christie but ultimately lost at the state Supreme Court. Last year, union leaders were irate with Senate President Stephen Sweeney (D-Gloucester) for pulling the plug at the last minute on a resolution that would have asked voters to guarantee pension funding in the state constitution.
The NJEA also elected Sean Spiller as its next vice president and Steven Beatty as secretary-treasurer.