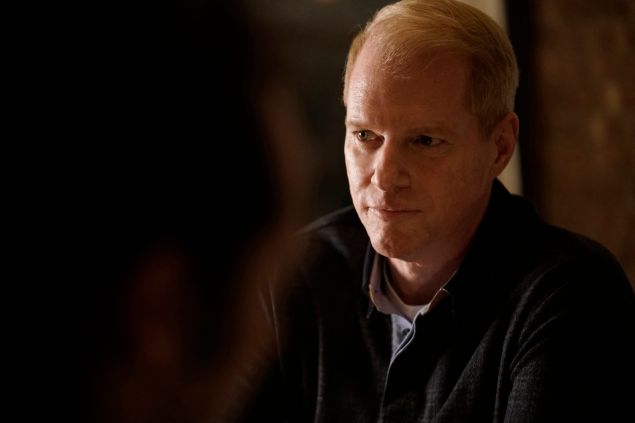 He's the FBI agent who hasn't yet figure out that he lives right across the street from two soviet agents posing as an All-American married couple.
Far from being totally clueless, Stan Beeman is a complicated character whose heart often gets in the way of his job. He fell in love with a double-crossing female soviet spy and is currently trying to prevent the death of another soviet servant who helped him. He can be ruthless when he needs to be – he executed a man as the man ate a hamburger – but everything he does has a purpose.
Noah Emmerich, who portrays Stan, is currently in his fifth season as one of the central characters on the award-winning series The Americans. Emmerich, in addition to acting on the series, has also directed several episodes of the drama.
Given the currently confusing relations between the U.S. and Russia, the timeliness of the series isn't lost on Emmerich. Reflecting on his own thoughts about growing up during an adversarial time between the two superpowers, Emmerich says, "I was alive in the '80s and I remember the cold war vividly, so in a weird way for me, it's not foreign or unfamiliar. It is bizarre that it has a new resonance, a new power, a new immediacy that makes [it] feel more relevant and not so retroactive. It feels both contemporary and historical [at the same time]."
In his role as a director on the series, Emmerich says that the most important aspect is trust. "We've had all these years to develop that. We have a very tight bond as a cast. You know each other's rhythms, each other's triggers and it makes for an easier dynamic. There's a shorthand and unspoken understanding that informs the work."
In Emmerich's most recent episode as a director, this season's "Lotus 1-2-3," Mother Nature provided something that proved to be both a slight barrier and a boon to the storytelling – rain. Emmerich says, "In some ways it caused problems and in other ways, it looks great. It lends itself well to the mood of the piece. I was grateful for the rain in terms of the results it gave us. We're a winter shooting show so we're used to the elements."
"The tone is really determined by the emotional truths of the characters in the scene. The rain was actually perfect," Emmerich admits. "If I could have ordered rain, I would have ordered rain, but we got rain. I got very lucky."
As the series moves along, Emmerich says that at times he's on the fence about whether he wants to know what's ahead. "It's definitely good to know sometimes and sometimes it might be better not to know. It's hard to answer that [question] with a blanket statement."
He goes on to say, "You have to defer your trust to the judgment of the writers. It depends on the arc of the character. As a director, I want to know everything. As an actor, I feel more ambiguous in that sometimes I want to know everything and sometimes I don't. Does that character have an inkling? If the character doesn't then it may be easier to not know. Once you know it, it's hard to forget it."
He then rationalizes a bit more, adding, "If you're shooting a film you're going to read the whole script, not just the scenes you're shooting that day. I feel the same way about our show; it's a long hard story. It's good to be able to map out your journey."
The series has already been renewed for another season, but this sixth season has been determined to be the final one for The Americans.
Talking about the journey of the series, Emmerich says, "You're on a stage somewhere and you're putting your heart and soul into everything you do and you feel like it might not be seen at all, or seen by the world, or somewhere in between. You can't predict that or know it. You have no power over it so when it turns into that something that goes on as long as we've gone, [it's] a wonderful blessing. It's what you hope for but can never count on. It's unusual to have two soviet spies as the main protagonists in an American TV show. It was a big risk, an incredibly bold choice to make this show and I think it paid off well."
 The Americans airs Tuesdays at 10pm et on FX.