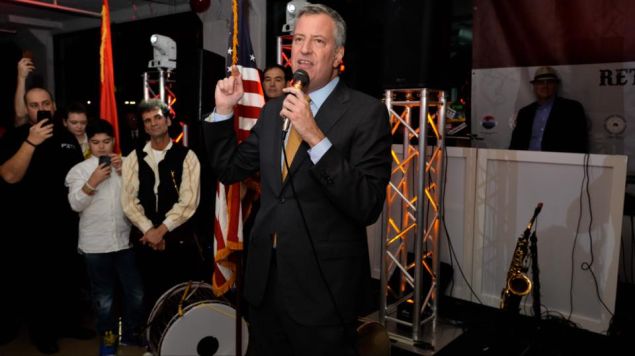 Mayor Bill de Blasio announced that the city would set aside $16.4 million to provide free legal services to undocumented New Yorkers facing deportation—but told the Observer that those convicted of violent felonies, forcible touching, illicitly dealing in prescription drugs and possibly other crimes, will not benefit from the program.
In rolling out his $84.68 billion second-draft budget proposal for the coming fiscal year, the mayor acceded to requests from City Council Speaker Melissa Mark-Viverito that the city set aside money to help foreign nationals faced with arrest and expulsion under President Donald Trump's aggressive enforcement agenda. City Hall has clashed repeatedly with the new administration over New York's "sanctuary city" laws, which bar the NYPD and the Department of Corrections from detaining and turning over people without paperwork to federal immigration authorities—except in cases where those immigrants have committed one of 173 violent offenses.
De Blasio promised today that those found guilty of those felonies would be ineligible to receive a publicly-subsidized attorney.
"The rules of the program would not allow legal defense for any of the categories of offense that we are working with ICE on," the mayor said. "We're not going to be counterproductive and provide legal defense."
There remains, however, a lengthy list of crimes an unauthorized immigrant may commit within the five boroughs without getting surrendered to Immigration and Customs Enforcement. These include forcible touching, child endangerment, dealing prescription drugs and identity fraud, among more than 400 others of varying severity.
De Blasio suggested today that the Council might change the sanctuary city statutes to compel local law enforcement to honor ICE detainer requests in more situations.
The liberal Democrat claimed repeatedly, contrary to established and recorded facts, that Mark-Viverito had not already expressed her opposition to broadening the city's compliance with Trump's enforcement officers. But he did say that his free immigration lawyer program would not cover individuals convicted of forcible touching or misdirection of prescription medication.
"I don't think there's any such chance, honestly," de Blasio said.
Mark-Viverito's office did answer requests for comment, except to tell the Observer that the mayor's comments are not in accord with her understanding with the state of negotiations.
De Blasio rolled out his preliminary budget in January. Mark-Viverito and Queens Councilman Julissa Ferreras-Copeland, requested the funding for immigrant legal defense services in the response they released earlier this month.
The full Council will vote on the spending plan in June.