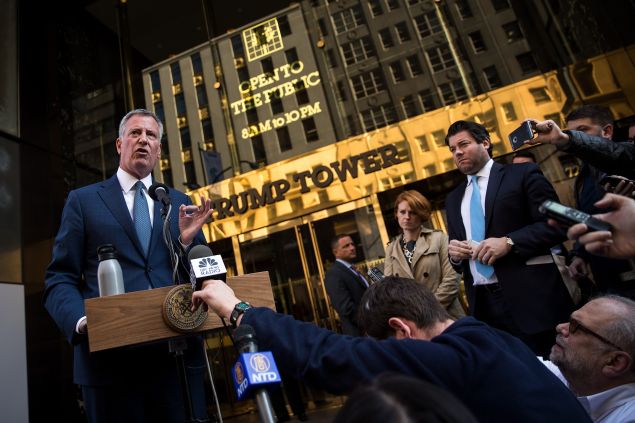 Mayor Bill de Blasio cheered U.S. District Court Judge William Orrick's temporary restraining order against President Donald Trump's executive order severing funding to so-called "sanctuary cities"—days after a bitter volley of attacks and recriminations between the liberal Democratic and the conservative Department of Justice over the city's handling of crime and immigration.
Orrick's injunction prevents the administration from attempting to implement its plans to deny federal monies to municipalities that refuse to comply with Immigration and Customs Enforcement requests that they detain certain foreign nationals, and remains in effect while the jurist hears arguments from San Francisco and Santa Clara County, California that the executive fiat overstepped the president's constitutional powers. The impermanent nature of the legal stay did not stop de Blasio from celebrating, as the mayor tied the decision to previous federal court injunctions against the president's repeated efforts to ban travel from a half-dozen majority-Muslim countries.
"Once again a federal court has told the Trump administration: 'no, you can't,'" de Blasio said in a statement to the press. "The president is going beyond his authority when he tries to cut vital funding to cities that don't share his illogical and unconstitutional desire to scapegoat immigrants."
New York was not a party to the Golden State lawsuits against the Trump administration, though the mayor has repeatedly vowed to fight in court any federal effort to withhold funds from the city because of its policy of ignoring ICE detainer requests for nonviolent immigrant offenders. De Blasio lashed out at the Justice Department last week after the agency issued letters to New York and eight other cities informing them that their refusal to cooperate with federal immigration authorities could endanger their receipt of grant monies from D.C.—and after it labeled the Big Apple "soft on crime."
De Blasio used Orrick's decision as another opportunity to point up the continuing decline in the city's overall crime rate, and to assert again that the NYPD's refusal to assist in the arrest and expulsion of people without proper paperwork contributes to a culture of cooperation with immigrant communities.
"New York is the safest big city in America because we work with all our residents, not against some of them," the mayor wrote. "We said from the beginning that a stroke of a pen in Washington would not change our values or how we protect our people."