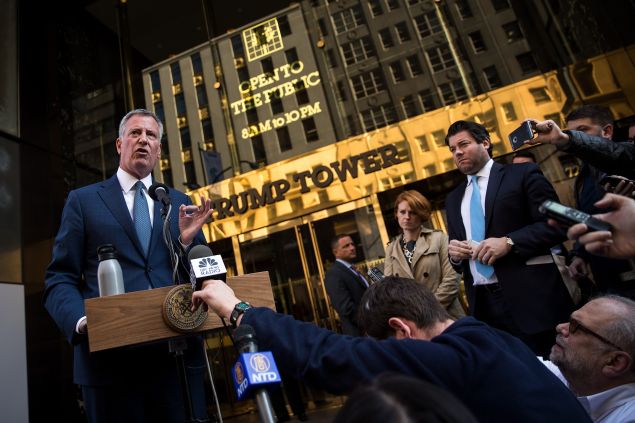 Mayor Bill de Blasio promised to "look under everyone stone" in President Donald Trump's personal financial dealings with the city to try and force him to divulge his long-concealed tax returns.
In 2011, Trump promised to release his tax returns when former President Barack Obama released his birth certificate, but then failed to do so when the Hawaiian-born commander-in-chief publicized the document. While running for president, he frequently claimed that he could not release them because he was under audit by the Internal Revenue Service, which the federal government and impartial observers labeled a spurious excuse.
The liberal Democratic mayor noted that every president since Richard Nixon has disclosed their fiscal history, and worried that Trump might have financial dealings with Russian strongman Vladimir Putin, who directed a campaign of cyber-intrusion into last year's campaign.
"Right now, we don't even know if the Russians had undue impact on our election, might have tilted our election to Donald Trump, let alone if Donald Trump is being influenced by Russian business interests," de Blasio said in his weekly "Mondays With the Mayor" segment on NY1. "We need to know this. So everybody—every city, every state and obviously, our federal representatives—should look under every stone to force disclosure of his tax returns."
So far, the New York Times received his 1995 income tax returns that revealed that he claimed a $916 million loss that may have allowed him to dodge federal income taxes for nearly two decades. And MSNBC's Rachel Maddow got a copy of the summary pages of Trump's 2005 tax returns.
The White House announced that on more than $150 in income, the president had paid $38 million in federal income taxes ahead of Maddow's announcement.
Manhattan Councilman Corey Johnson has introduced legislation that would require Trump Ferry Point LLC, which runs Trump Golf Links at Ferry Point, to disclose the tax returns of anyone associated with it. And in December, State Senator Brad Holyman introduced the TRUMP Act—Tax Returns Uniformly Made Public—which mandates that presidential and vice presidential candidates can only appear on the ballot in New York State if they disclose at least five years' worth of federal income tax returns.
Over the weekend, more than 100 national marches and events took place in New York City and throughout the country demanding that Trump release his tax returns.
De Blasio promised to look into every one of Trump's concession deals with municipal government—which also includes operation of the Lasker and Wollman Ice Rinks and the Central Park Carousel—to try to force him to divulge his financial information.
"We're gonna look at everything we have in terms of his business dealings with the City of New York or anything we regulate," de Blasio said. "I don't know of an exact way but it has to be looked at by us and by the other cities and states where he has businesses because it's really beyond the pale."
De Blasio first addressed the matter when host Errol Louis brought up criticism the mayor has faced from landlords for increasing rents for tenants in the two Park Slope homes that he owns, while he has simultaneously encouraged the Rent Guidelines Board—which he appoints—to freeze costs on rent-regulated apartments.
The mayor called the characterization "totally inaccurate," pointing out that the rent stabilization laws apply to buildings of six or more units built before 1947, as opposed to family homes like his "that rent out an apartment or two."
He subsequently asserted that he was "very comfortable" sharing his tax returns, as his office requires—and that Trump should do the same.
"It begs the essential question going through our country right now: how is it impossible that the rest of us are giving our tax returns and talking about how much rent we charge—how is it possible the president of the United States is not giving out his tax returns?" de Blasio wondered. "And what is he hiding, including all sorts of international deals with countries that may go on to gain certain advantages in the process? This is amazing that this still hasn't been resolved."