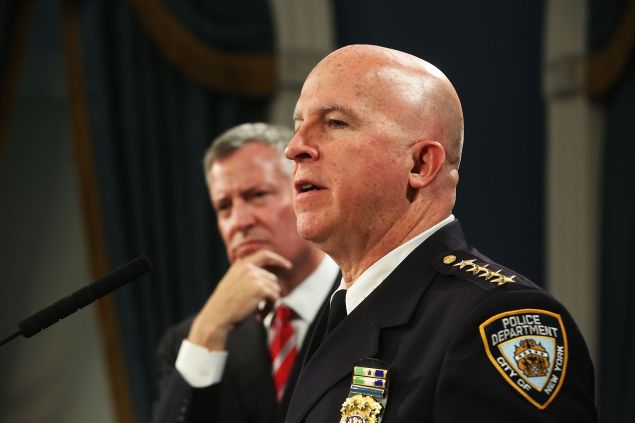 NYPD Commissioner James O'Neill joined Mayor Bill de Blasio at a press conference at One Police Plaza this afternoon to lambaste the Department of Justice for its claim earlier today that New York City is 'soft on crime.'
The Justice Department made that assertion in a press release announcing it had sent letters to nine so-called "sanctuary cities" warning that they are in violation of federal immigration law, and that failure to bring themselves into compliance could endanger grant money the municipalities receive from Washington. The missives appear to follow up on U.S. Attorney General Jeff Sessions' declaration last month that his department would deny applications for funding from cities that do not fully cooperate with Immigration and Customs Enforcement, which itself followed up on the executive order President Donald Trump signed in January severing all federal outlays to sanctuary cities.
"New York City continues to see gang murder after gang murder, the predictable consequence of the city's "soft on crime" stance," the Justice Department statement reads.
The flinty Brooklyn-born O'Neill said that his "blood began to boil" when he read the release this afternoon. He highlighted the department's sometimes controversial gang busts had netted roughly 1,000 suspects in the past year, most of them still on Rikers Island awaiting processing.
"Maybe ask them if we're 'soft on crime," O'Neill said. "To willingly state we're soft on crime, it's incredibly insulting."
The commissioner cited statistics from last month showing the first quarter of 2017 to be the city's safest in modern history, despite an ongoing spike in hate crimes. He also asserted that the Justice Department's statement was offensive to the memory of cops killed in the line of duty, and specifically listed Sergeant Paul Tuozzolo,  Officer Randolph Holder, Officer Rafael Ramos and Officer Wenjian Liu.
"We took this job to do good, to make a difference and to keep this city safe. And look at this city in 2017. It didn't happen by accident. There's a tremendous amount of sacrifice. Cops are hurt every day. Cops are killed in the line of duty," O'Neill said. "I find this statement to be absolutely outrageous."
De Blasio also cited statistics showing a continuing drop in crime over the past 25 years, and demanded Trump and Sessions officially retract it.
"Attorney General Sessions is supposed to be the leading law enforcement official in America. Why would he insult the men and women who do this work every day, who put their lives on the line and who have achieved so much?" the liberal Democratic mayor said. "This absurd statement needs to be renounced immediately."
The city has repeatedly said it would respond to any federal attempt to cut off funding with lawsuits. O'Neill has also warned that the proposed cuts to Department of Homeland Security law enforcement grants in Trump's budget blueprint would rip out "the backbone" of the NYPD's counter-terrorism apparatus.
In the face of the administration's various provocations, the NYPD has maintained a costly security perimeter around Trump Tower since the day following last November's election, despite failing to obtain complete compensation from Congress.
The Justice Department did not immediately respond to requests for comment.