The ultimate vacationers.
MANDEL NGAN/AFP/GettyImages
Just your average vacationers.
Facebook
Billionaire David Geffen is quite fond of posting photos of Rising Sun on Instagram.
David Geffen/Instagram
The Obamas were on the yacht with Oprah, Bruce Springsteen, Tom Hanks and Rita Wilson.
MIKE LEYRAL/AFP/Getty Images
Okay, we can see why Geffen likes to upload this...
David Geffen/Instagram
If Paul McCartney and Oprah will pose for a photo...
David Geffen/Instagram
Please, please let a photo of the Obamas be next.
David Geffen/Instagram
Since leaving the White House, Barack Obama has tried his hand at a number of new activities, all while on a dreamy and well-deserved whirlwind vacation. Each time we think the Obamas won't be able to outdo themselves, the former first couple manages to win the Internet over, with a new photo from their travels.
Obama even received a brand new title: that of Instagram Husband. How did the former commander in chief get this new label? It's from his recent jaunt aboard billionaire David Geffen's multimillion-dollar yacht, Rising Sun, in which he and Michelle Obama took turns snapping photos of each other on the deck.
The picture that emerged of our erstwhile president (in classic dad attire of khakis and a blue shirt) shows him holding up what appears to be a tablet and dutifully snapping photos of his wife on the 454-foot yacht. It is photographic evidence that he is, indeed, Instagram Husband.
To make it even better, this all reportedly took place while in the company of other guests aboard Geffen's yacht,  including Tom Hanks, Rita Wilson and Bruce Springsteen, as well as Oprah. Yes, this all happened in the presence of Oprah. The only thing that could make this better is a group photo, and we're still holding out hope that it could happen.
The Obamas spent a few hours on the yacht, off the French Polynesian island of Mo'orea, as a fitting end to their envy-inducing vacation. Barack Obama has spent the last month at the luxe Brando resort in Tahiti, where he's reportedly writing his memoir.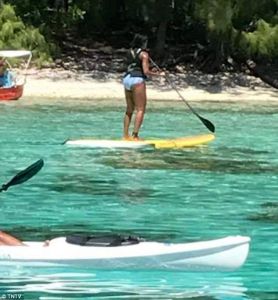 It appears his wife joined him towards the end of his stay, when she also decided to try her hand at paddle boarding. We wonder if this was a response to Barack Obama's own kite surfing photos with Richard Branson from their stay at Necker Island.
Geffen bought the luxe yacht from his pal, fellow billionaire Larry Ellison, for $590 million. We were hoping Geffen's own Instagram feed would include a few uploads of the Obamas; after all, Geffen is known to share some epic snaps of his yacht's guests, including the aforementioned visitors, along with passengers such as Paul McCartney, Gayle King, Julia Roberts, Maria Shriver and frequent visiter Karlie Kloss.
And let's not forget about Leonardo DiCaprio and his trip aboard the Rising Sun. Geffen posted a wildly unflattering photo of the Oscar winner, wearing sunglasses and looking like he's still in character for the Revenant.
If you can get Leo to agree to that photo, surely a snap of Barack and Michelle Obama can't be too hard!