The Morgan Library was the setting of this Oscar de la Renta bridal show.
Getty Images
Nothing says romance quite like a ruffled tulle gown.
Getty Images
This jumpsuit, with a sweetheart neckline, was one of the best looks of the collection.
Getty Images
For the thoroughly modern bride: a stretch wool gabardine tuxedo, paired with a t-shirt.
Getty Images
An adorable young model, preparing to take the runway.
Getty Images
In lieu of trains, many dresses featured oversized bows.
Getty Images
A gaggle of adorable flower girls.
Getty Images
The finale dress was a strikingly simple strapless gown in ivory cloqué.
Getty Images
The dress on the left was the most structurally intricate of the range.
Getty Images
A closer look at the intricate floral details, inspired by de la Renta's garden.
denasilver123
This lace gown was pretty from the front...
Getty Images
...and stunning from the back
Getty Images
For their first bridal collection under the Oscar de la Renta label, designers Laura Kim and Fernando Garcia cited an inspiration that was both old and borrowed.
"When we think about Oscar Bride, we think about Eliza [Bolen]," Kim explained, referring to the late designer's stepdaughter, who is currently the Executive Vice President of the company. The resulting lineup of frothy dresses (plus two pant options) were actually heavily inspired by Bolen's own wedding, which took place in de la Renta's garden at his home in Kent, Connecticut.
As such, flowers were a very strong theme here, appearing in the form of guipure lace, hand-painted details, blossom embroidery, hand cut appliqués and so on. In fact, looking at a photo from the dress that Bolen wore for her special day in June 1998, it seems as if her own floral festooned dress served as an inspiration for the dresses from the Spring 2018 collection.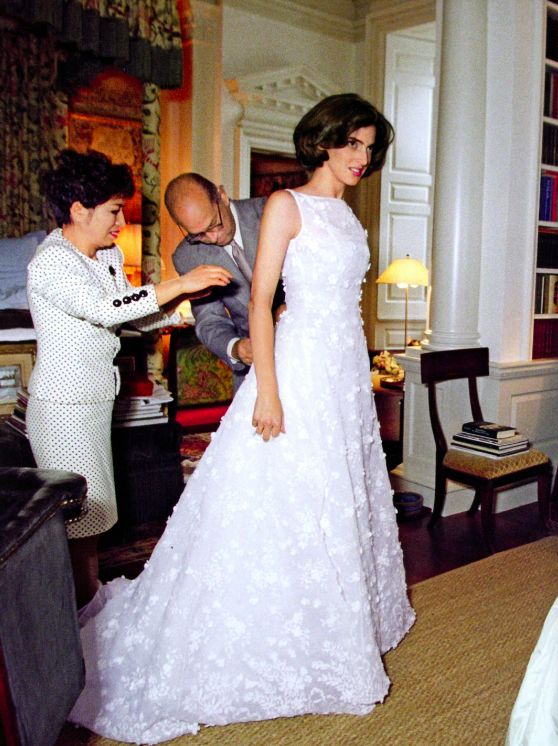 This collection was the first full bridal range under Kim and Garcia's tutelage, though they weren't intimidated by the task.
"We're kind of used to it," Kim explained, as the duo both previously worked for the maison, before being appointed to the top roles.
"We know the market and how it evolves every year," added Garcia. "It's never really one note; it keeps us on our toes. You know, what do brides want to wear this year?"
The answer to that question is apparently big bows, as the oversized accoutrement was attached to a number of dresses, in lieu of a train. There was also a ripe selection of strapless gowns, from a classic floral cloqué version to a more avant-garde one, that seemed to be an architectural feat made from tulle.
Garcia's favorite look to create wasn't even a dress; it was actually a skirt that featured Oscar de la Renta's signature atop a sheer tulle background and tied with a grosgrain ribbon at the waist. Paired with a tank top, the model wore a huge crustal necklace that read "Just Married"; the white denim jacket slung over her shoulder read the same thing on the back. For other modern brides, an ivory stretch wool suit, offered with a t-shirt and sparkling silver sequined cummerbund, will be a treat. As will the silk georgette jumpsuit with a lace bodice and yet another big bow.
Seeing as de la Renta was famous for dressing celebrity brides, including Amal Clooney, Kate Bosworth, Huma Abedin, Jenna Bush, Amanda Peet and Katherine Heigl, have the new designers whipped up any bridal creations for an A-lister yet?
"We're TBD on that one," admitted Garcia. However, he did tell us to keep our eyes peeled on the red carpet at the Met Gala for something special from the house of Oscar de la Renta.