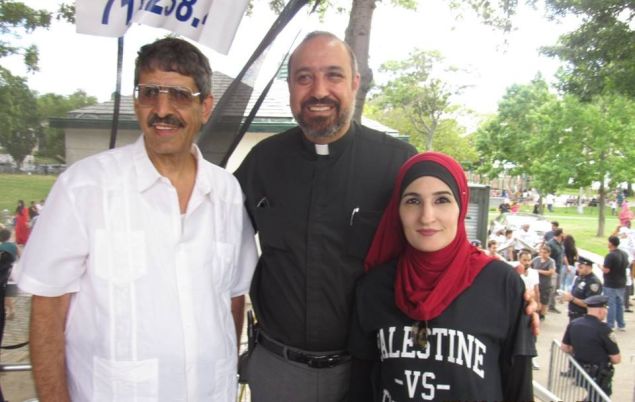 Rev. Khader El-Yateem, the first Palestinian-American Christian to ever run for the City Council, this week came out in support of the controversial Boycott, Divestment and Sanctions movement, which seeks to isolate Israel from the international community.
In a video posted on Facebook, El-Yateem—a Lutheran minister born in Bethlehem, in what is today the West Bank—recalled being "very disappointed" when the Council passed a resolution last year condemning BDS for what it deemed "unacceptable anti-Semitic rhetoric." Critics of the effort to deny dollars to Israel and its exports assert that it singles out the Jewish State while ignoring human rights abuses by neighboring Arab regimes, by Hamas and by the Palestinian Authority.
But El-Yateem, running to replace term-limited Brooklyn Councilman Vincent Gentile, claimed that BDS represents the best chance for the establishment of an independent Palestinian State and the equitable treatment of Arabs in Israeli society.
"I support BDS. And I will say this publicly, I say it to everyone. It is an issue of justice. It is a nonviolent resistance against the Israeli occupation of Palestine," the Democrat said. "So am I supporting BDS? 100 percent. Because I believe that it is the only nonviolent way to help Israel become a better democracy in the Middle East."
Nonetheless, El-Yateem stressed that he does not dispute Israel's right to exist.
"I support the State of Israel to end its occupation of Palestine. I support the State of Israel to be a better democracy in the Middle East," he said. "I support the State of Israel to treat all its citizens equally without any discrimination. I support the State of Israel to live in peace and security and safety with its neighbors."
Last year, Gov. Andrew Cuomo signed an executive order barring New York State from doing business with any entity that participates in BDS.
The seat El-Yateem seeks—covering Bay Ridge, Bensonhurst, Dyker Heights and Bath Beach—has long been a stronghold of conservative-leaning white ethnic Catholics, but it is now home also to a large and growing population of Arabs, Asians and Eastern Europeans. It is one of a handful of districts citywide where Jewish voters are not a major electoral force.
In the Democratic primary, El-Yateem faces Gentile aide Justin Brannan and district leaders Kevin Peter Carroll and Nancy Tong. Assemblyman Peter Abbate was long rumored to be weighing a run for the seat, but sources tell the Observer he has finally decided against it.
Others expected prominent Palestinian-American activist Linda Sarsour to pursue the post, but she has instead backed El-Yateem's bid.
Three aides to GOP power brokers are vying for the nomination on the other side of the aisle: Liam McCabe, a former aide to Congressman Daniel Donovan; John Quaglione, an aide to State Senator Martin Golden; and Bob Capano, an aide to billionaire supermarket mogul and possible mayoral candidate John Catsimatidis.