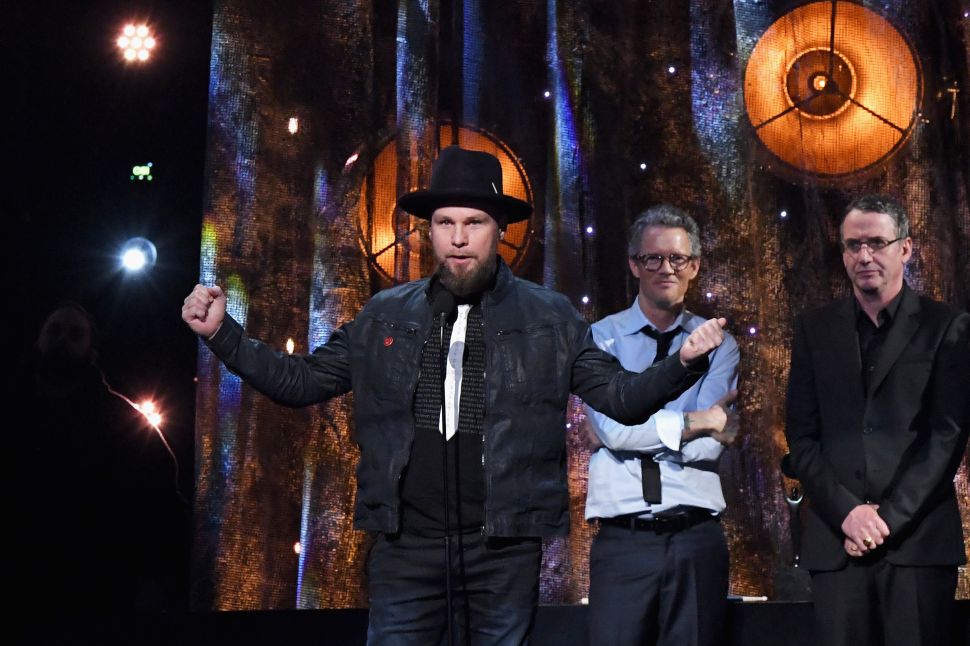 Last Friday night at the Barclays Center in Brooklyn, Pearl Jam was inducted into the Rock and Roll Hall of Fame. Their bassist, Jeff Ament, wore a T-shirt displaying the names of 97 important, influential, and successful artists who are not in the Hall.
I appreciate the gesture. I appreciate it in the same way that I appreciate all those peace signs held up by those nice actors in Kendall Jenner's Pepsi commercial.
After all, history has shown us time and time again that you can stop any war, and instantly arrest any of the economic, religious, and racial factors that create war, by holding up a peace sign. And you can change the bizarre and biased way an enormous company does its business by wearing a T-shirt. It's been proven time and time again.
Do you know how the pooh-bahs at the Rock and Roll Hall of Fame almost certainly reacted to Ament's shirt?
"Ohhh…that's good. Very punk rock. We need that sort of thing."
Was Ament's gesture better than nothing?
A fairly substantial part of me, the part of me that has typed angry articles full of the same names he wore on that shirt, very much wants to say yes; but ultimately, I have to say no.
In fact, it was worse than doing nothing at all, and here's why.
Permitted dissent—the peace sign in the Pepsi commercial, as it were, dissent that poses no genuine threat—is worse than no dissent at all. It creates the illusion of progress, while actually adding up to nothing. I guarantee you, nothing about the Hall or the peculiar way they do their business will be changed by Ament's well-meaning T-shirt protest.
It did not, apparently, occur to Ament that he was in a position to do something that might have actually made the Hall sit up and take notice: He could have refused the induction.
In fact, by accepting the award, Ament is explicitly endorsing the organization that made all the omissions listed on his T-shirt, and implicitly endorsing the system that perpetuates them.
If Ament had refused the induction, and perhaps even posed the threat that his convictions might compel others to do the same, well, that might spur the Hall into some action.
In order to alter these sorts of things, you have to actually pose some threat to the structure behind them. You can't say "fuck you" with one hand and "thank you for the pretty statuette" with the other.
I can scratch my head, make a cup of coffee, wonder what you do with all those little "Sorry We Missed You!" slips the post office leaves in the door, have a one-sided conversation with the dog about her successful weight loss, think about the Neu! tattoo I want to get, and reheat the coffee that has now gone cold, and I cannot, for the life of me, see how Ament's gesture added up to anything that could bring about any meaningful change in the Hall.
I think Jeff Ament is sincere. Perhaps he didn't realize that his gesture was, in effect, self-canceling. Imagine someone going to one of the lunch counter boycotts in Greensboro, N.C., in 1960 wearing a T-shirt that read, "Say No to Segregation!" but then sitting at the lunch counter, ordering a grilled cheese, and then saying, "Thank you for that grilled cheese! Do you like my T-shirt? It says something really important you should listen to! Can I have another Mr. Pibb, please?"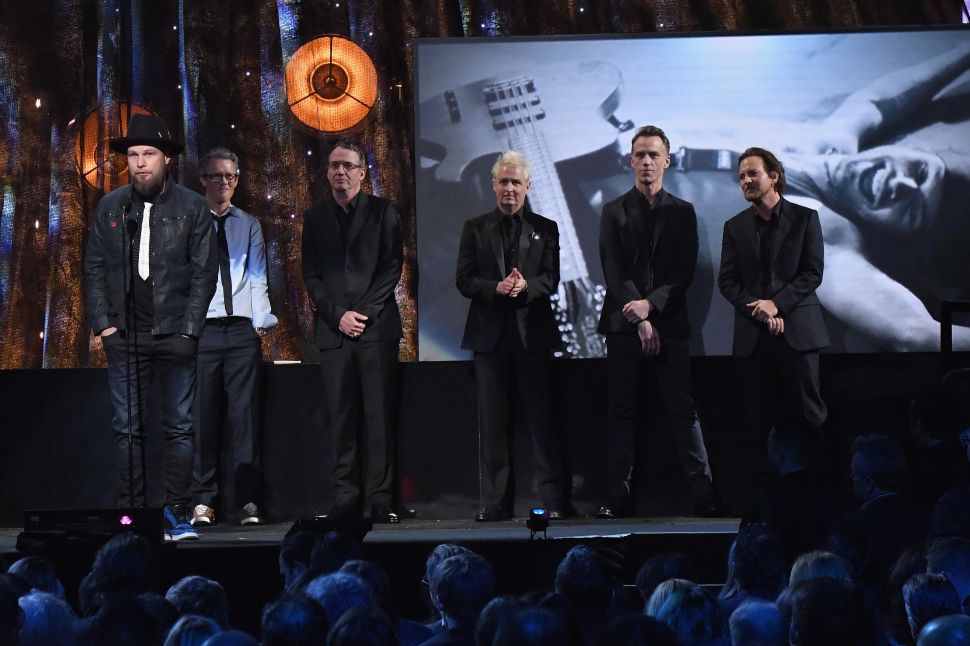 Here's the speech I wish Ament had given:
"Friends, although I have great gratitude for all of the Hall's voters, all the people in the building tonight who support us, and all the fans who have made our dreams come true, I cannot accept this honor. This is because the Rock and Roll Hall of Fame has so very many profound omissions that reflect a consistent bias, and therefore the Hall gives a very limited picture of this startling and amazing music that has been both the passion and the pastime of our lives.
It would be one thing if 'just' the Smiths weren't in the Hall; but when the Smiths, New Order, and the Cure aren't honored, there's clearly a pattern, and that pattern results in an inaccurate picture of the music of our lives. And the same goes for, say, Iron Maiden; if it was 'just' Iron Maiden who weren't in the Hall that would be bad enough, but Judas Priest, Slayer, even Blue Öyster Cult and Def Leppard aren't in here, and that indicates that there's something built into this system, something built into the nominating and voting process, which fails to reflect the popular and influential music of our time.
And who out there tonight has had their lives changed by Roxy Music, Thin Lizzy, Mott the Hoople, T Rex, or the innovative work of Brian Eno? Is there anyone out there, one person in this building, who actually believes that Hall & Oates are more 'important' to the story of pop music than Brian Eno?
Thank you for this honor, but the Hall does not tell the story of our rock 'n' roll. It tells a story, but there is an enormous separation between that particular story and the reality of our lives as players, lovers, and consumers of music. I hope these words inspire you to become a better Hall, more representative of the music of our lives."
I cannot swear that a speech like that—or, the refusal of Ament or Pearl Jam to accept their honor—would have reshaped the Hall's biases in any significant way. But I do know that accepting the honor, with little protest but a largely illegible T-shirt that he wore a jacket over while accepting his award, not only did very little to change anything, it did less then very little: It allowed the powers behind the Hall to feel that they had allowed just enough protest to seem credible, but not enough to make any difference.
True, that's the story of rock; I'm still waiting for The Mamas & the Papas, the Byrds or even Bob Dylan to prevent one death in Vietnam.
You've been had. You've been told that peace signs were the same as peace. Peace is a very complicated business.
And that was well and good for many decades, but rock 'n' roll can no longer afford that nonsense.
Rock 'n' roll, you are dying. You've got nothing to lose but your chains, your chains to the old way of doing business, the old lack of true meaning. You've got nothing to gain but your credibility. The manacles that bind you are flimsy and rotten and they only hold you because you still insist they do. It is upon the rock of credibility that you may rebuild your church; there is no industry left to offend, you have only the legs you stand on and the guitars you plug in.
Sucking up to the existing music industry is like playing "Jeremy" on the deck of the Titanic.
[youtube https://www.youtube.com/watch?v=MS91knuzoOA&w=560&h=315]
Rock 'n' roll's only chance for survival will come in turning it into a meaningful venue for anger, expression, motivation, and instruction, and not just pretending to be one.
Today, rock 'n' roll is virtually invisible as an entity of commerce, so if it is going to survive as anything but a cult-like shoebox for trainspotters and collectors it has to start freaking meaning something.
Out of this credibility and activism a new economic model will emerge. I do not quite know how that will happen or what that paradigm will be, but if you can make people care, you can make them want rock 'n' roll to survive. Who would bother to care anymore? Our greatest acts want to be applauded both for insulting the diner and accepting the grilled cheese.
Let me put this a different way: Rock 'n' roll needs its "Fuck Tha Police" moment.
It needs to have an artist, or a group of artists, who are completely willing to offend the existing power base and, in turn, be willing to establish a way of doing business that owes no debt to the prevailing, dying institutions.
It needs far, far more than a band that wants to wear the T-shirt but still eat the grilled cheese.