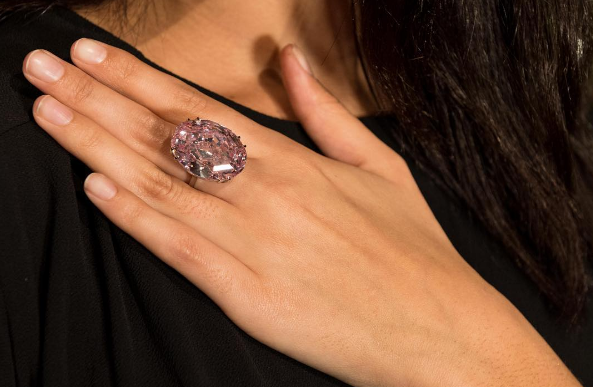 The Pink Star, a remarkable 59.60 carat oval cut pink diamond, sold at Sotheby's in Hong Kong last week for a cool $71.2 million to Chow Tai Fook, a Chinese jeweler. It is the most expensive jewel ever sold at auction.
Described as "one of the world's great natural treasures," the oval-shaped diamond dethroned the "Oppenheimer Blue" diamond, which sold for $58 million in May at Christie's.
In addition to its hefty size, the stone's steep price tag can be attributed to its quality and color. The Pink Star is internally flawless and is rated "Fancy Vivid," the highest color rating a pink diamond can possess.
The value of a fancy colored diamond increases with the intensity of its hue. The Pink Star is well-saturated with no color modifiers like brown or purple.
Mined by DeBeers in South Africa in 1999 and weighing 132.5 carats in the rough, the Pink Star is the largest pink diamond ever found. The stone took a painstaking 20 months to cut.
The Pink Star is also the largest flawless fancy vivid pink diamond ever graded by the Gemological Institute of America. The 24.78 carat "Graff Pink" held the previous world auction record for a pink diamond, which sold for $46.2 million in 2010.
Due to their large demand and low supply, high quality pink diamonds are the most expensive natural colored diamonds in the market today, with the exception of red diamonds.
Pink diamonds saw a rise in popularity following Jennifer Lopez and Ben Affleck's infamous engagement in 2002. Lopez' Harry Winston engagement ring featured a 6.1 carat pink diamond.
Don't have a Pink Star budget for your next jewelry purchase? Starting at $5,000, here are my picks for fine jewelry at any budget.
$5,000: Jemma Wynne Ear Jackets ($3,465)
These pearl-adorned ear jackets from the talented duo at Jemma Wynne are easy enough for everyday, yet fancy enough for special occasions. Use them to dress up simple studs you already own.
$10,000: Polly Wales Ring ($10,200)
This ring's explosion of colorful sapphires is a dose of happy on your finger. In her work, designer Polly Wales casts gemstones directly into gold, rather than setting them, to create a look that is slightly imperfect but stunning nonetheless. Bonus: each ring is one of a kind.
$25,000: Monique Pean Earrings ($25,890)
https://www.instagram.com/p/v3qkk8MigM/
These sapphire slice earrings feature exquisite natural stones and sustainable materials in an unusual cutout setting. Like all of Monique Pean's designs, the style is statement-making without too much bling.
$50,000: Ring by Serpentine Jewels
A $50,000 budget is enough to buy you a 3 carat oval diamond engagement ring like this one, which I recently made for a private client. We set the diamond in platinum with blackened rhodium, lined the band with pavé diamonds, and added a row of pavé diamond to the basket of the stone, which can only be seen from the side. With an engagement ring, sometimes the smallest details make the biggest impact.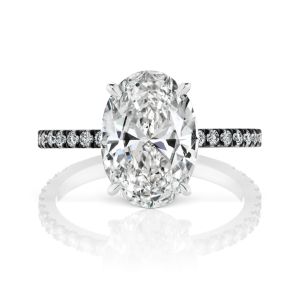 $75,000: Edwardian Emerald Tiara ($75,000)
https://www.instagram.com/p/BI-uWDuAnUo/
Tiaras are no longer just for royalty. Formal etiquette rules for who can wear a jeweled headpiece have been thrown out the window as we've transitioned to a more casual society. Crown yourself as the life of the party with this antique Edwardian tiara with 27 carats of old mine cut diamonds and a 8.50 cabochon emerald.
$100,000: Verdura Cuff ($97,500)
In honor of Verdura's 75th's anniversary, add one of the most iconic jewelry designs of all time to your collection. Coco Chanel famously wore one on each wrist. This maltese cross cuff, which is part of a 200 piece limited edition series, includes 31 precious gems, including a 9-carat sapphire, a 5-carat emerald and a 5-carat amethyst.
$250,000: Irene Neuwirth Necklace ($215, 680)
This one-of-a-kind necklace by Irene Neuwirth features a breathtaking assortment of gemstones such as pink opal, emerald, rainbow moonstone and South Sea pearls. This stunning piece is designed in Neuwirth's signature colorful, organic style.
$500,000: David Webb Ring (Estimated at $300,000-$500,000)
Yellow diamonds offer a colorful alternative to traditional white diamonds and are becoming increasingly popular in the world of luxury jewelry.  This breathtaking ring by storied jewelry house David Webb is comprised of a 23.56 carat Internally Flawless diamond of Fancy Intense yellow color and is set with diamond baguettes and round yellow diamonds in platinum and yellow gold. It's up for grabs on April 26th at the Christie's Magnificent Jewels auction.
$1,000,000: Tiffany & Co. Prism Diamond and Rubellite Bracelet (approximately $700,000)
This dazzling cuff features hand-set rubellite and diamond baguettes in an unmatched feat of engineering. The stones, which are set to create an ombré effect, total 80.63 carats (diamonds) and 60.68 carats (rubellites). Talk about arm candy!
$2,000,000: Harry Winston Stotesbury Emerald Ring (approximately $800,000-$1,200,000)
Raise your paddle for the Stotesbury Emerald at the Sotheby's Magnificent Jewels auction coming up on April 25. This legendary emerald was originally set in a Cartier necklace in 1908, and over time belonged to three glamorous socialites and Harry Winston before heading to auction. The vibrant stone is presently mounted in a diamond-adorned setting by Harry Winston.
$5,000,000: Beyonce's Lorraine Schwartz Diamond Engagement Ring
Thou shalt not covet thy neighbor's diamond… unless that particular neighbor is Beyonce. Beyonce's 18 carat flawless emerald cut diamond engagement ring by Lorraine Schwartz is rumored to be worth over $5 million. The delicate split shank micropavé setting allows a bit of skin to show through and offsets the enormity of the center stone.
Have a "sky's the limit" budget but missed the Pink Star auction?
Adorn your lobes with Graff's "Eternal Twins." These earrings are comprised of a set of matching 50.23 carat D flawless emerald cut diamonds suspended from cascading diamonds of various shapes. These masterpieces weigh in at a total of 132.50 carats of exceptional diamonds.
Ali Galgano is a private jeweler and founder of boutique fine jewelry company Serpentine Jewels. Ali works with clients to design and create exceptional custom jewelry, from engagement rings to repurposed family heirlooms. Ali graduated from Cornell University and holds a Graduate Gemologist degree from the Gemological Institute of America.